Q&A
Ride with Norman Reedus Q&A — Peter Fonda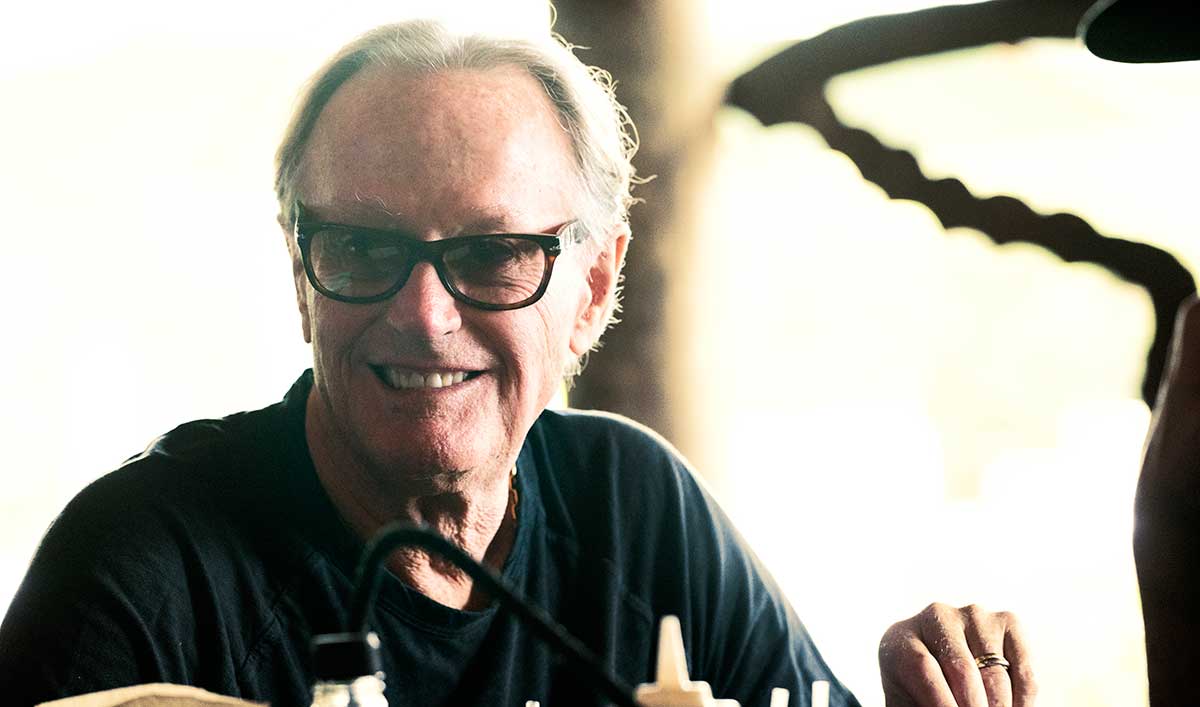 Peter Fonda, legendary actor and Norman's riding companion for Episode 6, talks about tasting alligator, where he'd love to ride next and getting Jack Nicholson stoned on the set of Easy Rider.
Q: You and Norman got to know each other while making The Boondock Saints sequel together. Did you immediately bond over your love for motorcycles?
A: He loves motorcycling. He rides to work on a motorcycle, he comes home on a motorcycle… If he could, he'd ride across the country on a motorcycle several times a year, which is something I used to do. So, it was a natural fit there. I like Stormin' Norman Reedus – as I call him. [Laughs] He's got a wonderful sense of humor and we got along super well.
Q: Norman said Easy Rider is basically the reason he started riding. How does it feel to have that kind of impact and have it come full circle by riding alongside Norman?
A: That movie has different meanings to me than for the people who have watched me in it all these years… But I felt as if it was supposed to happen. Norman was the perfect person to take a ride with.
Q: How and when did you first get into riding? What is it about being on a bike that means so much to you?
A: I started riding when I was 18, though I didn't own a motorcycle until I was 23. I love the idea of traveling to some place on a motorcycle. Later in my life, I've traveled from Los Angeles to New Hampshire for the Laconia Motorcycle Rally, which is the oldest motorcycle rally in the United States. That's quite a ride, but there's something that happens when you're on a road. Being on a motorcycle forces focus because so much can go wrong. It's amazing how you become more aware of what you're driving through, past and over than when you're in a car. For me, it's very liberating and I have my most enjoyable moments when I'm riding alone. You get out there, and it's all on you.
Q: During the episode, you and Norman didn't seem to care for the gator meat. What did it taste like?
A: [Laughs] I could tell you rattlesnake tastes a bit like chicken, but I can't tell you what the gator tasted like. We thought, "How fast can we get this out of our mouths?!"
Q: What was it like taking in Lucky Cole's setup out in the middle of nowhere?
A: Oh man, it was like walking through a movie set. We were walking around at night and all we had were flashlights to see what was on the walls. It was pretty bizarre because this guy is taking these "pinup girl" shots in the middle of the Everglades. Some of his photographs are in the bathroom [at Joanie's] where we ate the alligator.
Q: You seemed to get a kick out of watching Norman be mobbed by all his fans. Were you happy to stay out of the fray?
A: People came up to me and said, "Man, I loved you in Ulee's Gold!" That was far out. For Norman, however, it was "Daryl! Daryl!" I mean, they were flying out of windows and running out of restaurants. It was really remarkable and just hysterical. He handles it very well, and he's the king of selfies. It did remind me of many times in my life, especially in Tokyo, where they're coming by the thousands and I'm running down the street with screaming Japanese girls after me. [Laughs]
Q: Speaking of crazy moments, you never finished that story of yours about smoking an opium joint with Tennessee Williams…
A: That wasn't so crazy because it was very mellow. What they do is take a little bit of the opium and roll a joint up with it. To tell you the truth, I really didn't feel too much, but I watched Tennessee and two of his pals really get loaded. [Laughs] Nothing wild happened, but it was very funny. I'm always reminded when I'm in a situation like that of Jack Nicholson in Easy Rider, the scene when I turn him on. He pulled it off like he had never smoked a joint in his life. Unfortunately for Jack, they were real pot cigarettes. They were my pot and they were very strong. I got Jack totally stoned, and in the middle of his scene he forgot his line. [Laughs] He had been working so hard on this great long speech right. But it was a fabulous scene, and Jack was just terrific.
Q: You seemed a little emotional flying the kite that Dink brought you. What did it feel like being back in Key West all these years later?
A: Boy, it was like I knew nothing about Key West. It has changed so much and it's like going into Las Vegas. I was totally disoriented. Nothing was the same. There I was with my new friend and he's younger than my kids, so it's like he could be a son of mine. I really like that about him, and we got along so well. I think it was a combination of all of that which got me emotional, but that was good.
Q: Are you happy to have a show like this that celebrates riding on TV? What do you hope it inspires people to do?
A: Get out their cage and get out into the great mystery. It's wonderful. It really is. I hope this show gets a pickup. For me to pop in again on one of his rides is easy, it's a natural thing. We want to ride Cuba! I can't think of a place I'd rather go.
Read an interview with Norman Reedus.
Sign up for the Ride with Norman Reedus Insiders Club to get the latest exclusives delivered directly to your inbox.
Read More