Q&A
Ride with Norman Reedus Q&A — Jake Lamagno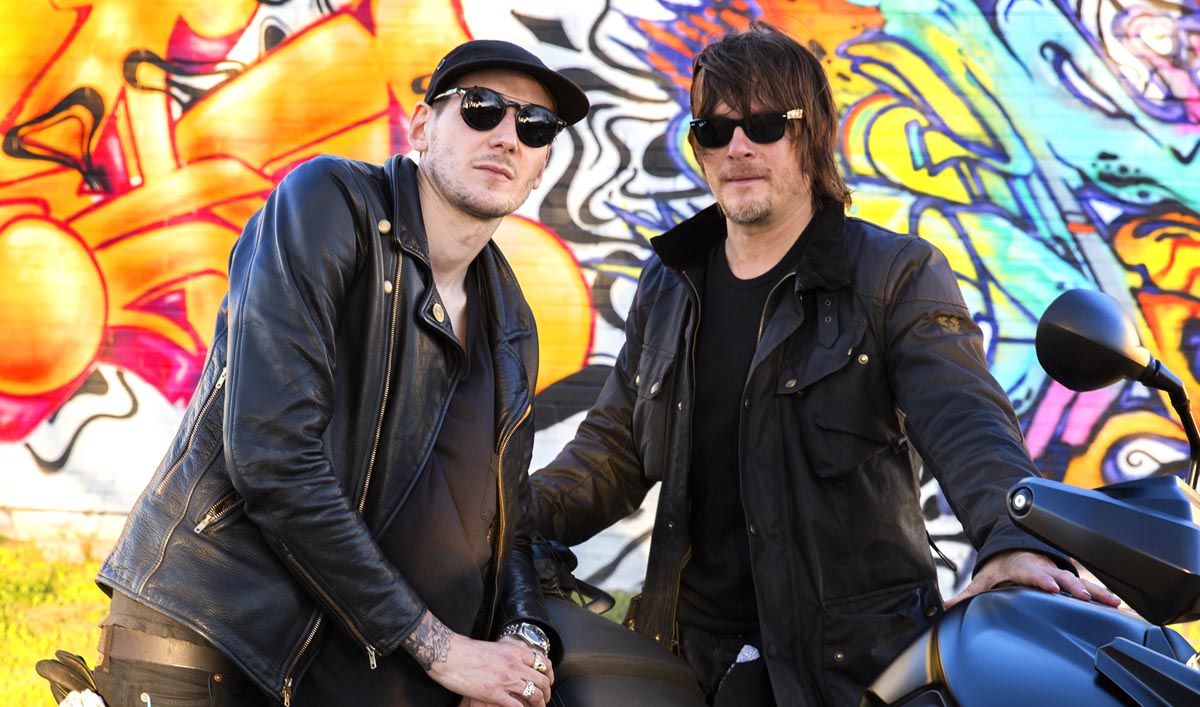 Jake Lamagno, artist and Norman's riding companion for Episode 4, talks about learning to ride in New York City, being on the set of From Dusk Till Dawn, and why he didn't mind losing his phone during his ride through Texas.
Q: How did you first meet Norman? How did you become friends?
A: Norman had stumbled upon some work of mine online and came into a store I co-own with a couple friends called THE HUNT NYC located in the Lower East Side of New York. He passed along his phone number to my business partner that was working the store at the time. Then, he ended up swinging by my studio and commissioning a piece. From then on, we became good friends and he became an avid collector of my work. I have a feeling we also probably crossed paths in NYC at least 10 years ago or so. We had quite a few mutual friends that ran in the same wild circle.
Q: What first got you into motorcycles?
A: My father rode motorcycles and built race cars. I was named after this Nighthawk commercial. I started riding mini bikes when I was probably about eight or nine, and then I got into a 50cc dirt bike that I raced around a bit. I ended up pursuing skateboarding and art for a good amount of time, but always enjoyed anything with wheels that went fast.
Q: Do you own a lot of bikes?
A: About six years back, I picked up Honda CB450 but always wanted to make the Harley mission happen. About two years after the Honda, I purchased my first Harley, a 1968 XLCH Ironhead. I bought it off an old-timer that had bought it the day his daughter was born in '68. The bike was pretty much stock — a f—ing beaut. About a year ago I came across a really good deal on a '77 Ironhead that I couldn't pass up. I got this one from another great guy who had put quite a bit of work into restoring it. I grabbed it in upstate New York and a good buddy of mine Nick came out from Los Angeles and we trimmed it down, took everything off it that it didn't need, and got it ready for the show this past winter. I only road it a few days in 15-degree New York City winter weather before it was shipped off to Texas for the ride.
Q: Have you been on many long-distance rides? 
A: I would say Texas was one of the longest consecutive rides I've ever taken, and it was absolutely beautiful. It wasn't what I had expected it to be, it was better.
Q: How did being in such open space compare to your normal life in New York? 
A: I learned how to actually ride in NYC — not the easiest place. I went through a windshield pretty soon off the bat. Everything ended up being fine, but the windshield and my front end tubes each took a turn. That woke me the f— up. I take rides upstate and love nothing more than taking out one of my bikes in the middle of the night when everyone else is sleeping and ripping around the city solo or with a bud. Just going for it frees my mind and there's nothing else that gives me quite that escape.
Q: You're primarily known as an artist. How does your love of riding inform your work or vice versa?
A: Art, motorcycles & THE HUNT NYC are reasons to get outta bed or the things I love to be doing while everyone else is in bed.
Q: What was it like walking through Troublemaker Studios and realizing how much work had come out of that place?
A: That place was a trip. It's unbelievable the empire that Robert Rodriguez holds down and executes all in-house. It was really motivating. We had lunch in the f—ing Titty Twister — the actual set of From Dusk Till Dawn. Doesn't get much better than that for ambiance. Only thing we were missing was Salma Hayek.
Q: Norman was blown away by the independent artistic vibe in Texas. What was your take on the community that exists there?
A: It seems to be coming along on the fine-art tip. I didn't get much time to stop into too many galleries. Seeing the band the Well who are out of Austin was absolutely amazing! They f—ing shredded. Buy their album!
Q: Who really won in chicken shit bingo?
A; To be dead honest, I have no idea. I think we gave up on that one pretty quick.
Q: It looked like you guys enjoyed shooting those old-West guns? How did it feel to destroy your own art?
A: Bang bang. You must always destroy physically and conceptually to recreate.
Q: What was your favorite part of the ride?
A: The whole ride was a trip. My phone flew out of my pocket and off a cliff  going around a corner somewhere along the Twisted Sitters route. Despite losing 33,000 photos I didn't back up, it was actually nice to not have a phone for the rest of the trip. Everyone should lose their phones every once and a while and remember when we didn't need them. 
Read an interview with moonshiners Cody Bradford and Chivous Downey.
Read More