Q&A
Ride with Norman Reedus Q&A — Colt Wrangler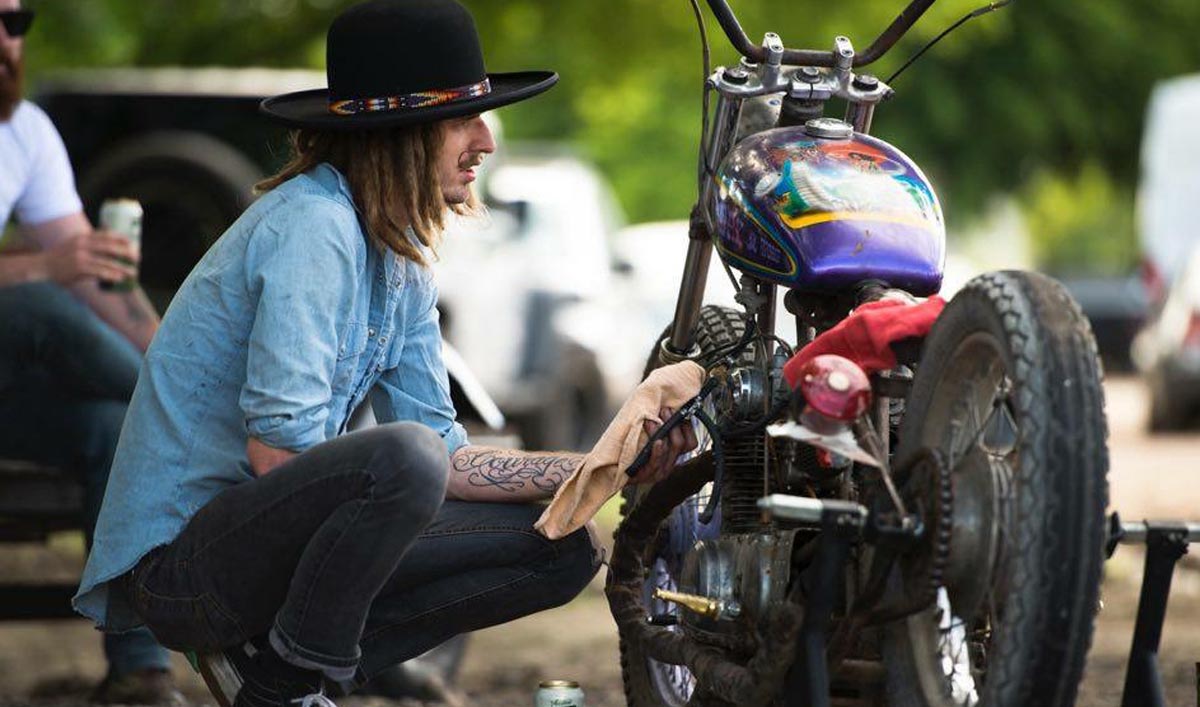 Colt Wrangler, custom bike builder at Colt Wrangler Motor Co., talks about riding bulls, tearing apart bikes and living his dream.

Q: When and how did you get into riding?
A: It started in my early teens, traveling with my parents to rodeos. We went all over the nation and other countries as well, but every year, we would go up to Colorado. It's beautiful riding country and in the summertime, there were bikes out everywhere. At that time, choppers were getting really big again and I would see all these motocross tracks. I couldn't afford a bike, but it was awesome and I loved it. Soon after that, my dad actually bought a Harley and that was the start of what fueled my passion. …  I got to ride it for two days and on the third day, he sold it. Those two days were enough… I had such a buzz.
Q: How did you decide to go into business for yourself making custom bikes? How would you describe your style?
A: I've always been one to mess with stuff and make it my own. Even when I was a kid, I would modify my Legos. Slowly but surely, I started doing my own maintenance. I went through several different bikes, and I decided I wanted a vintage bike and bought a Honda CB550. I took it apart, painted it and put it back together. I finally got my first Sportster and it was in sh-tty condition. I tore it apart and rebuilt it and that was the first bike that really got attention. It ended up in Iron & Air Magazine. I didn't think I was doing anything special or cool, I was just having fun. I realized this wasn't just an average garage sale and I could do it for other people.
When you think of garage bikes, you think of people who hack sh—t up and then paint everything black. Just because you don't have a lot of money or resources doesn't mean you can't create something great. All of these bikes are budget built and they're built out of parts of random stuff. I like to mix styles.
Q: Your workshop seems much more social than the average garage. How did that come together?
A: I realized I needed a garage, and I didn't want to have an average storefront. That's probably the proper way to do it, but I wanted to have a place to build and where people could come in and hang out. That was my aim and I wanted to create a community. That's how people get inspired.
Q: You used to be a bull rider. How does riding bulls compare to riding bikes? Are there any similarities?

A: Adrenaline, for sure. I've always been an adrenaline junkie. I think they correlate. A lot of it is balance and you have to look at where you're going. People get scared and just want to jump off. They don't ride it out. Bull riding has taught me a lot as far as having that grit, getting on even when you're scared, riding it out and getting back on even when you get hurt. If you ride motorcycles enough, you're going to go down. People get in accidents and never get back on again. That's something I'll never do.
Q: Does your mom still ride? Is it a family business?
A: It was a family thing. My dad was a professional bull rider and my mom was in the PWRA (Professional Women's Rodeo Association). My mom rode bareback horses and bulls. My parents met on the rodeo circuit and they started traveling together. I grew up in this sort of gypsy rodeo lifestyle. They taught me how to ride.
Q: Are you still eating tuna and saltines?
A: [Laughs] I'm still keeping my budget in order. I get tired of tuna and saltines. Lately, I've been making sandwiches and random stuff like tortillas and sausages. I've literally been living off of watermelon for the last couple of weeks. You can get one for 5 bucks, and it just about feeds you for four days and keeps you hydrated. It's funny because I noticed that my friends that work in the culinary industry will bring food when they come by. [Laughs] Everyone knows I'll eat anything and that I need food!
Q: Norman was blown away with the "independent spirit" of Texas, which he said you embody. What is it about Texas that makes it so unique?
A: It's freedom. As much as I've been brought up to be disciplined, to work hard, to be responsible and to be steady in work, I've also always had that free spirit. The thing about working for yourself – although I believe it's tougher – is that it gives you that freedom to do what you want to do. I made a decision to go out on a limb and out on my own. It's been the right thing for me. I don't like routine. Sometimes I wake up like, "What am I doing?" [Laughs] I'd rather be broke and do what I want to do seven days out of the week.
Q: What does it mean to you to have a motorcycle show like this on TV?
A: It means a lot and it encourages me not to give up. It really makes me appreciate all the things that I have. I used to watch shows like Biker Build-Off or American Chopper, and it seemed so untouchable. Here I am and I'm finding myself dipping my toes into this realm. I hope the show also encourages other people – youth and elders alike – to not wait to live your dreams. It's going to be tough, but do it. Do what you can with what you have.
Read an interview with Jason Paul Michaels.
Ride With Norman Reedus airs Sundays at 10/9c. Sign up for the Ride With Norman Reedus Insiders Club to get the latest exclusives delivered directly to your inbox.
Read More