Q&A
Ride with Norman Reedus Q&A — Coco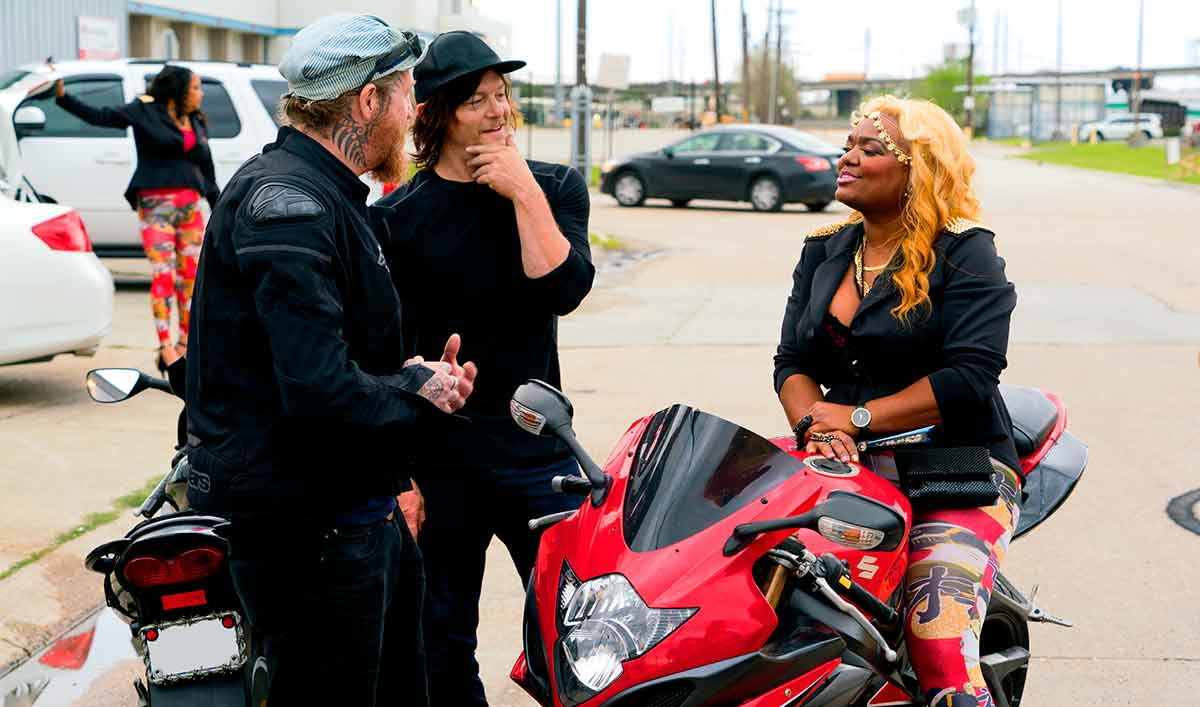 Coco, co-founder of the bike club Caramel Curves, talks about riding in heels, burning rubber and her signature pink-mohawk helmet.
Q: How and when did you first get into riding? What appealed to you?
A: Being a woman riding a motorcycle – I had never seen many females riding motorcycles – and it was a real big adrenaline rush. I learned how to ride from my first boyfriend when I was 16 and when I was 21, I bought my own bike and I've had one ever since.
Q: How long have you been a part of the Caramel Curves club? How'd you come up with the name?
A: I've been a part of it since 2009 and I'm actually one of the founders who started the club. It's to get all females together to ride motorcycles and to look good while we do it – we wear heels, look extra pretty and we don't go along with the "normal" biker look. We played with words when we came up with the name. We felt like "Caramel" was a good word because most of the girls were of caramel complexion and we felt like "Curves" was a good word because we were curvaceous and we also ride in curves on the bike. There were a lot of different meanings in putting the words together.
Q: You all certainly stand out in a crowd. Were the bold colors and style of dress a key part of the founding of the group? Where did the pink-mohawk helmets come from?
A: I wouldn't say that was the plan when we started. That's just all of our styles, and it winded up making a statement, so we accepted it as something to continue. I think it's one of the main things that gets the attention of women besides the fact that we ride bikes. We're in heels and dressy clothing as opposed to jeans, boots and T-shirts. We show that there is a whole other way to ride motorcycles. You don't have to be gruff and tough-looking. One of my friends bought me the pink-mohawk years ago as a gift and then, as a club, we decided to make it our signature.
Q: How did you and your club hook up with Norman Reedus?
A: A lady from New York contacted me and said they were about to shoot a reality show to showcase different clubs and cities, and she wanted to know if we were interested. I was super excited. When she first called me, it was just an idea and it wasn't a set thing that would happen yet. When she assured me that they were going to go through with it and that they were really interested in us, it was a ground-breaking moment in my life. It's something I'll never forget, and it's something I'm very proud of.
Q: Do many of the club members watch The Walking Dead?
A: A few of the young ladies were familiar with it, and Norman is such a cool and down-to-earth guy. When you watch someone on TV and then you meet them in person, it's kind of surreal because you look at them as bigger than life on TV.
Q: Everyone in the club seems to have a nickname. Is that club protocol? How are they decided?
A: Some people come into the club and if they already have a nickname, they use that. If they don't, we go off the type of person they are for how we come up with the name. Hood Priss is a real prissy, college-girl, but she's also kind of wild.
Q: We saw several members performing tricks. How long does it take to learn those rubber-burning techniques?
A: That's a signature of this group. When they come into the club, I teach the young ladies how to burn rubber because that's my special skill. Most of the ladies I've taught learn within a matter of five minutes and in a week or so, they'll be making circles.
Q: How many tires do you go through in a year? What can you tell us about the special smoke?
A: [Laughs] The number is ridiculous. A tire can last us one day to a month. There's a motorcycle tire company called Shinko who made smoke bomb tires and they put the dye inside of the rubber when they made the tires. When you burn it, the color comes out. It's so sad they discontinued those tires! We actually bought them all up and I was so desperate to have them.
Q: Do you think there are misconceptions about women in the motorcycle community? Are groups like yours helping to correct those misconceptions?
A: When I initially started riding bikes, I used to be the only female around a lot of guys. A lot of women look at it as a man's thing and think it's something they can't do. I tell them how easy it is and that I'd be more than happy to teach them. We get invited to a lot of different events and people want us to come out to their functions. I never thought I'd be where I am today when I first started riding.
Q: How many chapters of Caramel Curves are there? How big do you think the group can become?
A: Right now, it's just the New Orleans chapter and we have 12 members, but we have had some young ladies from different cities contact us who are actually interested in starting a new club and want to use our name. That's a huge honor. First, we have to make sure they have at least five members and then we'll go out to meet them, get to know them and go from there.
Q: What does it mean to you to have a show like this that celebrates biker culture?
A: I think some people look at bikers as violent people, and I think it's great to showcase the other things we do and the type of people we are – we just have a love for motorcycles. The biker world connects a lot of different people that normally wouldn't have met each other.
Read an interview with Colt Wrangler.
Ride with Norman Reedus Season Finale airs Sunday at 10/9c. Sign up for the Ride with Norman Reedus Insiders Club to get the latest exclusives delivered directly to your inbox.
Read More