Q&A
Norman's Favorite Memories from Ride Season 1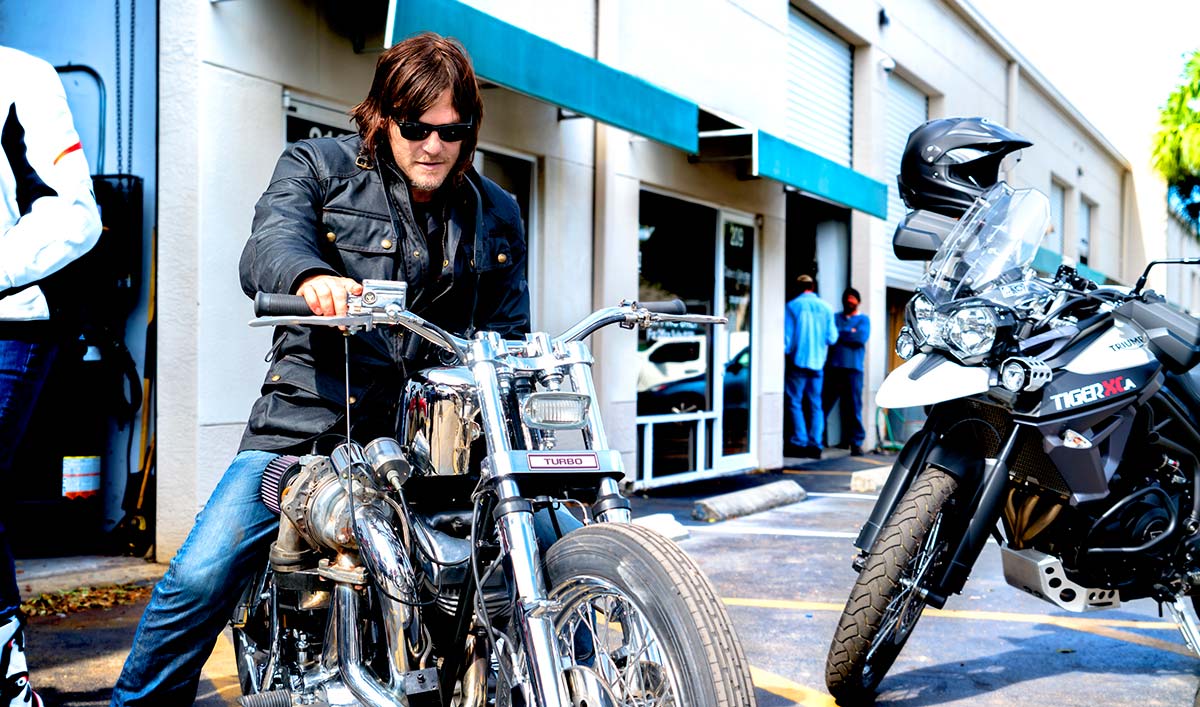 Ride With Norman Reedus may have completed its first season, but we'll always have the memories of Norman's road trips across America. Even better, below we have Norman's favorites from the first season, including the coolest place he visited, the wildest moment during filming, and which person surprised him the most. That ought keep your motor running a while longer.
Favorite Place Visited in Season 1: New Orleans
"I like the energy. Austin kind of has the same sort of vibe, but New Orleans was a fun episode. I really liked being there. The people there and the vibe there – it's such a cool city."
Favorite Bike Ridden in Season 1: Triumph Tiger 800 XCx
"It was the first time I've ever ridden a dual sport bike like that. It's so high-tech, comfortable, fast and safe. It's a really, really cool bike."
Honorable Mention: Zero Motorcycles Electric Bike
"It's like your butt is just gliding on ice. You're not thinking of downshifting, you're not thinking of anything but just enjoying the movement of being on the two wheels. At first I was a little nervous because I'd never done that before. Once I got on it, I completely understood."
Craziest Moment of Season 1: When Co-Rider Brent Hinds Took Both Men Down
"It's not really a crash, it's more of a Laurel and Hardy pratfall between me and Brent. It was kind of hysterical, and it kind of hurt a little bit, but it was too funny not to laugh. It was pretty ridiculous."
Person Who Surprised Him the Most: Pastor Bulldog of Freedom Biker Church
"It kind of threw me at first. I was like, 'What is this? I've never seen anything like this!' But then it got really touching and by the end of it I was super inspired and I believed all of it. I felt really grateful for just being there. And then he raced me in a porta potty! [Laughs]"
The Most Important Lesson He Learned: Biker Camaraderie
"When I first came to shoot The Walking Dead, I would ride in the country and other motorcyclists would wave to me. I was like, "Wow, we're all looking out for each other." I've always said if my bike is broken down on the side of the road, it's probably going to be another biker that stops to help me. Now that I've gone out on this show, I met all these strangers and became friends with them and instantly there's a common denominator between all of us: It's the same feeling of freedom and independence and camaraderie between motorcyclists. And not only that, there's a feeling of being one with nature and your surroundings. You take it all in."
Watch full episodes of Ride With Norman Reedus now and AMC.com and the AMC apps. And check out Norman's travelogue for road maps of all the places he visited in Season 1.
Read More