Q&A
Ride with Norman Reedus Q&A — Scot Harden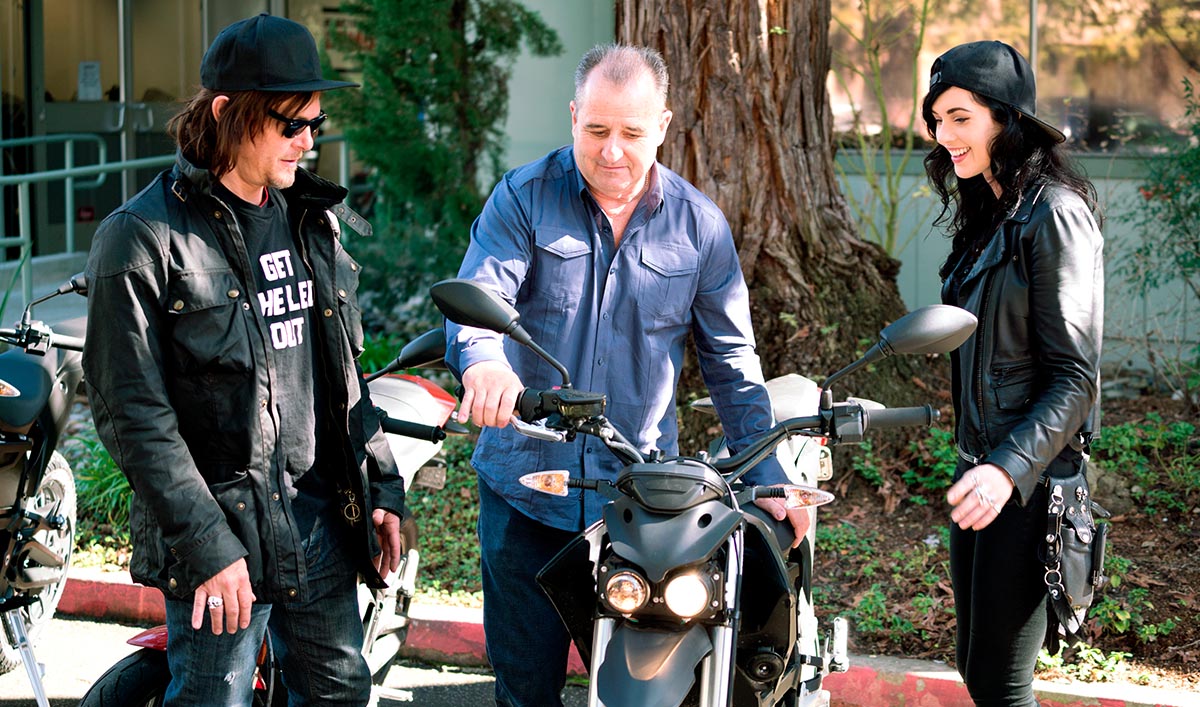 Scot Harden, a hall-of-fame motorcycle racer, shares his journey to becoming a professional racer, explains how he once hit a cow on the road and compares an electric bike to a magic carpet.
Q: When did you first start riding motorcycles? Do you remember the moment you fell in love with it?
A: I started riding a minibike when I was 11-years old and they used to bring a small motorized vehicle called a Tote Gote up to our deer camp when we would go deer hunting. The first time I saw it, I knew I wanted to ride it. It got to [the point] where I didn't even want to deer hunt anymore. I just wanted to ride the darn Tote Gote all day. I begged my grandparents to get me a mini bike until they couldn't say no any longer. I grew up in Las Vegas out in the country on a farm in the dessert, so I had plenty of space to ride. I started riding minibikes and progressively larger bikes until I was a teenager, when I got my first full-sized motorcycle. From there, I got into racing.
Q: How did you decide to become a professional racer?
A: Las Vegas was famous for several long-distance, off-road races like The Mint 400. There were other races like Barstow-to-Vegas that drew as many as 4,000 riders. They started in California and the finish line was actually just a few miles from my house. As a kid, I would ride over and watch these events with all the pros. I got really excited about it and around that time, a movie came out called On Any Sunday with Steve McQueen. That movie sealed the deal for me. I knew that it was what I was going to do.
Q: You're a hall-of-famer with many racing records. Is there one specific moment in your career that stands out?
A: The first time I won the Baja 1000, which is every off-roader's dream, I was only 21-years old. Winning such a prestigious race really let me know that I had arrived. Almost 40 years later, I rode the toughest off-road race in the world, the Dakar Rally, and I finished 17th overall out of 300 of the best riders. It's three weeks long and 7,000 miles cross-county, so it's like riding back and forth across the United States twice. People died during the event, there were terrorists, there were booby-traps and incidents with animals on the trail all through North Africa. We started in Spain and crossed into Morocco, Mauritania, Mali, Burkina Faso, Senegal. It's something that will stick with me for the rest of my life.
Q: Speaking of animals, you mentioned on the show that you once hit a cow. We've got to hear the rest of that story!
A: I hit a cow in a rally in Nevada at almost 70 miles an hour. It busted me up pretty good, but I was able to continue and the cow was gone. Hitting an animal is always a fear of mine because what we think is the middle of nowhere might be somebody's backyard. I've had close calls with camels, ostriches, horses — you name it.
Q: Does that ever scare you into not riding? How have you been so lucky?
A: I've broken my wrist, my ribs, my ankles… but I've never had any major injury where you're laid up in a hospital for six months. Because of that, I was able to compete year round and I never missed a whole season because of devastating injuries. I tried to minimize the risk where I could.
Q: What was it like meeting Norman and showing him a type of motorcycle he'd never experienced before?
A: Meeting Norman was just a really cool experience. The fact that Norman is doing this show is even cooler. As a lifelong motorcyclist, there's not enough cool programming on TV about motorcycles… Norman said he had an idea of what [riding an electric bike] would be like in his mind, but he was open-minded and it was so much fun… At the end of the day, he's a guy that loves riding two wheels. He likes the freedom, the adventure, the thrill, meeting new people and getting fresh air. That's something that all of us share.
Q: What are the advantages of the electric bike beyond being better for the environment? Norman said they'd be nice and quiet in a zombie apocalypse…
A: He should be on an electric bike on that show. He could just ride up on a guy and blast him. It would be perfect for that. It's almost like riding a magic carpet when you get on it. You're just magically flying on the road. They have so much torque and acceleration because of the electric motor that they're really exhilarating to ride. They've got great response, no vibration, no heat, no fumes and no sound. You get the adventure, thrill and excitement of a normal bike, but none of the downsides. I'm now the CFO for a new manufacturer, Torrot, which makes electric vehicles and off-road competition bikes. They also make a line of scooters and trial bikes for kids.
Q: Are electric motorcycles starting to pop up more during races?
A: It's growing, but it's taking time to develop. It's hard to get people to give it a chance. Everybody has preconceptions and biases, but it immediately disappears the first time they ride it. It's just getting them over that hump… I get all of the stuff I want out of a bike when I go riding and there are some things it doesn't do that I don't miss.
Q: Why do you think it's important to keep innovating and creating new types of bikes? Is it possible to get the traditional generation to become attracted to a different experience?
A: Absolutely. It's just a matter of time. I'm as old school as you get and even I can appreciate it. I believe it's going to be a big part of the future and I think the fact that Norman is going to be sharing the experience with everybody on his show is going to really help.
Q: What do you hope casual, non-motorcycle-loving viewers take away from this show?
A: I hope the traditional motorcyclists out there open their mind about the potential for electric and I hope the average person out there sees what Norman is doing and gets excited about giving motorcycling a try – especially the younger generation. Right now, the younger generation is too engrossed in virtual reality and they're living life through their phones. Motorcycles are a great tool to get out there and experience life and I hope Norman inspires younger people to pick it up.
Read an interview with Norman Reedus.
Ride with Norman Reedus airs Sundays at 10/9c. Sign up for the Ride with Norman Reedus Insiders Club to get the latest exclusives delivered directly to your inbox.
Read More