Q&A
Ride with Norman Reedus Q&A — Norman Reedus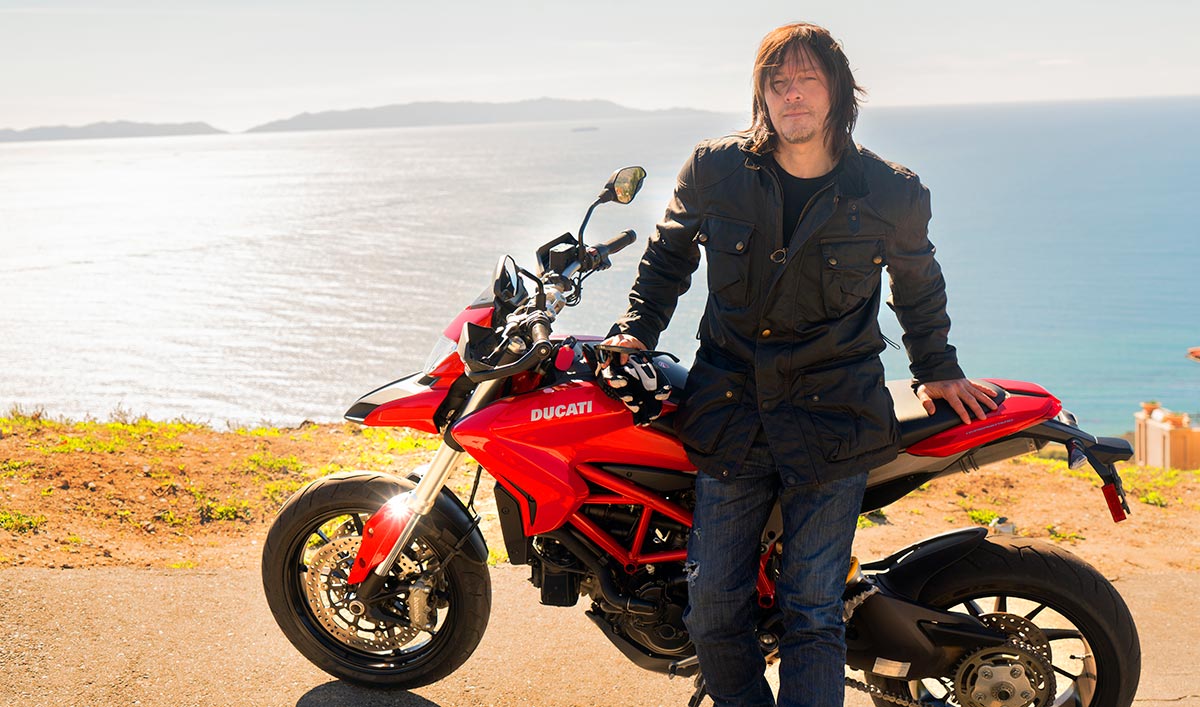 Ride with Norman Reedus and The Walking Dead star Norman Reedus picks his dream riding companions, talks about the coolest places he visited on the show and explains why he can't chew gum and ride motorcycles at the same time.
Q: What made you decide to make Ride?
A: Joel Stillerman at AMC called me and he said, "I've got an idea for a show. Would you be interested in it?" He told me the concept… Travel around with friends and discover new things on motorcycles. Yeah, that was kind of a no-brainer to me.
Q: You used to work at a Harley shop in Venice Beach, right?
A: Yeah, it was called Dr. Carl's Hog Hospital. It's why I went out there. That was my first real job job.
Q: Being such a motorcycle enthusiast, how excited are you to share that love with viewers of Ride?
A: I'm super excited. Hopefully the viewer will feel like they're on the ride with us. That's our goal. It makes for a lot of fun. You really get to know more about the people once you're out there doing things with them. It's kind of like talking to your bartender or your therapist after awhile. They start revealing things that they probably wouldn't have revealed if they weren't having this awesome experience.
Q: Did you forget sometimes you guys were being recorded in those helmets?
A: I don't know if you forget necessarily, but you're definitely in a free-riding headspace when you're talking sometimes. [Laughs] And Peter Fonda, I'm pretty sure that the quote "Ride Hard or Stay Home" was written for him. He was such a cool guy. His stories were just incredible. Even the stories that didn't make it onto the show were incredible. He's a non-stop storyteller. One story is just better than the next.
Q: If you could choose another person to take a trip with that you haven't yet, who would it be and why?
A: Evil Kneival would have been fun. He would have been great. There are tons of people. Lemmy from Motörhead would be a great one. There are so many cool people who ride motorcycles. Oh, Steve McQueen. If I could have met Steve McQueen and gone riding with him, bring him back, that would be incredible.
Q: How many bikes do you own and what are they?
A: I have a Harley, two Triumphs, a Honda and I just got a new Tiger 800.
Q: Isn't there a Tiger on the show?
A: Yeah, towards the end there was a Tiger that I really loved, so I got one of those. It's an on/off road bike. The Tiger is awesome. It's such a good bike. You can jump a curb, you can go cross-country. You can do all sorts of stuff on that thing.
Q: Was that your favorite bike that you rode on the show?
A: I don't know. I kind of go back and forth. I liked them all. There was a Roland Sands bike, a BMW, that I rode. That was a really cool bike. I kind of stole it from his shop and took it with me. He let me take it for a spin with him, and I was like, "Can I borrow this?" and then took it all the way up the coast. That was an impromptu love affair that I had with that motorcycle. He makes such cool bikes. He's kind of a badass.
Q: Do you have a dream bike that you'd love to own?
A: I'd love to have an Indian Larry bike. Those are so pretty. I have a friend that has one – I think he may have the last Larry bike that Larry made himself. I'd love to own one of those. I know Paul Cox does his stuff now and I'd love to get a bike from him.
Q: You covered a lot of territory – Florida, California, Texas – what were some of the factors in choosing the destinations?
A: Some of the factors were that it was winter, so we went to the places that were warm. [Laughs] We did a lot of research, talked to a lot of people. A lot of what's on the show is word of mouth. We may pull up to one place and a local bike rider tells us you should try out this area. So we'll pull out, turn around and head straight to that area… It's like, "OK, turn to the right. We're heading that way."
Q: Did you have a favorite trip?
A: I really liked Vegas to Death Valley. I'd never ridden in the desert before. The desert is so pretty. I have a soft spot for the desert. I really like it out there. We got to ride dirt bikes out there and got to do that with Balthazar [Getty]. That was a really cool one.
Q: There are so many fans that love you from being Daryl on The Walking Dead. How do you feel about putting your real self out there on Ride?
A: Well, I don't show you everything. [Laughs] But in situations like that, where it's me, I just try to be me as much as possible. I'm not trying to be a master gear head or motorcycle expert or anything like that. I'm just me. I'm taking these rides with friends of mine. I don't think they would allow me to be anything else.
Q: What's the craziest thing you've ever seen while riding?
A: I was taking this ride from Georgia to Nashville to present at the Country Music Awards. I just threw a suit in a bag and decided to take the ride on my bike. I stopped at this gas station in Georgia and the people were really nice. Then down the road, I passed this other gas station and there were a couple of people standing there, waving. Then I passed another gas station a while later and there, like, hundreds of people with signs. They must have figured out my route and were tweeting their friends. Then I passed this McDonald's along the way and it said, "We love you, Norman." I was like Forrest Gump when he's running across America. It was so cool. I'll never forget that. 
Q: Do you have any advice for new riders who might be inspired by the show?
A: Have fun, just get out there. And don't chew gum with a full-face helmet.
Q: Why's that?
A: You'll bite the inside of your mouth. I do it all of the time.
Q: You haven't stopped chewing gum in all this time you've been riding?
A: [Laughs] I'm a slow learner.
Read More