Q&A
Ride with Norman Reedus Q&A — Nina Kaplan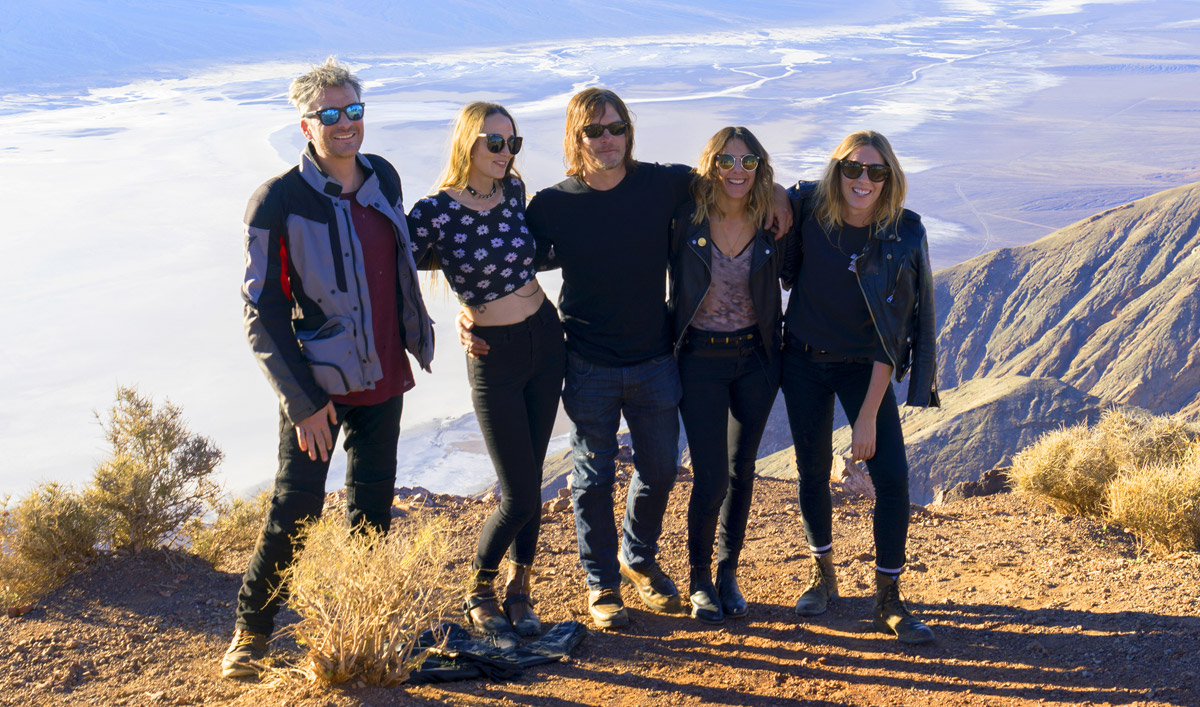 Nina Kaplan of Babes Ride Out (pictured above, second from the left) talks about buying her first bike, empowering women motorcyclists and why the desert is the best place to ride.
Q: How did you first meet Norman? How did that evolve to being on the show?
A: I met Norman through a mutual friend that did wardrobe on one of his movies, Sky. When I got offered the Harley Davidson sponsorship across the country, I contacted him. We went out to his place in Georgia, and he cooked us barbecue and we hung out there. He talked about the show at that time and it was eight or nine more months until it was ready for production.
Q: How long have you ridden motorcycles? What was the moment that got you hooked?
A: I grew up around motorcycles and riding dirt bikes. My dad was a beekeeper and built motorcycles as a hobby. Motorcycles have always been in my life, and I would help my dad fix them in the garage or hold a hand on a part while he tightened it. My first love was horses, so I had my own hobby and didn't cross into motorcycles so much. I lived in London from 2003 to 2010 and when I came back, I bought myself my first motorcycle and found a group of women to ride with. From that point on, I was very hooked.
Q: How did you become involved in Babes Ride Out? How would you describe that group's mission?
A: When I moved to Los Angeles, I became aware of women riders. Anya [Violet] and Ashmore [Ellis] were a part of the people I was aware of and we communicated through social media. I attended the first ever Babes Ride Out, and I was talking to them behind the scenes from the very beginning. There were 75 women that showed up and we camped on this dry lake bed in Borrego [California]. It was an indescribable feeling of power, femininity and just righteousness. It was all these women who were hungry to build a community and wanted to find more women to ride with. It was always about making connections with people and supporting each other. That was very much the message.
Q: Do you think women's interests in motorcycles are growing or changing? Were there misconceptions about that culture that kept women from getting involved in the past?
A: Every woman has a different story about how she was brought into motorcycling. Mine was easy because I grew up around it, but not everyone's entry is that straightforward. I think Babes Ride Out definitely wanted to break some of those barriers down so that women felt like they had an easy point of contact to ask beginner questions or to meet and tell their story. I don't think there were ever any misconceptions that kept women from biking. I think it's gone through ups and downs in popularity, but there is nothing new under the sun. There have been female motorcycle riders for a long time and we are now reinterpreting what they've done and roads they've taken. We're taking it in a different direction with more social media exposure where people are really able to show how motorcycling fits into their lives in an individual way. We're doing things for ourselves in a way that we want to do it.
Q: How does the ride you did in Death Valley with Norman stack up against other rides you have done? How do desert rides in general compare to other terrains?
A: Death Valley as a location is phenomenal in itself because it's such a striking and unique place, and to have our motorcycles was total fun. I do prefer the desert because I'm terrified of rain and I don't like riding in it. The desert always makes me feel slightly more at ease and the machine seems happy – though it is hot and you have to be mindful if they're overheating. It's dry, it tends to be flat, and it's the perfect place.
Q: Dante's View seemed amazing. How would you describe what it's like to take it in live and in person?
A: There are very tight turns and when you come up the road, you're like, "OK, something spectacular is coming up." It's such a mind-blowing landscape, and it sort of sends you into silence.
Q: Norman says you and the others on this ride "popped his desert cherry." Is that an honor you're proud to hold?
A: [Laughs] I was kind of surprised by that. I didn't totally believe him either! He's a man of many careers. He must have been in the desert on a motorcycle before!
Q: Did you think it was funny that Balthazar thought Norman was giving the girls credit for taking him on the desert ride?
A: Oh, yeah. It was quite easy for us to speak about riding in the desert because that's where our group rides have always been. In fairness, Balthazar did mention to Norman that Death Valley was his idea because he had that history of going up there with his family For us, though, it was just so easily translatable to other rides we've done together because they're desert-based as well.
Q: What was your favorite part of being on the show? What do you hope people take away from Ride with Norman Reedus?
A: I think my favorite part was riding up to the view in a far corner of the park and then scrambling down to try to capture a picture of it – which you could never do because it's so huge. I really hope that anyone who has an interest in riding motorcycles knows there is a community around them that will support them in developing that interest, and that women take away the message to reach out to each other and build networks for themselves. It's been such a source of joy for us and we want that to be shared.
Read an interview with Balthazar Getty.
Ride With Norman Reedus airs Sundays at 10/9c. Sign up for the Ride With Norman Reedus Insiders Club to get the latest exclusives delivered directly to your inbox.
Read More