Q&A
Ride with Norman Reedus Q&A — Jason Paul Michaels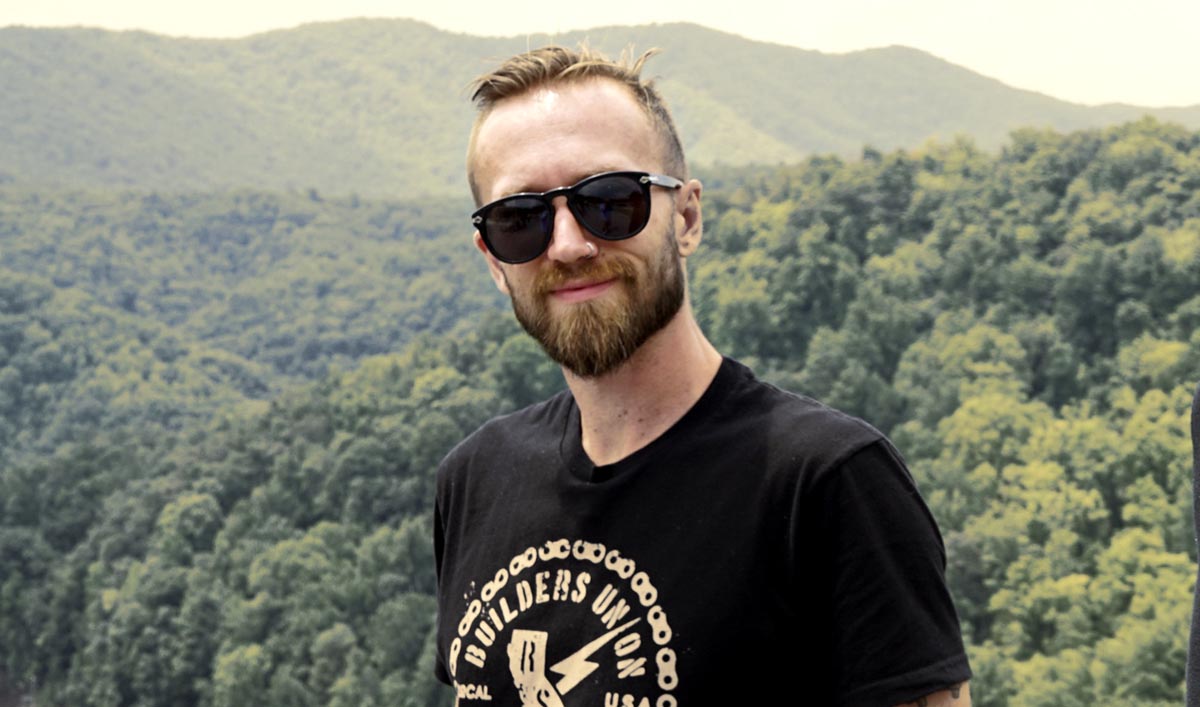 Jason Paul Michaels, custom bike builder at Standard Motorcycle Co. and Norman's riding companion for Episode 3, talks about where he met Norman, taking part in a porta potty race and his obsession with ice cream.
Q: How did you first meet Norman Reedus? Was it your shared love of motorcycles that first brought you together?
A: Well, Norman and I met at a bar. [Laughs] We met in Atlanta when I was in town doing some stuff with Triumph, and we struck up a conversation about bikes. Fast forward to when I got a phone call and he said, "Hey dude. Do you want to be on this new TV show that I'm doing?"
Q: When did you start riding? At what point did you realize that working with bikes would basically become your career?
A: I've been riding since I was a kid. I had a mini bike, I rode dirt bikes and I've always been around motorcycles in some form. I had a longtime career in the IT world, believe it or not, and I was starting to get fed up with what I was doing. I saw a void in the industry for vintage motorcycle parts and my first company, Dime City Cycles, was created. I bet everything on the horse, and I realized it was where I was supposed to be.
Q: What aspect of building motorcycles do you enjoy the most?
A: It's the ability to either make it from scratch or shape it into how you believe it should look, feel and ride. It's also the freedom of being able to get on it and ride it when you're done with it. There's nothing cooler than that.
Q: In some of the bonus footage, you seemed exasperated by the mobs of The Walking Dead fans swarming Norman for pictures. Is that par for the course when hanging out with him?
A: [Laughs] No matter where he goes, he draws a crowd. Whether you're an executive or somebody who lives in the middle of nowhere, everybody knows The Walking Dead and he's a favorite character. I can honestly say I don't think I've ever seen him turn somebody away. We were behind schedule with filming almost repeatedly because the director had to pry Norman away from his fans. It's definitely been frustrating sometimes when we had to go somewhere, but it's really cool to watch him work. He is an amazing actor, but before that, he's an amazing artist.
Q: How did this ride compare to other rides you have done?
A: I've been through parts of the territory that we went through on our ride, but I've never ridden all of the roads consecutively and visited the places that we did along the way. It was nice to piece together the entire route that people normally take up in that region. I'm always in such a hurry to get somewhere and I don't have the luxury to stop. So, when I was told my job would be riding these roads, I was like, "This is amazing!"
Q: The Fontana Dam looked amazing. How would you describe the views?
A: It made me feel extremely insignificant. [Laughs] The depth and breadth of the view, the towering facility that it is and the expanse of the outdoors around you is pretty humbling. I was so small standing up there. That was definitely one of the best parts of the ride.
Q: Why didn't you and Norman get in on the minibike races in Deals Gap?
A: Because Norman's a pu—y! [Laughs] No, there was a safety concern. We both wanted to ride, but for whatever reason, we couldn't. Those guys are so competitive. It's funny because they were on these tiny little bikes, but racing is racing. There's always a guy that wants to be first and there's always a guy that's going to be last.
Q: So, were the porta potty races safer?
A: [Laughs] No, porta potties are not safer. That was probably the most interesting thing I've ever done that correlates to motorcycles. I had no idea they would throw that at us. It was definitely exhilarating. There's a guy on a 1500cc Harley Davidson wide open on the throttle and I don't know this guy, but I just kind of went with it.
Q: Were you bummed you didn't get to ride the Dragon, or do you think your detours ended up being more fun?
A: I'm glad we avoided the Dragon in hindsight. There were so many people and it kind of takes the fun out of it. Norman and I got to explore these little tiny mom-and-pop places, and it was just he and I. I remember at one point, it started raining and we pulled over and sat under a tin roof for an hour, just listening to the rain. That's what motorcycle trips are about. Riding is half of it, but the other half is the connectivity and the experience you have with whoever you're riding with.
Q: Did you and Norman try that moonshine after the ride? How was it? Did you howl at the moon?
A: [Laughs] I'm not going to comment on that! It was very difficult not to dip into it until we got back, but it was awesome stuff. What those guys do there is so cool. I like to make stuff, so to see the process was really cool for me.
Q: How relieved were you when you finally got some ice cream? Is that a vice of yours or was it just a craving on that trip?
A: It's a vice, man. I just love ice cream! I've got a sweet tooth. I was super stoked and it was perfect that it was our last stop, too.
Q: This ride showed lot of small-town America. Did you come away from this ride with an appreciation of the simpler Southern way of life?
A: My wife is from Kentucky and we go back and stay with her family. It's probably some of the best times that I have because everything just melts away. It's so easy to get caught up in the hustle and the bustle. When you slow down, you really do have the ability to appreciate things.
Q: Are you happy a show like this exists?
A: The existence of the show is extremely important and timely. There's never enough time in [one] episode to go into detail, so people who are watching are always left wanting more. The beauty about a show like this is you can appreciate it whether you're an avid motorcyclist or a non-motorcyclist. I hope people embrace the show.
Read an interview with Nina Kaplan.
Ride With Norman Reedus airs Sundays at 10/9c. Sign up for the Ride With Norman Reedus Insiders Club to get the latest exclusives delivered directly to your inbox.
Read More