Press
Breaking Bad's Producers Helm New Original Series Rectify on Sundance Channel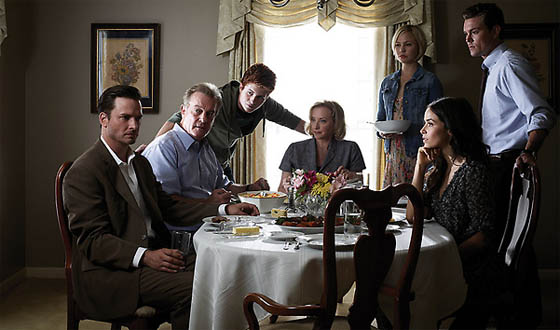 Breaking Bad Executive Producers Melissa Bernstein and Mark Johnson are cooking up a brand new series for AMC's sister network, Sundance Channel: Rectify, a six-episode hour-long series, created and written by Ray McKinnon (The Accountant, That Evening Sun, Mud) is set to debut on Mon., Apr. 22 at 10/9c.
The series follows Daniel Holden (Aden Young), who is released after nearly 20 years of complete isolation on Death Row and returns as an outsider to his family, to his community, and to the times. He survived the mental and emotional strain of his imprisonment, but now the walls have suddenly come crumbling down and Daniel is set free in a world he no longer understands.
Daniel's unexpected presence not only throws his family into disarray, it ripples out to all the people connected to his case — the prosecutor who rode the notoriety to become a State Senator, the Sheriff who pushed the boundaries of the investigation, and the entire town of Paulie, GA, that blamed him for killing one of their own. Like a deadly spark, Daniel's release reignites the mystery, the power plays, and the questionable justice that condemned him.
Also starring in Rectify alongside Aden Young (Killer Elite, The Tree) as Daniel Holden are Abigail Spencer (Cowboys and Aliens, Oz the Great and Powerful), who portrays Amantha Holden, Daniel Holden's younger sister who believes completely in his innocence and has devoted her entire adult life to securing his release; J. Smith Cameron (True Blood, Margaret) who plays Janet Talbot, Daniel's loving mother, who has been living with the impending death of her son for nineteen years, and who long ago had made peace with the loss of her son, giving up on any hope for his release; Luke Kirby (Take This Waltz, Slings and Arrows) tackles the role of Jon Stern, Daniel's lawyer who works for an organization dedicated to exonerating the wrongfully convicted; Clayne Crawford (A Walk to Remember) portrays Ted Talbot, Jr., Daniel's stepbrother whom he had never previously met; and Adelaide Clemens (Silent Hill: Revelation 3D, The Great Gatsby) plays Tawney Talbot, Ted's kind-hearted wife; Bruce McKinnon (The Way Home) as Daniel's step father Ted Sr.; Jake Austin Walker (The Chaperone) as Daniel's half brother Jared; Michael O'Neill (Transformers) as Senator Roland Foulkes; and Hal Holbrook (Into the Wild) as Rutherford Gaines, Daniel's former attorney.
Click here to learn more about Sundance Channel's original series Rectify
Read More