Press
Karen Strassman Talks With Seat 42F; FanSided Lauds Dominic Cooper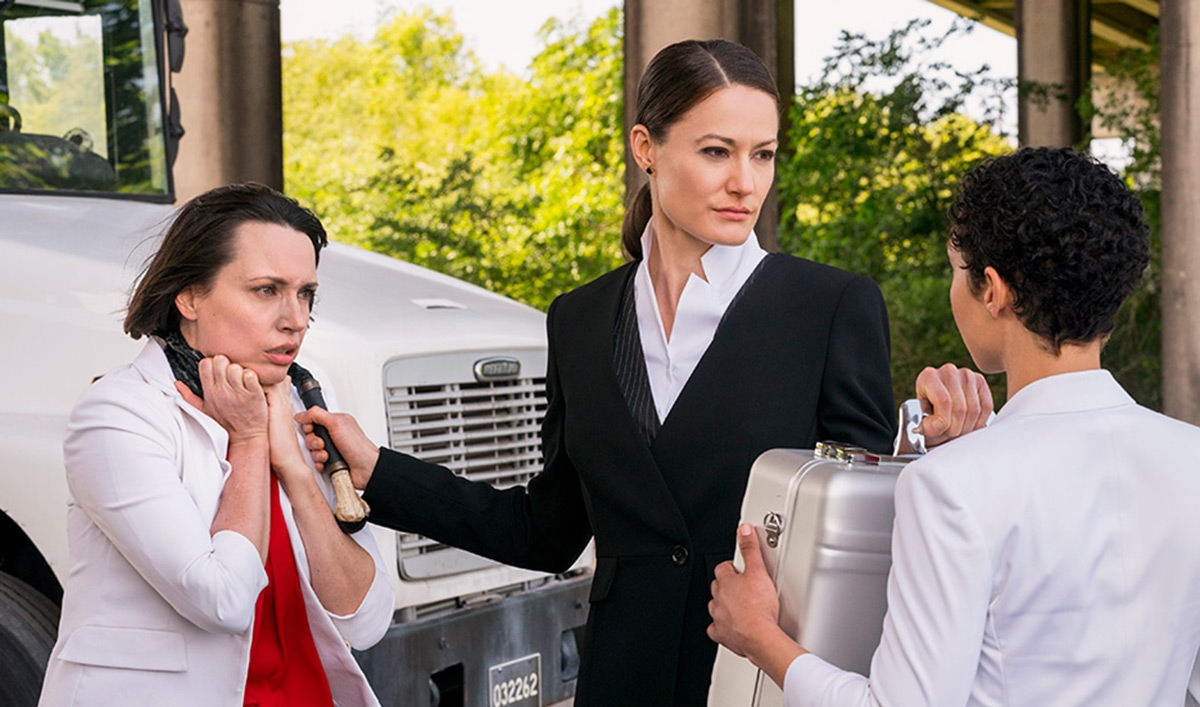 This week, Karen Strassman (Dr. Lois Slotnick) talks with Seat 42F about her Preacher character, while FanSided hails Dominic Cooper's performance. Plus, Graham McTavish discusses the Saint with Collider.com. Read on for more:
• Karen Strassman, who portrays Dr. Lois Slotnick, tells Seat 42F, "The biggest challenge was that of creating a fun and fascinating character that is out there, but still completely believable, so that the audience will feel she is just as real and multi-dimensional as all the other wonderful, wild and yet still deeply human characters in the Preacher world."
• FanSided declares that Season 3 is Dominic Cooper's "best work yet, and one of the most complex portrayals of a leading character on television."
• Graham McTavish tells Collider.com, "The thing about the Saint [of Killers] is that the people he encounters, generally speaking, he ends up killing. They're sort of little guest spots where the person arrives, gets into makeup — they can practically leave their engine running — I kill them, they leave."
• Rotten Tomatoes deems Herr Starr one of comic book TV's great supporting characters: "Despite being the most efficient and ruthless agent of The Grail, the strain it puts on him is easy to see even as he carries out its directives."
• Meaww interviews Julie Ann Emery, who calls Preacher "dark and twisty and often offensive and wrong, but it is also a layered, nuanced, and honest look at the state of the human race."
• Hidden Remote speaks with Karen Strassman, who explains that Dr. Slotnick is "hired by The Grail to find a way to create the perfect DNA elements to inject into the Humperdoo so that Genesis may be able to stay in his body to allow him to become the real Messiah."
• For recaps and reviews of Season 3, Episode 9, "Schwanzkopf," check out A.V. Club, Bleeding Cool, CBR.com, ComingSoon.net, Den of Geek, Geek.com, TV Fanatic, Vulture and WhatCulture.
Watch Season 3, Episode 9 on amc.com and AMC apps for mobile, Fire TV, Xbox One, Apple TV, Roku and Chromecast.
Preacher airs Sundays at 10/9c on AMC. Click here to add a reminder to your calendar.
For the latest sneak peeks, full episodes and more, sign up for the Preacher Insiders Club.
Read More