Q&A
Preacher Q&A — Joseph Gilgun (Cassidy)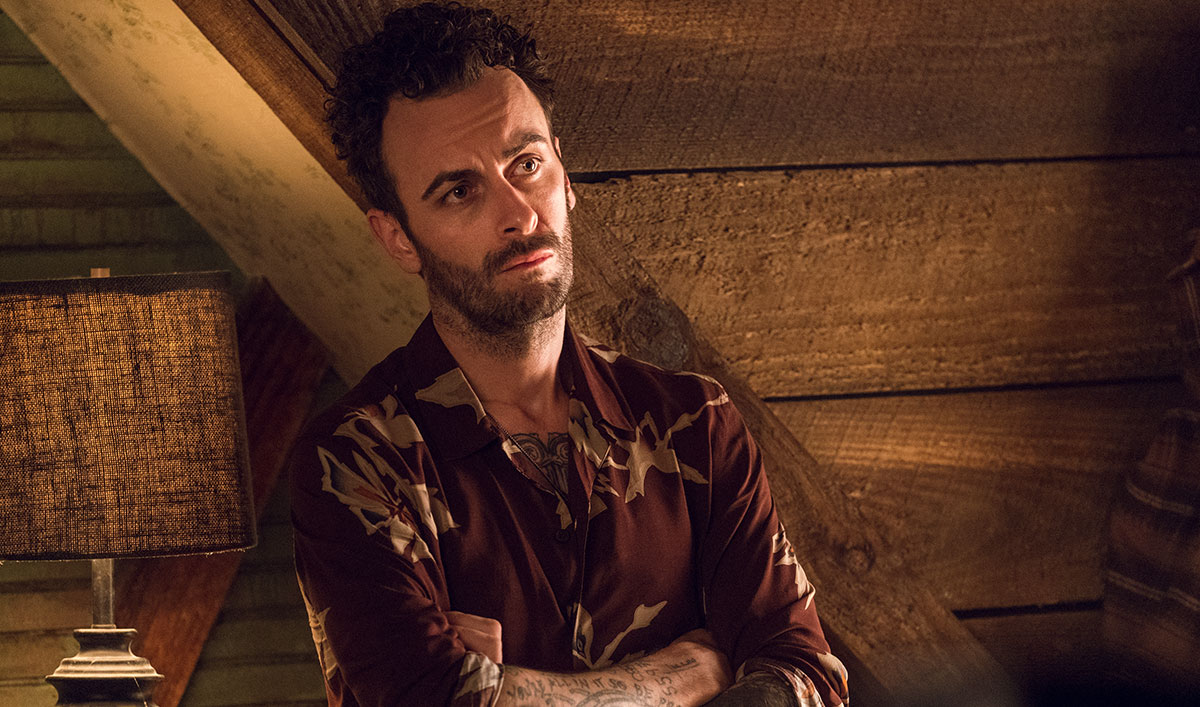 Joseph Gilgun, who plays Cassidy on AMC's Preacher, discusses his character being at odds with Jesse, how Cassidy handles Tulip's rejection and this season's crazy fights.
Q: Jesse and Cassidy are clearly at odds this season. What was it like to play that dynamic?
A: I feel that that's exactly where they were heading toward and it's important that it's the truth and the reality. With the farcical sh-t we're doing, you have to have those grounded moments. The relationship between Cassidy and Jesse was always going in that direction. That's what's so sad about it, I think, is that Jesse isn't the guy that Cassidy thought he was. I think he's starting to realize that. There's been multiple points where Tulip mentions 'You don't understand there's a side to Jesse that you don't know about.' And I think Cassidy always thought that she was talking about his physical ability to f–k people up, basically. I mean, the man's talented with his hands. But I don't think that's what she meant, I don't think that's what she was talking about. There's this rueful side to him. Cassidy's trying to remind her of that… Like, "He's f–king lying to us constantly, this guy is out for himself and his mission for f–king God." When this was a fun adventure for Cassidy, he wanted to see what would happen, what's gonna come of it. But I think he's starting to hit the end of the road a little bit in all honesty.
Q: Even after Jesse's plan works and Tulip is brought back to life, Cassidy still holds a grudge. Do you think he is capable of ever forgiving Jesse?
A: It's hard, and it's about understanding each other. Ultimately I think a big part of love is just seeing how much you can bear of someone's bullsh-t. Yeah, [Cassidy] still holds a grudge because… he is a vampire, and Cassidy can't stand it himself. He can't bear that he does what he does to stay alive and to survive, that he'll do terrible, unspeakable things. It's a very lonely place to be. And one of the few people in this world that he absolutely loves and wants to trust him doesn't. [Jesse] doesn't trust him and he thinks he's a fu-king monster, he thinks he's an abomination. … He's a disappointment to Jesse. I just can't imagine the hurt. When it comes to Jesse not accepting what Cassidy is, it is almost unforgivable.
Q: What does Cassidy make of Angelville and its creepy inhabitants? Does seeing Jesse's upbringing change the way Cassidy looks at Jesse at all?
A: Yeah! It's so fu–ed up dude! Like T.C. You meet these men in the world — I've met a lot of them — and you're just like, "What the f–k happened to you? This is not a safe human being. I've gotta watch what I say with you, because you clearly have this tick where you could just go at any time." I think arriving at Angelville and seeing that place, the history of it, very little seems to have changed, actually. These people are fu–ed! It's a miracle Jesse has come out the way he has, with that as his development. I mean that is the makings of a f–king serial killer. You've got these two c–ts, one of them's a man mountain with a terrible ponytail, the other one's missing a f–king eyebrow. And then Gran'ma sh-ts in a bag and deals with f–cking voodoo — I mean, imagine going over to his house or a sleepover after school.
Q: In Episode 3, Jody and T.C. discover Cassidy is a vampire. Does Cassidy find it odd that these pretty morally questionable people have issues with vampires?
A: Yeah, of course. Quite a lot. Cassidy's sticking around for Tulip. He isn't sticking around because he thinks he's the main attraction at this f–king freak show. I don't think for one minute he feels like he fits in. The great thing about Cassidy, everywhere he goes, he's kind of rooting for everyone. And I think even T.C. at one point, he's trying to find a way to like this complete lunatic. But I do feel like Cassidy — he's immortal, he's been shot, stabbed, fallen from planes and buildings. He's probably been run over by some tank at some stage in the war, I don't know. But I think he feels like he's kind of indestructible. And I think that moment when he's hoisted up, I think it's only Jesse at that stage that really sees the genuine threat.
Q: In Episode 4, Tulip refuses to run away with Cassidy and she says she doesn't love him. How devastating is that for him?
A: That was one of my favorite scenes to shoot. That was a really honest and beautifully written scene. When scenes are written in that way, the truth of it is on paper, it's hard to f–k a scene like that up. That moment there, I mean she has to do it for him. She doesn't want to. It's heartbreaking, telling someone you don't want them like that. I've certainly been in that position where I've been told someone doesn't want me, and f–k it hurts, man. It's happened a few times and it doesn't get easier, that feeling. I can't imagine that in a 119 years that that f–king thing wore off any more than it has in 34 years, for me. If anything, it feels like it kind of gets a bit worse, not being wanted, not being needed in this world. God, that f–king feels so lonely. For Cassidy, he's looking for that all the time. You know, he needs that, and he's not gonna get it with Tulip. He's just not. It's a long, hard road for him and I'm hoping he'll get there in the end.
Q: He could have used the love potion on Tulip. Why do you think he chose not to?
A: Because it's not the right thing to do. It's just not. He's completely in love with her, and when you are, you know that f–king cliche, "If you love her, let her go" — he's trying to do that, he's trying to just let it go. And in that moment, as much as he wants to, he just knows it isn't right. Ultimately, Cas does have his moments where he thinks, "F–k it" and he'll push his son through a window. He does have his moments where he can have a schizophrenic snap. I really believe that there's something probably deeply wrong with Cassidy that needs addressing. But he also is very kind and tries to do the right thing, as best he can.
Q: How excited were you for all the crazy fights you got to do this year? How did they compare to the chainsaw fight from Season 1?
When you cut an angel's arm off with a chainsaw, how do you top that? It'll be very difficult. I've gotta say, John Koyama and his team are just unbelievable. What they manage to pull off in the time they're allotted is just unbelievable. My stunt double — some of the hits that guy takes first thing in the morning is extraordinary. He must be breaking ribs here and there. It's extraordinary. The first season was just the best for violence. I got to f–k all them dudes up on the plane, I got to cut off an angel's arm with a chainsaw, I got to smash one of them to death with a bible. It was just the best dude, I had the best time… But I've had a great time fighting this season, and I think what we've managed to achieve is just incredible.
Q: Any favorite moments from the set this year?
A: Working with Dom, fighting with Dom this year has been great. Obviously me and Dom are friends, we're very close, and we want it to be good. I mean we were practicing fighting in fu–ing car parks, being bit by f–king mosquitoes. The mosquitos there, dude, they are not to be f–ked with. They will f–k you up for a few weeks. The bugs out there are the size of your f–king hand. It's like Jurassic Park! But, yeah, any time we'd ever get to sneak off and have a little battle, we'd do that. Like outside of the dressing room, fighting inside his dressing room, fighting inside my dressing room, fighting in the car park — wherever we were, we'd fight. I remember at one point I drank all his coffee. …  I want to point out, every time I get a cocktail or a beer or anything, he always wants to try it, and he takes the biggest swig! He f–king hoofs that sh-t! So sneakily, during one of these private fight rehearsals that we shouldn't have been having at all, I drank all his coffee and he was f–king fuming. I miss him already.
Read a Q&A with Jeremy Childs, who plays Jody.
Preacher airs Sundays at 10/9c. To stay up-to-date on all the latest news, sign up for the Preacher Insiders Club.
Read More