Q&A
Preacher Q&A — Colin Cunningham (T.C.)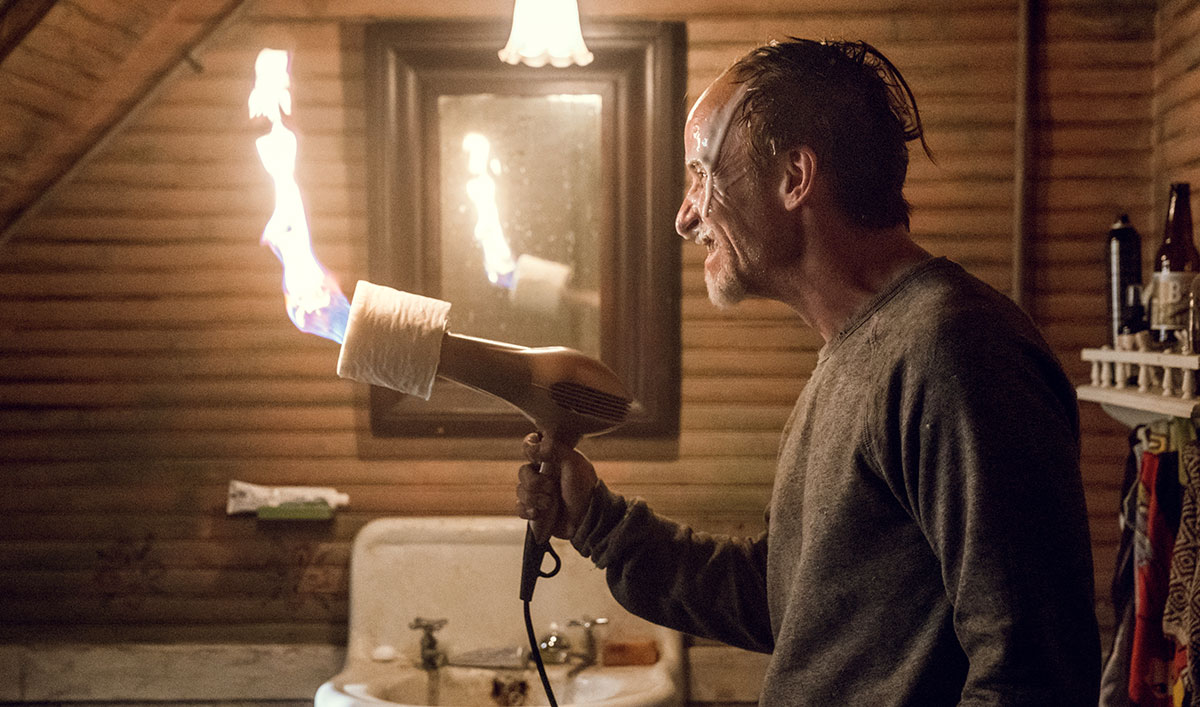 Colin Cunningham, who plays T.C. on AMC's Preacher, discusses the sacrifices he made for his character's unique look, why he and Cassidy are kindred spirits, and T.C.'s twisted relationship with Gran'ma.
Q: How much did you know about Preacher — the show or the comic book — before you were cast?
A: I knew very little. Came in green. When I got the part I checked it out and I thought, "Oh man, this is my kinda show" and I love it. It's aware of itself, it doesn't take itself too seriously — it's just this irreverent little bastard of a show. As for the comic, I know it's a famed comic, but I was of two minds. Do I go in and check it out, or do I not? I thought, "Well, I don't want to spoil it if there was something I did read and I also don't want to start twisting and changing it. So, I've still yet to read the comic. I just let our director Michael Slovis guide me through it. You know along with Sam and it was basically the three of us that came up with it.
Q: What are the challenges of taking on a well-known character like this?
A: If anything, I was grateful to be part of something so unique. I thought, "This is my kind of stuff. I'm curious to see how much they'll let me play with, let me get away with, and what kind of latitude they'll let me play with this," and to their credit they did. I'm really happy with just being able to kinda get into this guy's overalls. I do remember my first day, our wonderful hair gal said, "Would you consider shaving your head? Just, like, the front." And I was like, "What?! What do you mean just the front?" She and Sam [Catlin] talked me into shaving just the top of my head, and I looked like Bozo the Clown. I was wearing hats for months. I hesitated for two seconds, but once I did it, I thought, "It's just perfect."
Q: How would you describe T.C.? How do you think your version is similar/different from the comic?
A: I'll tell you what I didn't want to do. Obviously, T.C. is garbage! He's a degenerate. Beastiality, murder — these are not good people. My thought was, "All of that's already built in. I don't have to do any of that, that's who the guy is." What I tried to do is find his humanity. You know, he likes turkey sandwiches too. I thought, "maybe if there was a sweetness in there," and just juxtapose that with the fact that he is T.C. — a goat-humping, beastiality pervert. If you're just talking to him, he seems like he's kind of like a nice guy. He's odd and weird, but you're not playing where he's twisting his mustache and just playing the heavy. So I decided to go a different way, which was great because when Jeremy [Childs] was playing Jody and having a real intensity, I thought, well we both can't be doing that, you gotta have something to balance each other out. I think that plays well.
Q: What does T.C. find alluring about Angelville? Why do you think he's stayed around and been so steadfast to Gran'ma all these years?
A: T.C. grew up in the backwoods. He grew up in Angelville around all this crazy voodoo crap. Ms. Marie's got a hold on him, and I think he'd be terrified to leave Angelville, terrified to leave Ms. Marie. It's just part of his universe. I don't think he can go out and get a job at Home Depot. It's just not gonna happen. He's got to stay in Angelville and do Ms. Marie's bidding and take care of that end of things.
Q: Why do you think T.C. and Cassidy hit it off so quickly? Does it upset T.C. to later learn he's a vampire?
A: I just loved working with Joe [Gilgun]. We really clicked. T.C. and [Cassidy], they're both the odd man out. They're weird within their own worlds. There's definitely something in Cassidy that T.C. sees as a kindred spirit. And yet when T.C. finds out Cassidy is a vampire, he flips on a dime. He'll turn on and turn him in and string him up and light him on fire and have the sun burn his eyeballs out, which is twisted. You'd think it'd be the kind of family that's "Oh, you're a vampire? Welcome home!" But I guess it's back to prejudice within Angelville.
Q: In Episode 5, we learn T.C. and Ms. Marie have a more twisted physical relationship than we thought. Does he have feelings for her or is this just part of T.C.'s duties as her caretaker? 
A: Relationships are complicated, and they've definitely got one. It's definitely a son-mommy kind of relationship. It's the assistant and the mistress of the house, it's her being the voodoo queen and him being one of her minions. There's a lot going on there, but what I did love about it is that it shows that it's also sexual in a twisted way. When I read that in the script I thought, "Please don't cut this! Please let it survive." It's just this little slice of what goes on in that house when nobody's looking. And it just was wonderful working with Betty [Buckley] This woman is fantastic! It starts ridiculously comical. It's a funny goofy thing of T.C. as Rhett Butler from Gone With the Wind, and by the end of it she's pulled her friggin' wig off and she's screaming at him and the tears are coming out and she's ready to gouge his eyes out. All that happens within 90 seconds. It's pretty heavy stuff.
Q: What was your favorite moment or memory from shooting this season?
A: Oh, God. Each actor I have more than one fond memory.  I was just elated working with Betty. The scene with Ruth [Negga], standing there naked doing the whole monologue and doing that scene with her definitely sticks in my mind. Working with Dom, scenes with Joe— I've got so many. It's been a gift to work with such wonderful actors.
Read a Q&A with Jeremy Childs, who plays Jody.
Preacher airs Sundays at 10/9c. To stay up-to-date on all the latest news, sign up for the Preacher Insiders Club.
Read More