Press
Thrillist Awaits Preacher; TV Guide Checks Out Season 3 Sneak Peek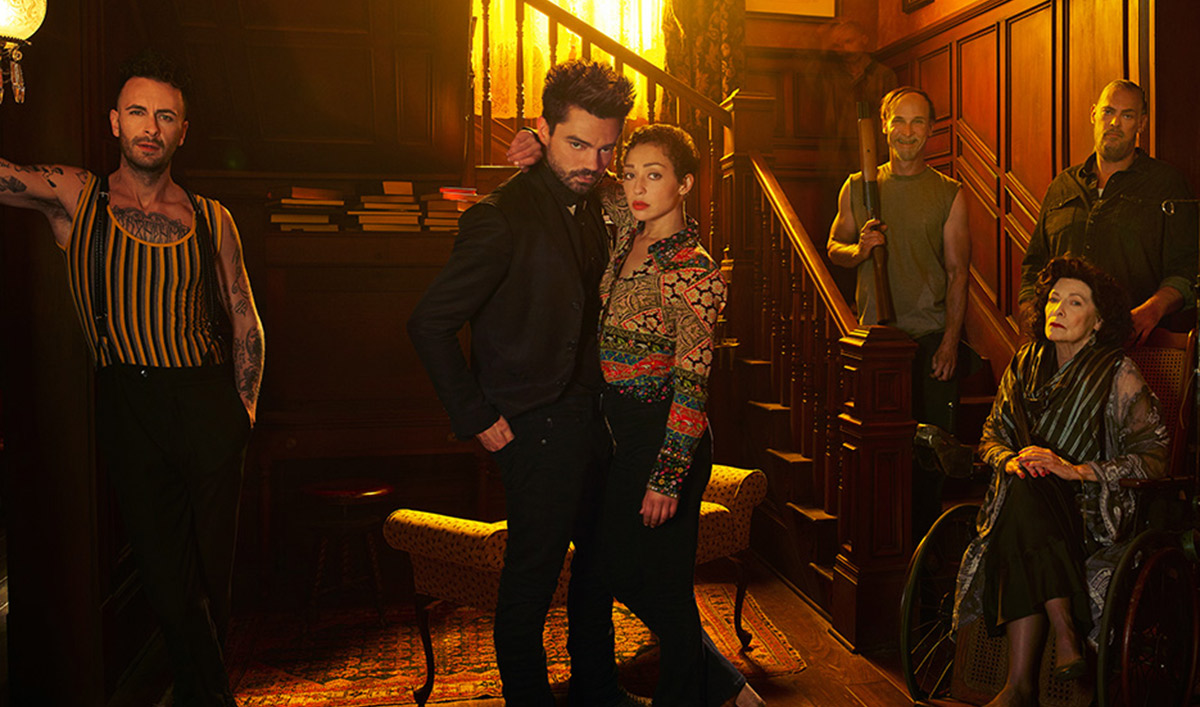 This week, Thrillist eagerly awaits Preacher's Season 3 Premiere, while TV Guide checks out a Season 3 sneak peek. Plus, Dominic Cooper speaks with The Hollywood Reporter. Read on for more:
• Thrillist will be watching Preacher, since Jesse is headed to Angelville "to reckon with his past before finding God. In the comics, this visit got… ugly. (Imagine the worst Thanksgiving dinner discussion ever, replete with tons of bad memories and even more blood.) We anticipate similar trauma here."
• TV Guide takes a sneak peek at Season 3 where "Jesse pleads with Gran'ma to resurrect his childhood friend. She might be evil but she's also his best bet at saving Tulip."
• According to The Hollywood Reporter, Dominic Cooper says a scene in the Season 2 Finale was his most stressful moment because "I realized how moving and how rooted in reality these characters are."
• According to Syfy, Seth Rogen explains this season's Jesse/Tulip dynamic, saying that Jesse's "the one that's stuck this season. So she's trying to get him out of this situation, with his help. They're really working together, as opposed to one being helpless and one saving the other."
• Screen Rant spotlights a Season 3 trailer that "isn't shy about what happens to Tulip when the season begins."
• Den of Geek, after watching a video about the new season, explains, "I truly appreciate that AMC is all in on this show, allowing the world of Garth Ennis and Steve Dillon's cult Vertigo comic book come to life in all its twisted, profane glory on the small screen. Preacher is nothing if not unpredictable, as this video makes abundantly clear."
• Playwright Mary Laws, who's a Preacher writer, tells The Guardian, "I write what I write because I'm a Christian. It informs everything I do. My father always taught me it's OK to laugh at the things you love. Part of Preacher is about interrogating faith. You can't do that stuff lightly."
• ComicBook.com spotlights a new Season 3 teaser, "which highlights the various characters on the show in a colorful and stylish fashion."
• The Gate has a Season 3 Premiere photo that "features Dominic Cooper as Jesse Custer, a hint of Colin Cunningham as TC, Joseph Gilgun as a bloodied Cassidy, and Ruth Negga as the currently dead Tulip O'Hare."
• Fandom recommends Preacher, which "torches the idea of a safe comic book adaptation and preaches to the fans in blazing technicolor."
Preacher returns for Season 3 on Sunday, June 24 at 10/9c. To stay up-to-date on all the latest news about Preacher, sign up for the Preacher Insiders Club.
Read More