Q&A
Preacher Q&A — Sam Catlin (Executive Producer/Showrunner)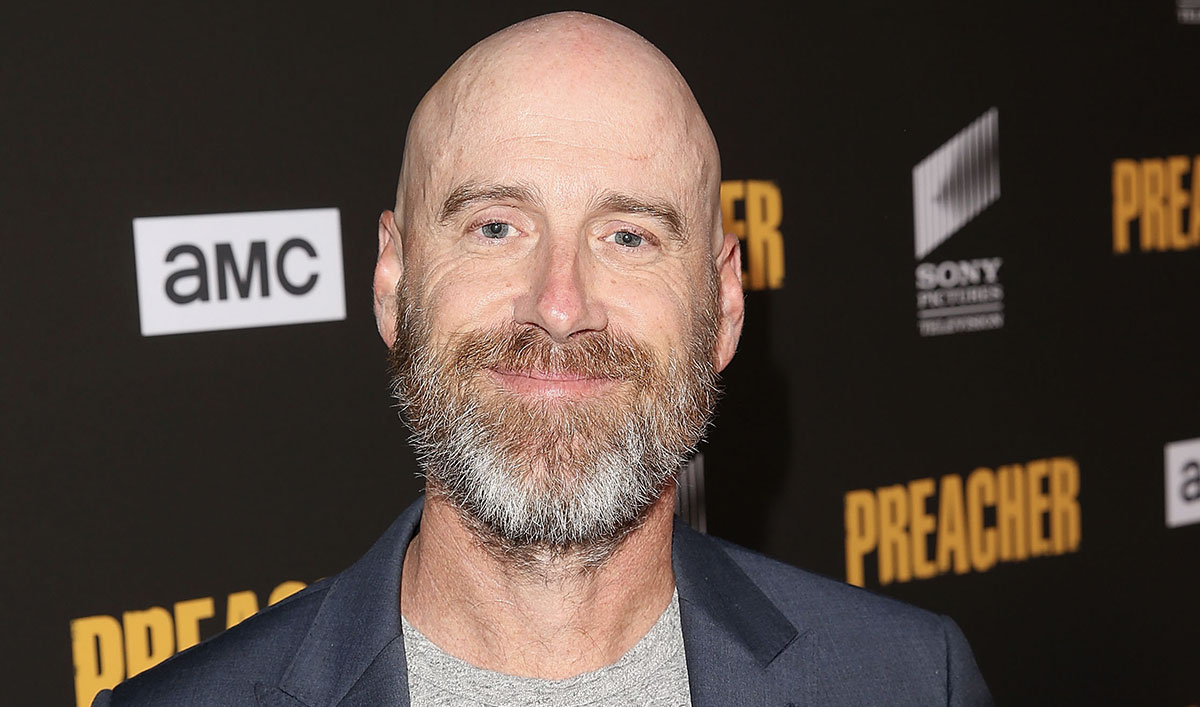 Sam Catlin, the executive producer and showrunner of AMC's Preacher, discusses Jesse's conflicted feelings about returning to Angelville, the fractured relationship between Jesse and Cassidy, and how the Grail figures into Season 3.
Q: How does returning to Angelville this season affect Jesse?
A: He wouldn't go back to Angelville if he didn't absolutely have no other place on Heaven and Earth that he could go to. It's sort of the last haunted house on the left, for him. Gran'ma, Jody and T.C. are his kryptonite in a lot of ways. The fact that he's going back there with Genesis not really working only underscores the danger he's going to be in.
Q: Is he mostly afraid of seeing his family or does he fear who he becomes when he's there?
A: I think it's both. It's that feeling that a lot of people get when they go home – they don't like the place, but they also don't like who they become when they're there. I imagine even the most powerful [people like] Barack Obama, when he goes back to some place where he used to get bullied in his childhood, probably [gets] scared. I think that's this place. It's this place in Jesse's past that he could never crack.
Q: What was it like seeing Gran'ma, Jody and T.C. come to life? How do they compare to their comic counterparts?
A: It was a lot of fun bringing it back there. We always knew we wouldn't be Preacher if we didn't go back to Angelville. It's always fun coming up with an adversary for Jesse and learning more and more about his darker side and how that was fed while he was back in this place. They're fun characters to write. They're really bad, but they are also Jesse's only true family, in a way. It was a lot of fun to write.
Q: How does having Jesse and Cassidy at odds impact the dynamic of the core trio?
A: It's definitely shaken up the dynamic in a way where it will never be the same again – for better or for worse. Cassidy's always gone along and gone where the party is, but he's really crossed Jesse. They both have really crossed each other, and I think that's going to be a problem that's going to take some time to fix – if it ever does get fixed.
Q: How does Tulip's brush with death change her approach this season?
A: In a lot of the ways that Jesse is facing the demons of his past and his family name, Tulip's brush with death and her experiences will give her demons from her own past to try to overcome. A theme of this season is: Are we more than just our family name? Tulip will emerge from her experience with a new challenge where she has to conquer her own past.
Q: How does Jesse handle the Grail this season? Does he want revenge for Tulip's death or does the fact that Herr Starr has his soul pose too much leverage?
A: He has a need from Herr Starr, but he also now understands just how sinister and ruthless the Grail is, if he didn't before. He may have to have a marriage of convenience in order to get out of his prison of Angelville. I think Jesse's never going to forgive Starr for what he did to Tulip, but right now, he may need to get help from anyone – including the Grail – in extricating himself from Gran'ma's clutches.
Q: What can you tell us about the Saint of Killers' journey now that he's back in Hell?
A: At the end of the last season, the Saint says he wants to talk to Satan, and he's told that Satan wants a word with him as well. So, first thing's first: What the hell do these two have to say to one another and where will that lead the Saint next? It may lead him on a different kind of mission. The Saint's out of the picture right now, but he hasn't been forgotten and he'll definitely be making a big appearance in Season 3.
Q: This season seems crazier than usual even by Preacher's standards. What do you most want fans to know about Season 3?
A: It's true. This year is crazier, it's bigger, it's more violent, it's more bold, and it's more profane than the first two seasons put together. Preacher's just even more Preacher this year. The stakes are bigger. In the beginning, the stakes are pretty much Jesse and his friends. With each season and with each episode, the ramifications of God's disappearance, these new rules or the lack of rules, and these grabs for power are becoming much more than the problems of Jesse, Tulip and Cassidy. It's starting to impact the entire world — Heaven and Hell and Earth. The world just keeps getting bigger and the stakes keep getting higher.
Read a Q&A with executive producers Seth Rogen and Evan Goldberg.
Preacher premieres Sunday, June 24 at 10/9c. To stay up-to-date on all the latest news, sign up for the Preacher Insiders Club.
Read More