Q&A
Preacher Q&A — Dominic Cooper (Jesse Custer)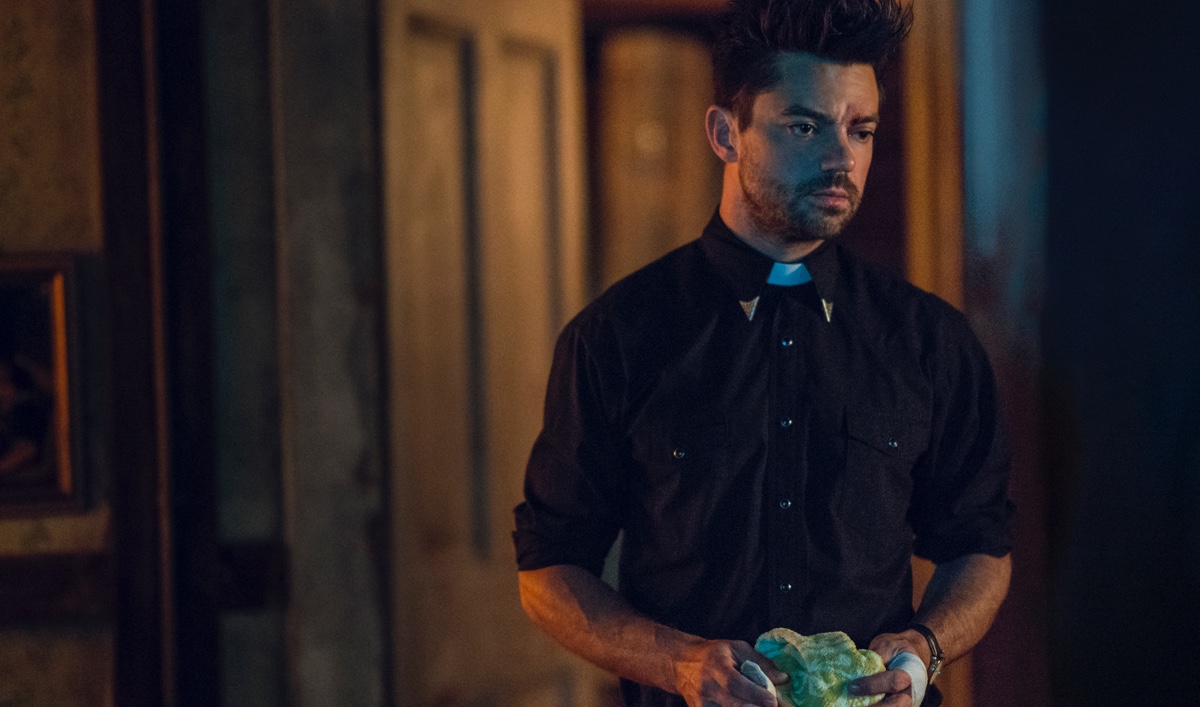 Dominic Cooper, who plays Jesse Custer on AMC's Preacher, discusses the deterioration of his friendship with Cassidy, the fear of going back home to Angelville, and the craziness to come this season.
Q: How difficult is it for Jesse to go back to Angelville?
A: I think it's the thing he fears more than anything or anyone. It terrifies him. It means he's going to face something that he's always known at some point he would have to face, which is dealing with the people in his life who ruined the whole of his childhood and made him have all these bad elements of himself that he's been trying so hard to get away from. These are the people who have done that. He's being pushed to a point now where he's having to face all those demons. Each and every episode, each and every turn he makes, each and every attempt, he's confronted by the impossibility of changing one's self or changing who he is or escaping the violence and persecution from this awful family that are prepared to go to any length to get what they want and who enjoy a life of violence and pain and torture. Jesse managed, somehow, to take a part of his father and remain strong and manage to leave. I think that was the best thing he's ever done, but it's come back to haunt him.
Q: Jesse and Cassidy are clearly at odds. What was it like to play that dynamic this season?
A: It's just so pathetic to Jesse. This is something I was finding quite hard. Why would you continue this relationship? I know he's a great friend and the only real good friend he's had, but he's becoming such a hindrance and a nightmare to have around. Ultimately what he said is, "I rather the love of my life be dead than to be anything like you." That's quite a rude awakening for Cassidy and it's the end of their relationship eventually essentially. It's going to be fun to see where that goes.
Q: Does Jesse ever worry that Tulip might blame him for her death if he's able to bring her back?
A: She's one of those people that just moves on. I think their relationship is in such a place at the moment where she knows he would do anything for her. He got her back to life, whatever it took. She's back, and I'm sure she knows he went through a lot to get her back. Something very odd is going on, something very suspicious, but they're together. He saved her and even though he was the cause by bringing those people into their lives, she's kind of immune. She really backs him. She's had this thing happen to her where her eyes have suddenly been opened. She's on a new journey as well and they seem pretty strong.
Q: How concerned is Jesse when he's forced to make the blood contract with Gran'ma? 
A: One thing that's amazing about him is his ability to wiggle himself out of a situation. His life has constantly been that. He knows this blood contract is a massive deal, but there is no choice. He knows he'll come up with something or there will be another route and another way to escape it. Something will come up that will allow him to fix the situation. He's never sure, but with the way he lives his life with such abandon and disregard for a lot of things including himself, he's prepared to take the risks. It's another one of those dead ends on this maze that's going to create carnage and disaster later on. He doesn't want to let that happen, but he has no choice.
Q: How would you describe Jesse's relationship with Jody? Why do you think Jody is so obsessed with the notion of Jesse beating him?
A: He's had so much hatred towards this man. There's not a day that passes where he doesn't think about exacting revenge on him. But when you're confronted with him and you come face-to-face, what actually would that achieve? Will it bring my mom back? Will it bring my dad back? No. He's prepared to let it go, but Jody pushes and pushes to the point where Jesse just goes, "Alright. One day, I really am going to kill you" and it culminates in a huge fight. He can't stand him. Some people think he has a respect for him and his strength. He doesn't respect his strength. He thinks the guy is a moron of the highest order. The respect may be, "He also trained me." But what that dimwit is capable of and what he did to the people I love for no apparent reason disgusts me to such an extreme and I'm pushed and forced to enter into this state of revenge and violence, which I really don't want.
Q: We've talked before about Jesse being reckless with the Word of God. Do you think he's learning his lesson now that he's not able to use it?
A: I think he still believes it's his God-given right. He still has this cocky attitude because he sees more and more that it can't exist anywhere else. It just exists in him and there's a reason for that. The reason is that he has his grandmother in him. He has that evil side from the family, but he also has his father, who was a good man. It's a constant struggle that he deals with on a daily basis. He knows that thing exists in him and, one day, he'll harness that power again. He knows, when he gets his power back, he'll be able to hopefully do better for the greater good.
Q: What was it like working with a new set of actors this season and exploring so much of your character's history?
A: What was great about them was that they were all really big fans of the show, so it ignited this realization that you don't need to get lost in making a show. There are people in the outside world who really enjoy watching it and who have so many questions they want to ask about the characters and what your dynamic and relationship is with them. They were all so brilliant and prepared and exciting to work with. It ups our game. It's just a different energy. They're all very different. You're in a small space and a quite chaotic environment under extreme pressure to make a lot of material in a small amount of time. When you're standing there looking into the eyes of another actor, you're getting this feeling from what's there and how alive they are and what they're bringing to each and every scene. They always unearthed things about the scene that would be interesting to look at. It was really eye-opening and enjoyable to experience that different dynamic.
Q: What can you tease about just how crazy this season gets from here?
A: It only gets more and more outrageous and ludicrous. We have more extraordinary characters that come in from the comics. What's been wonderful about being part of this discovery of a show is the continual underlying fact of the extreme. With regard to the writing and the characters and the look and with absolutely every aspect of it, we make it as extreme as possible. Make it as unexpected as you possibly can and then, the show starts to unlock from its original source because that's what the comic is like. It's constantly surprising each time you turn the page and that's what we have to live up to for the betterment and enjoyment of the viewer.
Read a Q&A with executive producer and showrunner Sam Catlin.
Preacher premieres Sunday, June 24 at 10/9c. To stay up-to-date on all the latest news, sign up for the Preacher Insiders Club.
Read More