Q&A
Preacher Q&A — Sam Catlin (Executive Producer)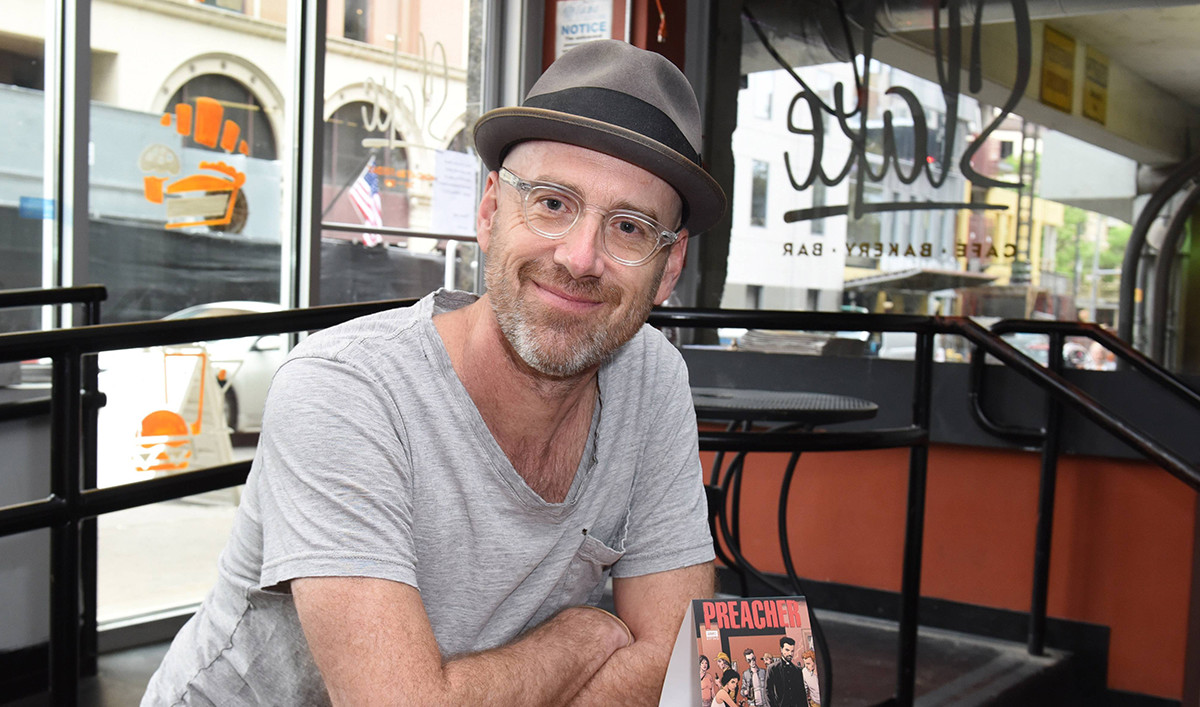 Sam Catlin, the executive producer of AMC's Preacher discusses what Season 2's road trip means for our heroes, the threat of the Saint of Killers in the modern world and the moment that will make people "freak the f–k out."
Q: Season 1 was based on original material to set up the world of Preacher and provide backstory. What are some of the benefits/challenges of following the comic more closely this season?
A: Season 1 was really a lot of set up in terms of establishing Jesse's relationship with God and all that stuff that wasn't really a part of the comic. Now, the show is becoming a road show, a quest show — everything that the comic book is. And God is not an abstract thing. He's someone who's out there that Jesse's looking for and people are trying to stop him from finding. So, it's an opportunity for us to really lean into all the great worlds and characters that we didn't have the space to delve into in Season 1.
We always want to honor the spirit of Garth [Ennis] and Steve [Dillon's] comics. Even in Season 1, we wanted it to feel like that sort of gonzo Preacher, "anything can happen" world. That's always our guiding principle… but the comic is a comic and our show is never going to be able to pace itself in the same way. It's never going to be able to tell stories so quickly. We're not going to be able to be in the South of France one week and San Francisco the next. There are limitations of being a television show, but what we can do is take these worlds that are passed through very quickly in the comic book and delve deeply into them. All of these great locations that Jesse, Tulip and Cassidy only spend an afternoon in, we can spend six episodes on and, that's a great benefit of doing long-form cable television.
Q: What would you say is the biggest difference between Season 1 and Season 2? 
A: They're on the move. Jesse's been unshackled from his responsibilities to the town and to his father's church, and they're out in their element more. Jesse's not as limited by his Preacher-ly behaviors as he was in the first season. [Laughs] They're out in the big bad world, in the big bad city. Also, all three characters are really a team now. They were separate and running parallel and independently a lot in Season 1. In Season 2, the dynamic is they're a team. It's been a lot of fun having Ruth [Negga] and Dom[inic Cooper] and Joe [Gilgun] in scene after scene together.
Q: How much does the Jesse-Tulip-Cassidy triangle inform this season, now that they're all on the road together?
A: The tension between Tulip and Jesse and Cassidy will grow and become more fraught. It's always going to be an issue between them. As much as they love each other, there's also a deep well of resentment and rivalry. So, that dynamic will become much more to the fore this year. It won't be quite so subterranean. As close as they've become, there are also these forces of their own weaknesses and personalities that, in a way, threaten to drive them apart by the end of the season.
Q: What's it like having the Saint of Killers as a presence in the current-day storyline this season?
A: So exciting! The idea of this cold-eyed killing machine walking the streets of 21st-century America – it's been really thrilling to set up these great sequences. Graham [McTavish] is wonderful as this vengeful demon and it gives us a chance, later on in the season, to understand more about how the Saint became who he is. It's been so exciting to have him face-to -face with Tulip and Jesse and Cassidy and bringing him into their world. How do you stop him? How do you negotiate with him? How do you escape him? All that stuff has been super challenging, but also super fun.
Q: What does shooting in New Orleans do for the story?
A: It's the ultimate Preacher location. It's lawless and beautiful and dark and desperate and haunted. It's been a joy and has helped us so much creatively and visually. It feels like we're going from one American icon, which is the little town in the west, to this iconic American city. It's been thrilling, and I think people are going to see New Orleans on television in a way they haven't before.
Q:  We lost so many characters in the destruction of Annville. What can you tell us about the new additions in Season 2?
A: We're bringing in some very new faces. We're bringing in the Grail, which is a great part of the comic. We're very excited about bringing in this organization that controls the world. [Laughs] Herr Starr, who's this wonderfully perverse character, is going to be on Jesse's radar. And then just the crazy cast of characters that they run into along the way in New Orleans. There's a whole other world that I'm not at liberty to talk about, but I think when [viewers] see what's become of Eugene and who he will interact with over the duration of the season, I think people will freak the f-ck out! [Laughs]
Read a Q&A with executive producers and directors Seth Rogen and Evan Goldberg.
Preacher premieres Sunday, June 25 at 10/9c.  Watch the Season 2 trailer and check out first-look photos from the new season. To stay up-to-date on all the latest news, sign up for the Preacher Insiders Club.
Read More