Q&A
Preacher Q&A — Joseph Gilgun (Cassidy)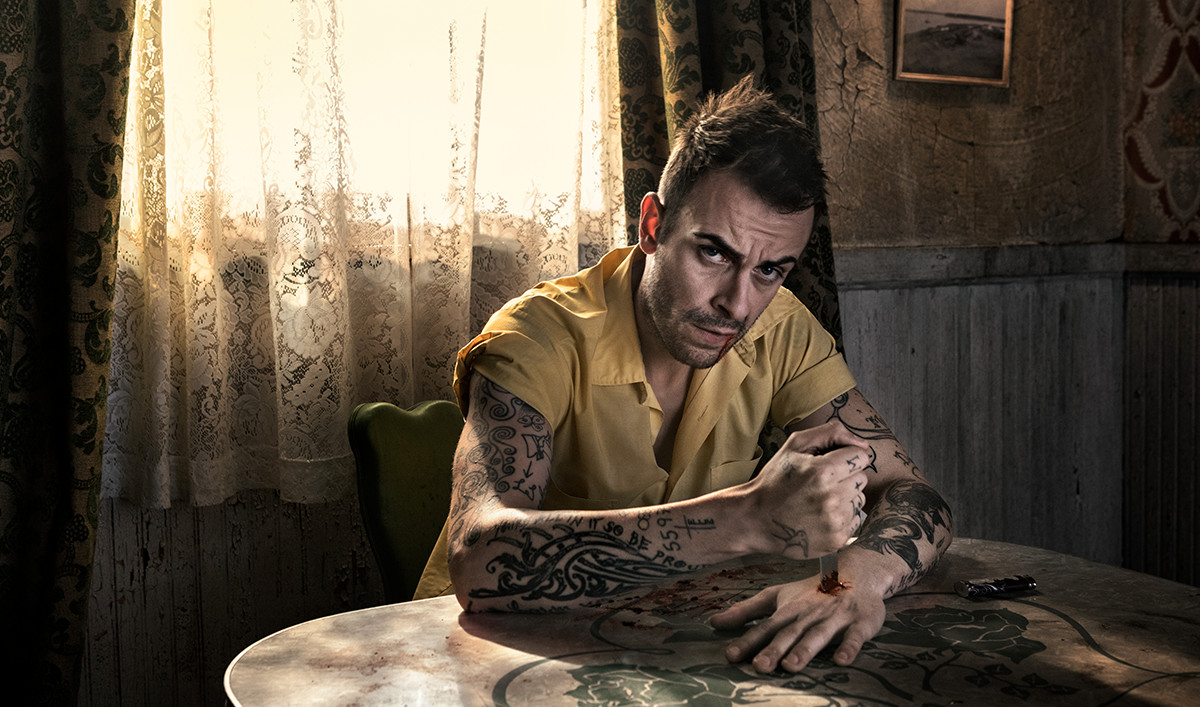 Joseph Gilgun, who plays Cassidy on AMC's Preacher, discusses being caught in a triangle with Jesse and Tulip, what being in a party town like New Orleans does to Cassidy and finding the vampire's softer side in Season 2.
Q: Cassidy has really popped as a fan-favorite character…
A: I feel so unbelievably lucky to be playing him. I live in the woods when I'm not filming. I go live in the wild for a bit because I just can't deal with life. So, I finished shooting Preacher, came home to the U.K. and left to go to the woods. I couldn't bear the idea that I'd let people down and do a bad job with Cassidy. I literally ran away. To have my friends and family telling me I was a favorite – I cried like a child. The relief that I had not f-cked this up was so overwhelming.
Q: Why do you think people relate to him so well?
A: He does what he wants, when he wants, and f-ck the consequences. If he sees an opportunity, he'll take it, whether it be for fun or his own personal gain. As selfish as that is, I think it's very honest, and I think he perceives it as being a very honest way to live. He looks at people like Jesse and thinks, "Who the f-ck do you think you are? What makes you think that you're any different than the rest of the sinners on Earth? Embrace what you are, which is a sinner, and sin." He's unapologetic and he's a f-cking lunatic. I think he represents that side in all of us – that reckless side – that either has existed when you were young or is existing now because you didn't do it when you were young. He's the devil on your shoulder, whereas Jesse would be that angel.
Q: What's it like for a party animal like Cassidy to be in a party town like New Orleans?
A: He couldn't be happier. He loves New Orleans and he has very fun memories of it, but he runs into trouble. Not the normal trouble that nearly gets him killed, but a very human problem. As much as he'd like to party and just do what he normally does – which is run away from all his problems – he's actually forced to deal with some of them… The last thing I shot was Cassidy passed out after drinking an entire bottle of Brandy, so he's still getting f-cked up. He's still an alcoholic and drug addict. He's having a good time, but there is also a very human thing that's happening to Cassidy, which is dealing with your sh-t. He's not done that for some time.
Q: How difficult is it for Cassidy to be stuck between Jesse and Tulip this season?
A: It's a terrible nightmare, isn't it? If we go back to the first season, Cassidy had absolutely no idea that Tulip was Jesse's ex-girlfriend and that coincidence was just earth-shattering for him… You know when you meet a beautiful girl and you're introduced to her handsome, smart, brave and intelligent boyfriend, and it makes you want to die inside? I imagine it'd be like that only times 10 because he has respect for Jesse and he's fascinated by him. The betrayal is unbearable for him, but not so much that he wouldn't own up to it and say, "Listen, I'm in love with Tulip. I'm desperately sorry about it. I tried to not be, but I just am." That's what an honest man would do, but he can't bring himself to do it. He doesn't want to upset the balance, which is always slightly on the edge of being upset. All three of them have very big personalities and have their own things going on, so you have to be careful with these characters. They're all quite volatile and the situations they get themselves into is enough without adding on "by the way, I'm in love with your f—king girlfriend." When is there a good time to share that with your best pal? [Laughs]
Q: So, what's harder for Cassidy: not being able to be with Tulip or the idea of betraying his best mate?
 A: The boring answer to that would be 50/50, but the truth is, for me… it really bothers me that Cassidy hasn't told him because he's an honest dude. He's not done anything wrong. She knew what she was doing. He had no idea. It's interesting because we know what happens eventually in the comics and we're going to go down that road. I think Cassidy knows how destructive he is and how vulnerable Tulip can be, and ultimately, deep down, he knows full well that him and Tulip are just not meant to be. She just doesn't love Cassidy like she loves Jesse. More than anything, it's the deceit of not telling his friend. I'd be more inclined to lean towards that.
Q: It's easy to fixate on Cassidy's wild antics, but have you enjoyed playing his softer side?
 A: With a lot of the roles I play in the U.K., I'm a sensitive guy, and I enjoy accessing those feelings. I can do that quite quickly. I joke about not having to dig deep… But the reality is I do have to dig deep. It's not an easy role. I had a scene just the other night that I underestimated. There's a lot of information being given in a small window of time and it was so difficult that I physically punched myself in the head. I couldn't get the intention. I knew the lines, the technical side was done, I had the words in my brain, but the intention and making it believable so that people would go, "F-ck. I get it," is incredibly difficult sometimes. It's always a challenge. It takes me at least two months to get back into filming and to find the character again, so I spend the first two months just sh-tting myself and fighting serious anxiety symptoms and feeling like I'm genuinely ruining Preacher. For the first two months, I was sure that I'd forgotten how to act and the only reason we'd ever get a third season is if Dom and Ruth are there.
Q: Objectively, Cassidy maybe has the least to gain from this trip to find God. How does he view the road trip?
A: There is an agenda for Cassidy, but I don't think he thinks so at the moment. He's just enjoying going along for the ride. I know I would have an agenda if I'd been abandoned for 119 years on the Earth where everybody I ever loved dies and just end up hurting me. He can't go out in the sun and all he wants to do is swim in the ocean. He wants to sit on the beach and walk into the ocean when the sun's out, but he can't. 119 years of that bullsh-t! I think at first, the quest for God was just absurd to Cassidy and he was enjoying listening to this crazy bastard who truly believes that he's got this power. Then, he goes, "Hang on a minute. There might be a God here. And if there is a God, I want a f-cking word with that guy because it's been really f-cking miserable! Where has he been for 119 years?"
Read a Q&A with Ruth Negga, who plays Tulip.
Preacher premieres Sunday, June 25 at 10/9c.  Check out first-look photos and the latest teaser from the new season. To stay up-to-date on all the latest news, sign up for the Preacher Insiders Club.
Read More