Q&A
Preacher Q&A — Graham McTavish (The Saint of Killers)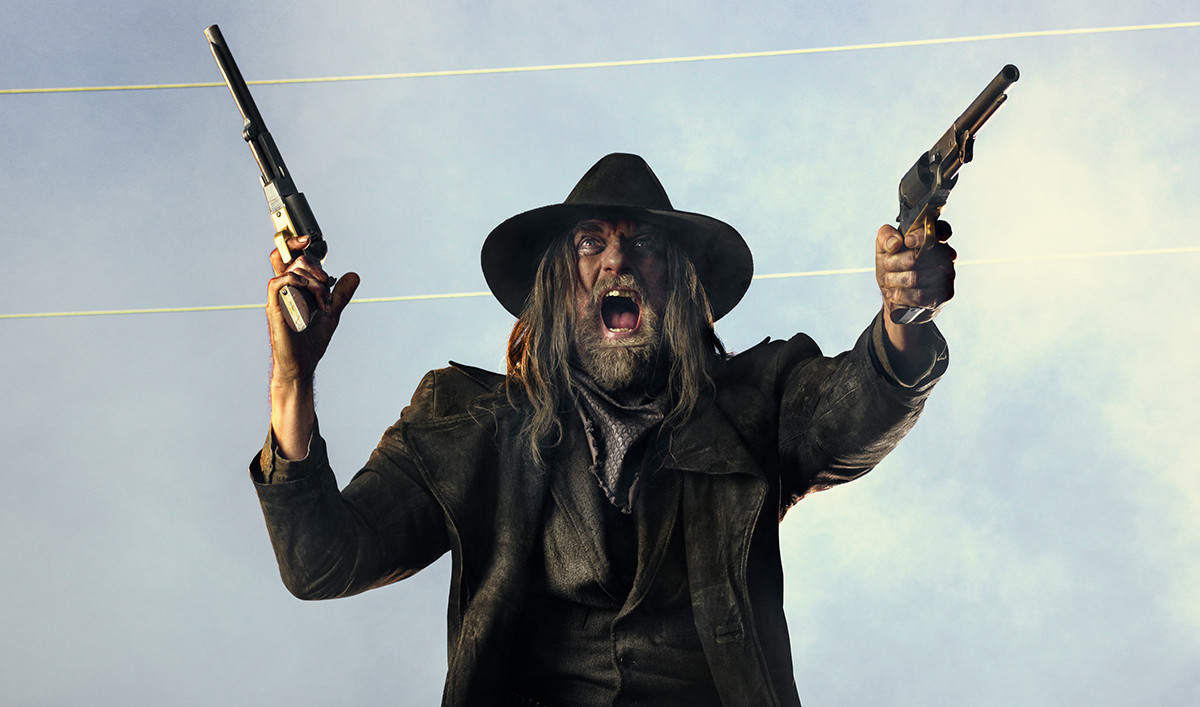 Graham McTavish, who plays the Saint of Killers on AMC's Preacher, discusses fully unleashing the Saint in Season 2, how he mixes in depth among the brutality and why his character is a mix of Clint Eastwood and the Terminator.
Q: Your story in Season 1 was very specific and isolated from the rest of the action. How have you enjoyed being in the mix with the rest of the cast this season?
A: I'm getting to interact with them now and as the season has progressed, that interaction has increased. …From a writing and story point of view, it opens up enormous possibilities in terms of the dynamic.
Q: With the Saint of Killers having a singular focus this season — kill Jesse — how do you dive into something so seemingly simple to find the layers of the character?
A: It does offer some interesting challenges because he's not a man giving huge monologues of his innermost feelings, but you have to find different ways of telling the story. I suppose the key thing is that he has been through Hell and that has changed him both in terms of his appearance – he's certainly different in terms of his costume and makeup – and his physicality. He has an exhaustion about him. He has no joy in his life now. He only has that singular purpose, but the guiding force for the Saint – and I think this really unlocked something for me when I really thought about it – is that his motivation is his love for his family. Rather than seeing him as this purely vengeful, possibly evil character who's going around slaughtering dozens of people, he's actually a man with a mission that allows him to fulfill his destiny in terms of the love for his family.
Q: So, how does the Saint's tragic past factor into the specific choices he makes in dealing with people along the way?
A: I can't play him as a man who has doubt and hesitation. He kills without any confliction whatsoever, but what I have to do is find a rationality behind that so that it's not simply a gratuitous set of violent acts with one following up on the other. He's motivated by something real and complex. That's why I think the notion that his journey focuses on love and hope is key for me. You're not going to be seeing me weep or anything like that, but I think it's important that he has that three-dimensional depth to him rather than a robotic killing machine.
Q: Still, just how much fun is it playing such a seemingly unstoppable badass?
A: Oh, my God! I mean, it's ridiculously enjoyable. I think my body count at the moment is 50 or 60 and we're only into Episode 6. It's great fun. People like Clint Eastwood in Unforgiven and High Plains Drifter are mythological figures of the West that we all grew up with – I certainly did – and I was given the opportunity to play something with echoes of all sorts of characters. He's got the Terminator, characters like Predator… Those things are such iconic cultural experiences that we've all gone through and to be given the opportunity to portray something like that is fantastic.
Q: Now that you don't have to hide your role, what's it been like being able to interact with the fans?
A: It's a huge relief! [Laughs] I'm pretty terrible at keeping secrets, so it's just as well that it's out there this time. It's very exciting. I'm a huge fan of the books – going way back to when they first came out – and then being given the opportunity to play one of my favorite characters is fantastic. The journey that the Saint goes on in Season 2 is turning out to be a really interesting one, so it's been great.
Read a Q&A with Dominic Cooper, who plays Jesse Custer
Preacher premieres Sunday, June 25 at 10/9c.  Check out first-look photos and the latest teaser from the new season. To stay up-to-date on all the latest news, sign up for the Preacher Insiders Club.
Read More