Q&A
Preacher Q&A — Garth Ennis (Executive Producer)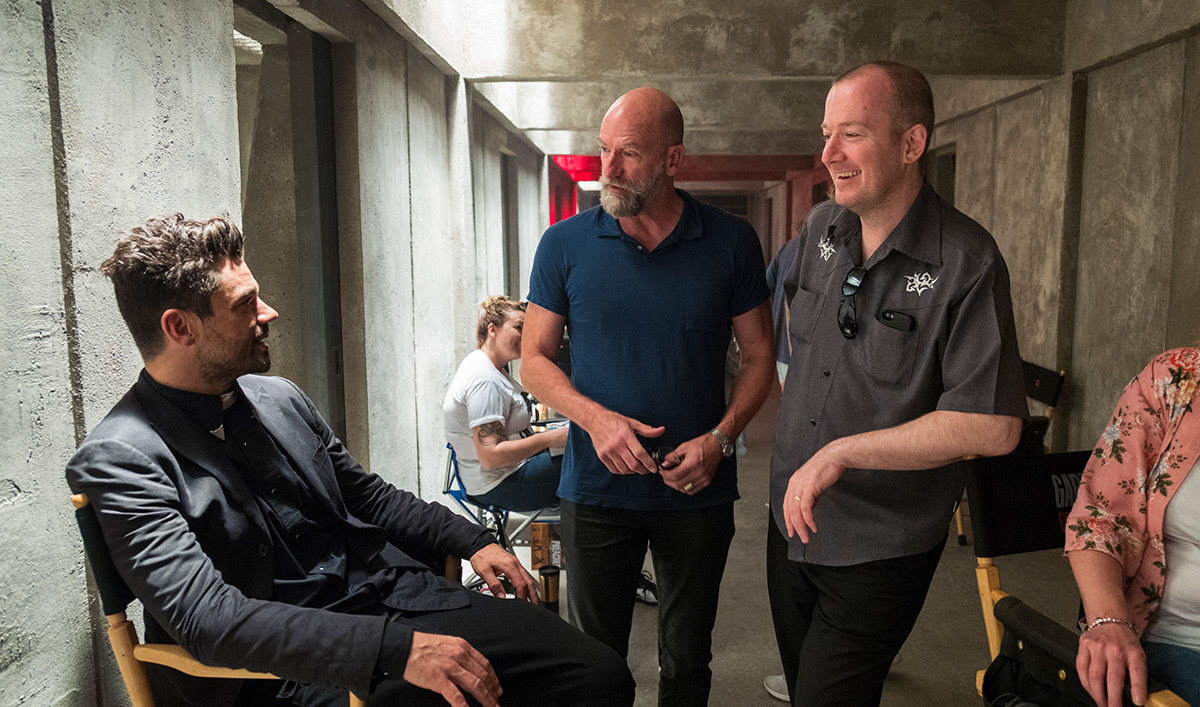 Garth Ennis (pictured above, far right), executive producer of AMC's Preacher, discusses how Season 2 brings his comic to life, why he prefers not to write episodes of the show, and he reflects on the death of his comic co-creator Steve Dillon.

Q: You've said the show really captures the spirit of your book. Now that Season 2 is adapting the book more directly, are there particular sections of the book you're looking forward to seeing more than others?

A: Looking back on the comic, my favorite character is pretty definitely the Saint of Killers, although Starr and Tulip certainly had their moments.
Q: How excited are you to get to see the Saint fully in badass mode this season?
A: It's great to see him in action almost from the get-go as Season 2 begins, particularly the shoot-out on the highway. It defined him perfectly in the comic and does exactly the same in the show. I'm looking forward to seeing more of him as the season continues; I think Graham is doing an absolutely pitch-perfect job with the character.
Q: How do you think the Jesse-Tulip-Cassidy triangle will impact all the characters in Season 2?
A: That's something I'm looking forward to finding out.
Q: Have you thought any more about actually writing an episode or two of the show? 
A: Provision was made for me to do so, but in the end I decided against it. TV writing is a much more collaborative, team-based kind of writing than I'm used to; I've never played particularly well with others. Preacher, ultimately, is a story I've already told once – 20-plus years ago – and I'm content to let Sam and his team develop their interpretation while I get on with current projects of my own. I like watching the show rather than working on it.
Q: Everyone was saddened by the death of Preacher artist Steve Dillon. What are your favorite memories of working with him?
A: Steve and I had a pretty much perfect working relationship on Preacher, in that I wrote it and he drew it, and we never had cause to second-guess or criticize one another. We simply trusted each other implicitly to get on with the job. In storytelling terms, I kept him entertained and he gave me what I needed. This surprises people, but when we met up we rarely talked about Preacher or whatever else we were working on at any particular time. We would look back on it with fondness later, but at the time we'd talk about almost anything else. I'm glad he got to see the first season, and that we watched the pilot together at my place and both loved it. I'm sad that he won't see any more, especially as the series starts to follow the book more closely, and that he won't get a chance to tour the set as I did and see the incredible efforts made to bring the world he created to life.
Q: What are you most excited for fans to see in Season 2?
From what I've seen so far: a couple of massacres the Saint perpetrates in the first two episodes, some suicidal fun with Fiore, and a scene with Fiore and Cassidy in episode two that allows both actors to shine.
Read a Q&A with Graham McTavish, who plays The Saint of Killers.
Preacher premieres Sunday, June 25 at 10/9c.  Watch the Season 2 trailer and check out first-look photos from the new season. To stay up-to-date on all the latest news, sign up for the Preacher Insiders Club.
Read More