Q&A
Preacher Q&A — Dominic Cooper (Jesse Custer)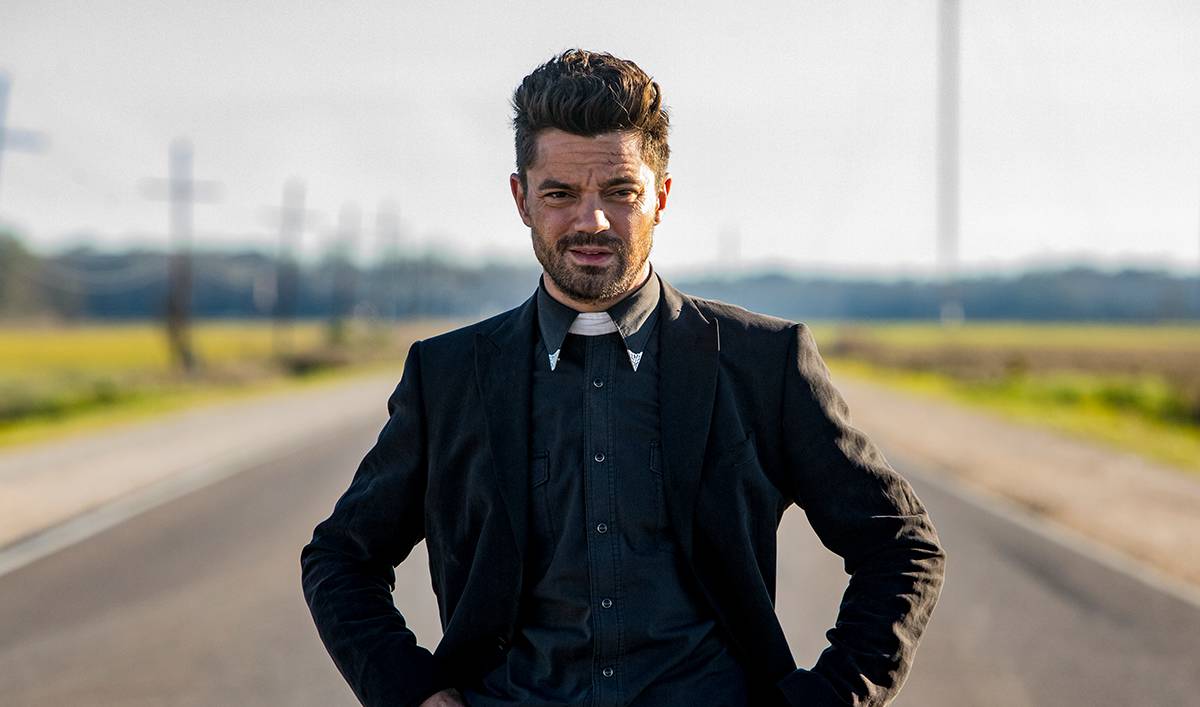 Dominic Cooper, who plays Jesse Custer on AMC's Preacher, discusses how Season 2 brings more of the comic to life, whether Jesse has learned to control his power and why searching for God gives Jesse clarity.
Q: What's it been like shooting in New Orleans? Have the new locations affected your approach to your character and the story?
A: It feels like a different show, which I love. The guys have been so good at making sure the show continues to feel very fresh in this idealized context. New Orleans has a very specific undercurrent with history, and the people are very distinctive here. There's a culture that really matches the feeling of the show. It couldn't be a more perfect place for us – a bunch of lunatics – to end up.
Q: How would you describe Jesse's journey this season?
A: I think he's beginning to really take control of this power, and he has this internal dialogue and conflict with regards to whether he can harness it and do right with it. The challenge is: Is he capable of that? Whatever and whoever this power belongs to — does that person or entity want him to be in charge of it? He's really going to have to question and look inward because it obviously has an incredible impact on people and a huge influence on changing the present and the future. He thinks he's up for it, but then he begins to question it. It's going to be fun to see how he navigates his way through that.
Q: Does that mean that Jesse is using better judgment on when to unleash his power this season?
A: I don't think he understands the full horror of what it can be. I think he has the complex of believing he is the rightful owner and that it found him and can reside in him because of his beliefs. I suppose [because of] this terrible guilt he's harbored around his father, maybe he thinks it's a way in which to seek forgiveness for that and redeem himself and make better the wrongs of his past. I think he's trying to ultimately discover what this is. He knows that God's missing and he wants to, for the sake of humanity, find out where he is. But he doesn't know if this could possibly be the opposite of what he thinks or be against all those things he really wants.
Q: How does having a clear mission — finding God — change Jesse's outlook? 
 A: It brings a lot of clarity to him. It's now very clear and specific what his needs and wants are, and he loves the idea that this group is doing it together. Whether they can achieve it or not is another question. I think it's their resistance or lack of excitement about the prospect of his search, and whether they believe in it fully, that sometimes disturbs him. But he is very sure most of the time of what it is he's looking for and how it is the priority in his life. Very little else matters.
Q: Even though Jesse is unaware there is a triangle between Tulip, Cassidy and himself, what's it been like exploring the dynamic between those three characters this season?
A: Three is always a very tough grouping of people. We, as humans, group and divide and choose sides. I think that's what makes it very interesting… There's a huge and very challenging relationship growing between Cassidy and Jesse, and they're both jealous of one another for different reasons… They all pretend to be honest with one another, but they're also not honest in the hopes of protecting one another. I think it's ready to explode at any time. Watching that unfold is very interesting. It makes for very exciting viewing that the audience knows more than the characters do.
Q: Do you think Jesse is carrying any guilt over what he did to Eugene? How does that affect his decisions in Season 2?
A: I'm sure when he has a drink or when he's at his low points, it's another thing that he feels terrible about. But there are so many things in his life that he already feels like that about, so I think it's quite hard for him to realize the full damage that he's put upon this young boy. I think he really believes this mission will result in an attempt to get him back.
Q: What are you most excited for fans to see this season?
 A: I'm excited for them to get a glimpse at the new characters they've been waiting for from the comics. It really feels like the comic is now coming to life. I think it was essential to lay the foundation for what that is for wider audiences and for people who weren't so sure. Now, I think the true fans and the new fans can have a real glimpse at what this man is that we're creating. The more I think about it and the more I reflect on the comics, the more I realize how much there is and the wealth of characters and storylines. There's just so much and this is just the tip of the iceberg of where we have to go. I'm excited to take off. I don't think anyone will be disappointed.
Read a Q&A with Ruth Negga, who plays Tulip.
Preacher premieres Sunday, June 25 at 10/9c.  Check out first-look photos and the latest teaser from the new season. To stay up-to-date on all the latest news, sign up for the Preacher Insiders Club.
Read More