Q&A
Preacher Q&A — W. Earl Brown (Sheriff Hugo Root)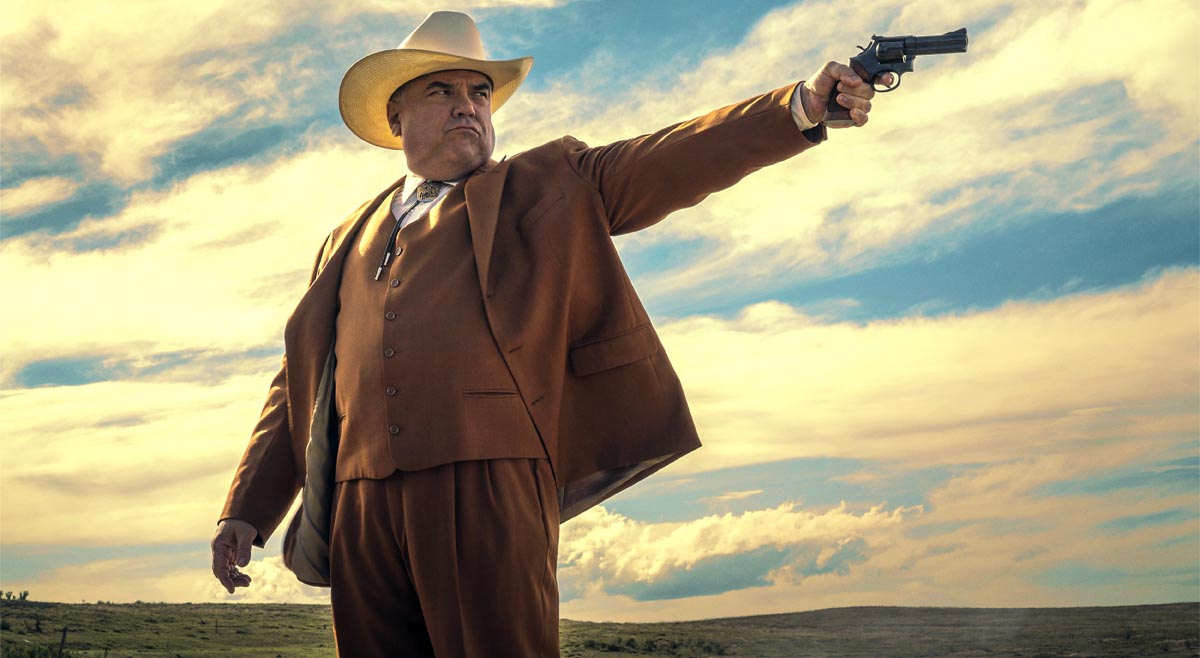 W. Earl Brown, who plays Sheriff Hugo Root on AMC's Preacher, talks about the "monster swamp" in Root's life, why his character sees through Jesse and discovering Ian Colletti's hidden talent.
Q: How much did you know about the comic books before you were cast? What drew you to the role?
A: Any characters that make me think, "I don't know if I can do this" are the ones I most want to do. I don't want to do the same thing over and over. I read the first comic three years ago. So, I was aware of it before the wheels started turning, and I checked up on the development. The network was ballsy enough to let Seth [Rogen] and Evan [Goldberg] do their thing. Ten years ago, I would have thought, "No f—ng way!" It was so audacious.
Q: Sheriff Root's a pretty nasty guy in the comics. How much did you look to the source material in creating the character for the screen?
A: I absolutely drew from the physicality of the way the comic is drawn – the stiffened gait at times, the snarl on his lip. I did borrow from that. There has to be a sense of Sheriff Root behaving the way the guy does in the comic. [He could] be brutal and a total asshole, but that's just one note. You have to find a lot more colors on the palette. That came from conversations with Sam [Catlin] about sub-textual meaning.
Q: How do you compare this show to some of your other work in the Western realm, most notably on Deadwood?
A: In its setting and tone, it is a Western, but it's so much more. I can't put it in a one-sentence explanation when people ask me. I get emails from people like, "Man, I love this show, but what the f—k is going on?!" In the telling of the comic, I know the touchstones that they borrowed on. The Saint of Killers is the William Munny story and is literal old-school Western. Arseface is the Judas Priest suicides, which were real. I knew the cultural things borrowed in telling the story. All stories boil down to good vs. evil, and that's what the archetypal American Western was. With this, right and wrong are essentially two sides of the same coin. That's what Jesse Custer is and that's why Genesis can exist within him. He's as evil as he is good. He has that internal struggle going on inside himself.
Q: Your character gets some great laugh lines with all of his paranoia. How would you describe his outlook on the world?

A: I think any police officer goes through that because you see the worst of humanity on a daily basis. You're dealing with all this negative energy and the horrible things we do to one another. He's always in church because he's desperately searching for goodness, but even at church, all he can see is the bad. He's suspicious of Jesse because he senses the evil in him. That's what I like about the story: He seems like this paranoid nut job, and it can be funny, but at the end of the day, he's right! He's talking about a monster swamp… Well, he's got a f–ing vampire right there in his town and this supernatural being existing within this minister! [Laughs] So, Root is correct. What I think is spinning him off his center is the evil has come to his doorstep. His son has been ostracized, his wife is catatonic, and he's struggling to stay afloat.
Q: In Episode 5, Root explodes and tells Eugene to "finish the job." What do you think led to that outburst?
A: If Eugene had killed himself in that moment, it would be over and done with – it's ripping the bandage off. Yeah, it hurts like hell initially, but it goes away. When you slowly peel it off – pulling each hair follicle out of the skin one at a time – that hurts a lot more. If Eugene was dead, then Root wouldn't have to deal with the repercussions. There would be repercussions, but it wouldn't be fresh every morning. Eugene being alive is a reminder of all of it.
Q: Does he regret it? And does he now blame himself for the fact that Eugene's gone missing?
A: He regrets it as soon as he says it. The way I played it out in my head is Eugene left the house and Root hasn't seen him since. Root is afraid Eugene has killed himself and has done what Root said to do.
Q: How do you think Eugene going missing changes Root in the second half of the season?
A: He realizes that he's one of the monsters because what he said to his son was monstrous and now his son is gone. He's so frantically looking for him because he fully expects to find a body somewhere and the more time passes that he doesn't find his son, the more assured he is of that.
Q: What is your working relationship like with Ian Colletti?
A: His personality and spirit is much like Arseface – he's just a lot prettier. [Laughs] He's really sweet-hearted and kind. We had a party and he started to sing, and holy sh—t is he good! I told him he reminded me of Jeff Buckley and he goes, "Who?!" [Laughs] He has this ethereal voice like Jeff and his singing voice is so different from his speaking voice. He's immensely talented.
Q: What was it like being one of the few Americans among a cast of Brits?
A: Derek [Wilson] and I were housemates and we got there not long before the Super Bowl. I don't think Ian cares too much for sports, but we both love football and were going to have a Super Bowl party. There was this lackadaisical response [from the rest of the cast], and we both looked at one another and went, "We're the only Americans!" [Laughs]
Read an interview with Ian Colletti, who plays Eugene "Arseface" Root.
Preacher airs Sundays at 9/8c on AMC. Sign up for the Insiders Club to be the first to receive Preacher exclusives and updates.
Read More