Q&A
Preacher Q&A — Michael Slovis (Co-Executive Producer, Director)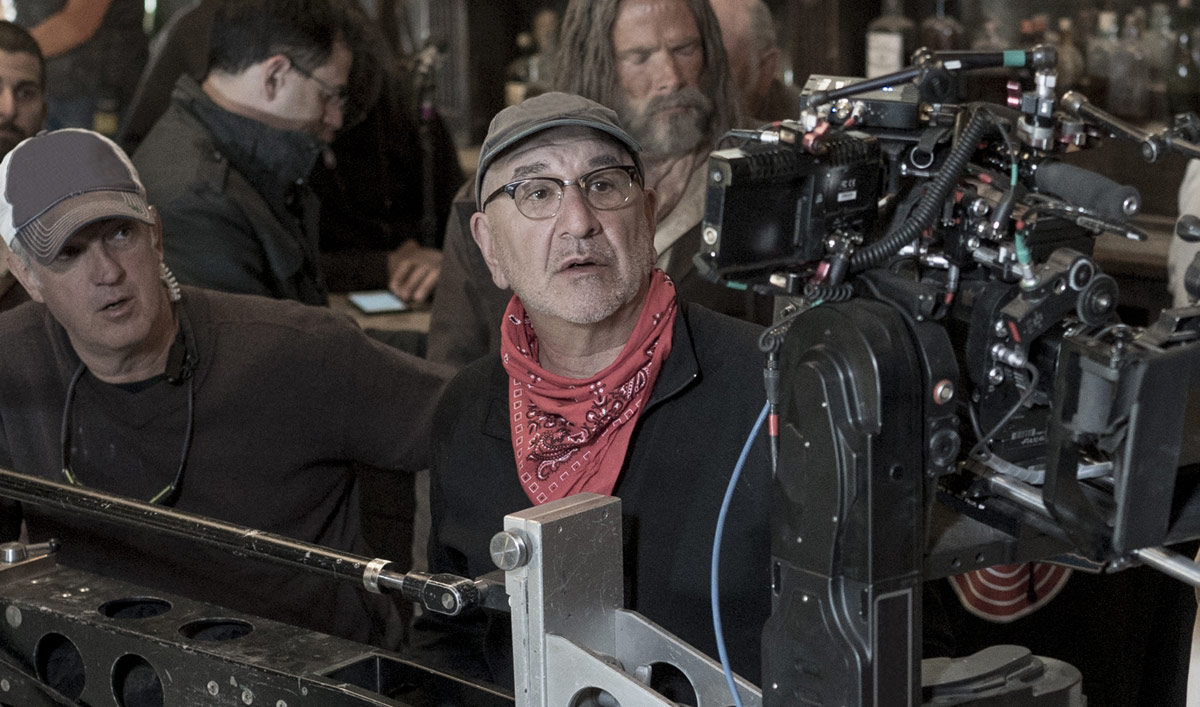 Michael Slovis, director of Episode 9 and co-executive producer for AMC's Preacher, talks about returning to shoot in Albuquerque, describes the Saint of Killers' version of Hell and shares a Breaking Bad reference you might have missed.
Q: You've previously worked on AMC's Breaking Bad. What was it about Preacher that brought you back to Albuquerque? Did you have any knowledge of the source material before accepting the project?
A: Getting something off the ground and the idea of starting from a completely blank canvas just really appealed to me — to my creative senses and to my sensibilities as an artist and filmmaker. The idea of trying to get something on this scale and with this much depth realized on television was just too much to resist. I didn't know anything about the comics. I wasn't a big comic book fan when I was younger, and these came out when I was already well into building a family. But when Sam [Catlin] called, I was intrigued. I went and looked up the material and I couldn't put it down. I was just completely blown away both by the story and by Steve Dillon's artwork.
Q: Preacher is such a difficult world to encapsulate. How would you describe it and how do all of its components translate visually?
A: It was a translation of the graphic novel — not an adaptation. One of the challenges was how to take something so violent and based in despair, and make it palatable for audiences – especially audiences who are not fans of the comic books. We had to expand beyond that. The choice to ground it on Earth was wonderful. Sam told me the approach was not to put down or in any way make fun of religion, but to emphasize the human choices we have. I just thought it was a terrific way to go. No matter what your spiritual beliefs are, you'll be able to relate to the story. In terms of the visual stylizing, I worked with our director of photography, John Grillo, and we built a visual vocabulary for the show in terms of color, angles, lenses. I was very much inspired by the comics because the comics have a lot of deity points of views – high angles looking down – and it was something I felt strongly about. As we worked together, we built what we thought was a reasonable, approachable and practical way of recording the show.
Q: After establishing the world and tone of Preacher, how did you go about styling the Saint of Killers storyline to make it different?
A: It's an 1880s period piece, and we had to move to a Western shooting town near Sante Fe. We were able to do the entire Saint of Killers storyline with two units working simultaneously on a ranch in four days. When you see it, no one will believe it! It's packed with production values that [many] television shows just don't have. We obviously wanted it to be immediately recognizable when it first comes up in Episode 2. We really wanted the audience to go, "What?!" It's a storyline that evolves over the course of the entire season. We definitely wanted something that looked individual so that you'd always know when you were going back to it, and we did a lot of research of photographs and painting of the period. The landscape was extremely important to us. If you shoot with wider lenses and closer, you can include the background in the storytelling – and that's a major character in the storytelling.
Q: Why did you guys decide to spread the Saint of Killers reveal out over multiple episodes?
A: The fans are going to know the minute we show him because he is one of the characters that they are anxious to see. In some ways, it would be way more fan to not be a fan of the comic because then this character unfolds in a really interesting way. You have the entire first season where you're going, "Why are you showing me this?" until Episode 9 where the two worlds are brought together by Deblanc and Fiore. Up until that moment, when they walk into that bar, there's no real giveaway. What's really cool is moving forward from that because now we know he's important.
Q: Everyone has their idea of what Hell could be. How did you go about envisioning this version of Hell?
A: In our story, Ratwater is not Hell. Hell is a state of mind that you're living in. Ratwater is sort of the physicalization of it and then it transitions into Annville. This guy, who wasn't the most sociable in the world, found a tiny glimpse of happiness in a horribly violent world and that rug is pulled from underneath him. That's the definition of Hell and in our story, it's purgatory because it never ends until our guy is relieved of his residency by our two angels.
Q: It's safe to say that the Saint's bloody showdown is one of the more violent scenes on the show so far. How did you keep from making it too grotesque?
A: That is an absolute massacre and the inference is that the whole town is destroyed. What we did was a single point-of-view movement that only shows maybe 15 or 20 percent of the violence, but everything else is suggested with off-camera sounds and what passes through our frame. We don't see everyone killed, but then I did a shot that shows the aftermath. Even though you didn't see it, you see the result of it. In many ways, I find it more effective to withhold the audience from seeing all that stuff until the very end. A lot of it is what we don't show.
Q: What are the challenges of being in Albuquerque – a location you've photographed so beautifully before for Breaking Bad – but making it look different enough to support Preacher's world? 
A: We just limited our view. We had to make choices as to what was practical and what told the story. We felt the characters and scripts were strong enough that any kind of recognition of where we were would be greatly overshadowed by how compelling our work was. We went through a lot of trouble not to shoot very recognizable landmarks. Every step of the way had a slightly different tone than what we did on Breaking Bad. One of the funny things is that we're on the exact same stages that we shot Breaking Bad. [Laughs] That was odd for me – to walk in and see them completely empty and then full of our sets.
Q: Well you did use one location: the John B. Robert Dam, which was also used on Breaking Bad. Was that an intentional Easter egg for audiences?
A: We went back and forth on this honestly. Sam really loved the idea of honoring Breaking Bad and people who worked on both shows. I wasn't sure, and we chatted a lot about it. "Does it pull you out?" But here's the thing: When you work on a show as iconic as Breaking Bad, that's a real heavy act to follow. Those of us who worked on it, we're all still very, very close. It was most of our greatest work experiences. Sam and me just wanted to do it honor. We're forever grateful and felt we all took major steps forward as… filmmakers, artists and people. … And it wasn't just the dam. On Breaking Bad – when they head off and the van drives away with them in it – there's a dog that goes from left to right at the very end. On [Preacher], that same dog, Banjo, goes back in the other direction, which is hysterical. [Laughs]
Read an interview with Graham McTavish, who plays the Saint of Killers.
Preacher airs Sundays at 9/8c on AMC. Sign up for the Insiders Club to be the first to receive Preacher exclusives and updates.
Read More