Q&A
Preacher Q&A — Lucy Griffiths (Emily Woodrow)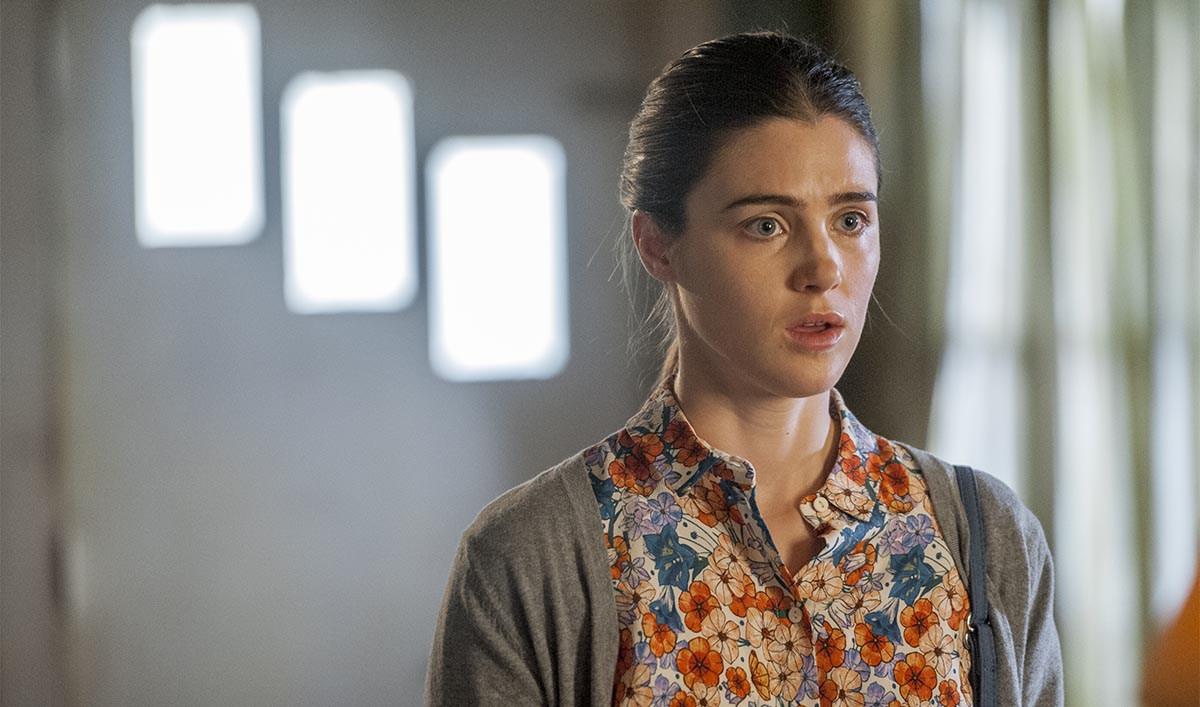 Lucy Griffiths, who plays Emily Woodrow on AMC's Preacher, talks about her character's dynamic with Jesse, her bold move in Episode 9 and why she loves her Flavour Station uniform.
Q: Your character is original to the show. Did you enjoy not having to be beholden to a version of a character from the comics?
A: I looked at [the books] out of interest and to get a feel for the world that the comic was set in. My character was new so there wasn't any research to do about her, specifically. The character was created by Sam [Catlin] and in such a way that was clear to me and showed Sam really knew what he wanted. It was very obvious who she was. I interpreted his notes and character description when I was auditioning and playing her. I couldn't take credit. It was all down to Sam.
Q: From the pilot, we see Emily is someone who keeps her emotions deep inside until they occasionally burst out. Do you think she's putting on a facade?
A: I don't think she consciously keeps things inside, and I wouldn't say she has a facade. I would say she's an extremely busy woman with a lot of responsibilities. She doesn't have an awful lot of time to reflect on things that have happened in her day or to wonder how to deal with problems. She's feeling distracted by a crying child or a crying preacher. [Laughs] She doesn't really have that head space. She's a single mom and she's alone quite a lot of the time, but she's busy doing things she has to do on her own. Even when she's playing the piano at the church, she's not a part of the congregation. She's probably closest to Jesse, but that's more of a functional situation. It's not a normal friendship, and it's not a romantic relationship. I just think she doesn't have the resources or support to be chatty or to express herself.
Q: Do you actually play the piano or organ? If not, how hard is it to convincingly act out those scenes?
A: I don't play the organ, but I play a bit of piano. It wasn't hard because I was out of focus most of the time and at a distance that you couldn't really see what I was doing anyway. When it was closer on me, specifically on my face, I often wasn't actually playing. One time when I did have to mime playing something, I really did think I was nailing it until the producer came and gave me some tips. So, I guess I wasn't. [Laughs]
Q: What do you think it is about Jesse that attracts Emily (and others) to him? How would you describe Emily's feelings toward Jesse?
A: I think he's a bit of a rock star in her world. He's experienced, he's knowledgeable, he's seen more of the world than she'll ever see and he's nice-looking. [Laughs] She can recognize some qualities in him which she thinks are virtuous, which he doesn't necessarily lead with and which she's not sure he sees in himself. There's a need or want to bring that out of him – not to save him but to do something good with him. I also think she sees complexity, honesty, bravery and perhaps a bit more perceptiveness in him. She thinks he has his finger on the pulse, spiritually and morally, in a way that other people in the town don't.
Q: How did she feel when she somewhat confessed her feelings to Jesse only to have him tell her that was "stupid"? Does that change her?
A: I don't think she's shocked, but it's a slap in the face. She's devastated. I don't think she's grounded, so she isn't able to separate what he says to her from her own self-esteem, self-worth and sense of purpose in the world. I think it has an effect on her, and it hits her quite hard. Her identity is so tied up in helping him and he pushes her away.
Q: In Episode 9, Emily makes a bold move: She feeds Miles to Cassidy. Why do you think she does that? What does that moment mean to her?
A: I think it's her way of regaining control of her life and saving herself. She watches the movie Psycho and sees her own situation in the scene about being trapped. She's not literally trapped, but she feels completely trapped. She was never taught to assert herself and go after what she wants. Sadly, she's got the capacity to realize what she's missing and to feel frustrated and lost. Unfortunately, she doesn't see a way out. Miles is such a powerful man in the town and she can't really argue with the level of security he could bring her, but the thought of being with him forever is terrifying for her. Nothing could be worse, as far as she feels.
Q: Emily and Tulip got off to a rocky start, but that has softened. What influence do you think Tulip has had on Emily and vice versa?
A: I think when she first came across Tulip, she felt disappointed. This woman is obviously Jesse's ex-girlfriend, and she's glamorous and cool and worldly. But she realizes Tulip is not the problem. Whether Tulip was there or not, Jesse wouldn't be Emily's boyfriend. I think she's quite inspired by Tulip in some ways because she's exotic and different, and that's exciting. It also becomes obvious that Tulip doesn't dislike Emily. She just dislikes everyone. [Laughs] It's not personal.
Q: Did you ever get tired of wearing that Flavour Station uniform?
A: I loved it. It was the best costume I've ever worn. I'm not joking! It was super comfortable and practical.
Read an interview with Graham McTavish, who plays the Saint of Killers.
Preacher airs Sundays at 9/8c on AMC. Sign up for the Insiders Club to be the first to receive Preacher exclusives and updates.
Read More