Q&A
Preacher Q&A — Ian Colletti (Eugene "Arseface" Root)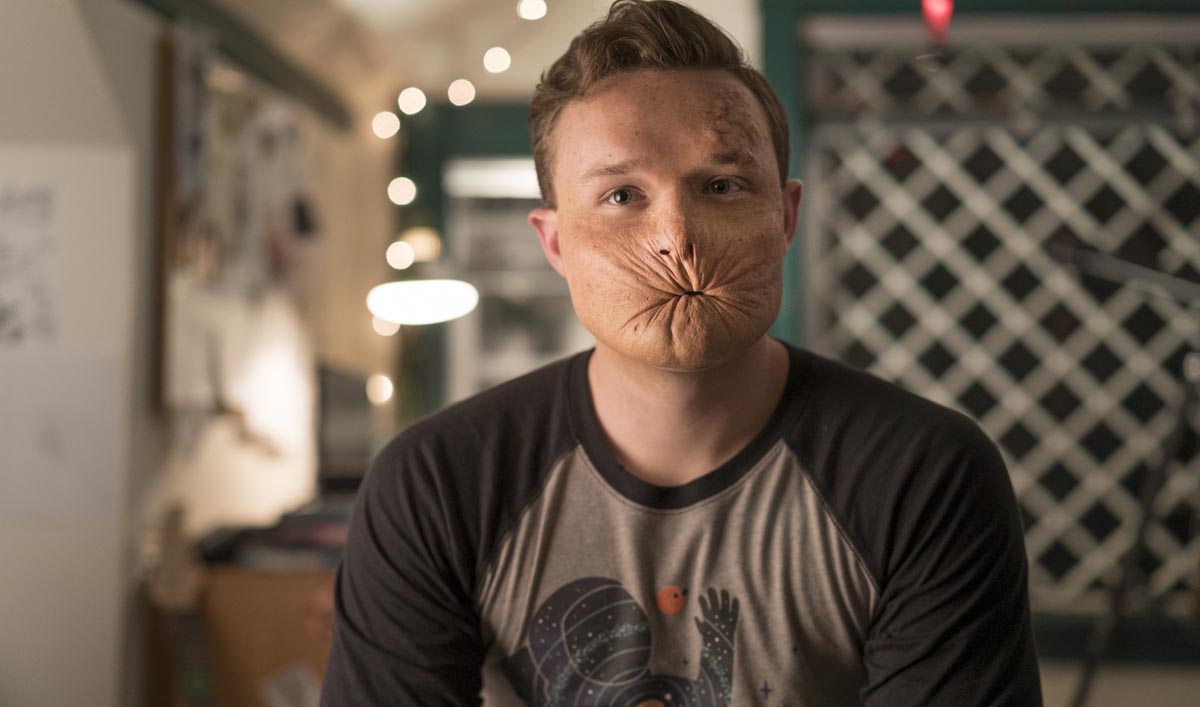 Ian Colletti, who plays Eugene "Arseface" Root on AMC's Preacher, talks about bringing the beloved comic character to life, why Jesse sent Eugene to Hell and what's really in those meat shakes.
Q: What's it like putting that face on? How much work goes into it? 
A: It's a bit of a crazy process. It's a full prosthetic and it takes about two hours [to be put on] by the really amazingly talented artists that have come together to bring this live-action Eugene to life. I think it helps to bring the character to life, for sure, but it's quite difficult to wear and it offers some interesting challenges. As an actor, your face is your biggest weapon, so the mask diffuses what I'm able to do with the bottom half of my face. It's forced me to communicate with my eyes, which is a fun challenge. When I'm wearing the mask, I take every opportunity I can to look in the mirror and work on how to distort my face to get more subtle emotions to read through the mask. It's taken a bit of practice.
Q: How does it affect your speech?
A: Some of the stuff in the script, as it is in the comic, is written out a bit phonetically. It's not as extreme as in the comic because I have to sort of understand what I need to be saying. [Laughs] A lot of it has been the voice I've created and learning to say certain things in certain ways.
Q: Arseface is a character that is well known by comic fans. How much responsibility did you feel when playing him?
A: It's terrifying, but it's very thrilling at the same time to play such an iconic comic book character. For me, it's been cool to capture that essence, but the interesting challenge has been to not only see Arseface as this larger than life character, but to see Eugene as this very human and empathetic person and really ground Arseface as a person people can relate to. I know this story means a lot to people and it's quite an honor. There's nothing like this on television. This is one of the strangest and greatest things I've been fortunate enough to be a part of.
Q: How would you describe Eugene's relationship with his father? Is he trying to make him proud?
A: I think that's really it. We meet Eugene on the other side of a tragic incident that has left him severely disfigured and I think he's doing his best to find peace and understanding through God or a higher power. I think he's doing his best to move forward every day and keep going with life. [Sheriff Hugo] Root, on the other hand, has all this pressure coming from the town and this is a complicated situation that I think he's internalizing a lot. When you have a person who tends to internalize their issues and a person that just tries to move forward, there are bound to be issues, and it's bound to come to a head.
Q: How did Sheriff Root telling Eugene to "finish the job" in Episode 5 land on him?
A: That's a very brutal scene and a very brutal line. I think it hurts Eugene deeply, but he's so empathetic that he sees how much pain his father is in. He recognizes that he's played a role in that, and it hurts to see his father in pain, knowing he may be the source.
Q: In Episode 6 , we see Eugene struggling with the "forgiveness" that Jesse commanded from Mrs. Loach. Does Eugene actually want to be forgiven, or does he think he's earned this punishment in some way?
A: I think it's a combination of both. He does genuinely want to be forgiven, but I think he may feel this is a consequence in some ways. As we begin to understand a little bit more about his backstory, his history and how he ended up here, his approach to the overall situation will make more sense.
Q: Eugene is obviously struggling with a lot of emotions about what he did. Does he think Jesse is the only one who can help him? Is that what their relationship is based on?
A: I think that's very much the starting point. Eugene is searching for forgiveness and he's not getting it from Annville or his family, so he's turning to a higher power and that manifests itself in the way that he views Jesse. He views Jesse as his connection to God when God isn't speaking directly to him. I think that plays a huge role in their complicated relationship.
Q: Their relationship hits a peak in Episode 6 when Jesse, in a moment of anger, tells him to go to Hell and Eugene disappears. What were your thoughts when you first read that in the script?
A: Poor Eugene! He can't catch a break. I was very excited when I read that. I think it will shock a lot of people.
Q: Why do you think Jesse got worked up enough to send Eugene to Hell?
A: I've always very much viewed Eugene as a mirror in the context of Jesse. He says things about himself, his struggles and God not wanting anything to do with him. In the pilot, we see Eugene talking about himself, but it's registering on Jesse's face that he could just as well be talking about him. That back-and-forth relationship has continued to progress, but as Jesse's ego inflates throughout the season, he becomes less tolerant of seeing his own flaws reflected in Eugene. At this point, when Eugene takes a real moral stance and says, "This isn't right," Jesse recognizes that but doesn't want to see it. It's easier for Jesse to not deal with it, and, out of frustration, he tells him to go to Hell.
Q: Hasn't Eugene suffered enough?! How much worse can things get from here?
A: I think there's a very long journey ahead of him and this is just the beginning. Ironically, in many ways, Eugene is one of the most moral characters of the show, and I think he recognizes that there's something strange not coming from God. He wants to be forgiven and accepted more than anything, but the one thing he doesn't want more than that is to be sinful. He wants to be a good person, and he has to say something. Unfortunately, in the world of Preacher, the people who take a stance for what's good often suffer the unfortunate consequences of doing so. [Laughs]
Q: Of course we have to ask: What are you really drinking in those meat shakes?
A: [Laughs] Thank god it's not raw eggs and meat! They make all different kinds of stuff, but chunky strawberry shakes are a lot better than drinking meat.
Read an interview with Jackie Earle Haley, who plays Odin Quincannon.
Preacher airs Sundays at 9/8c on AMC. Sign up for the Insiders Club to be the first to receive Preacher exclusives and updates.
Read More