Q&A
Preacher Q&A — Graham McTavish (Saint of Killers)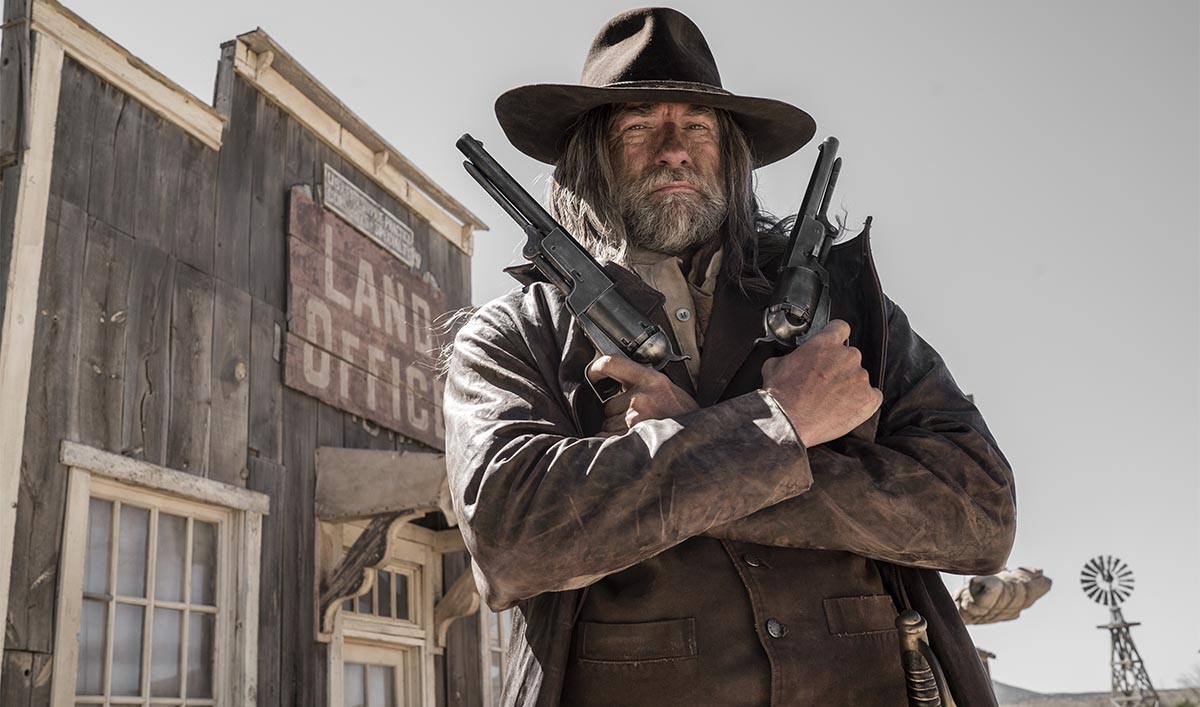 Graham McTavish, who plays the Saint of Killers on AMC's Preacher, talks about living out his dream of becoming a cowboy, playing such a beloved comic book character and why the Devil is no match for the Saint.
Q: How much did you know about the Preacher comics when you heard about this role?
A: I was a huge fan, actually. I was a real geek boy about that whole series of books, and I read them a few times when they came out. So, when the opportunity came to be a part of [the show], it was quite literally a dream come true. It's not an easy series of books to put on TV. But, fortunately, we're in the hands of good people who felt a responsibility towards it, which I think is a really good starting point so that it becomes more of a labor of love rather than a cynical exercise in exploitation. [Laughs]
Q: The Saint of Killers is perhaps the most beloved character from the comics. Was there any pressure or intimidation in taking on this role?
A: When I first heard they were doing it, my view was, "I just want to be a part of it. You could have me just walk across in the background." Then, there was interest in me playing this particular role and when I found that out, I was intimidated, yes. There's no question. [Laughs] People have expectations and I really, really wanted it to be good because I love the character just as much as anybody else. At the same time, you're aware that you have to make your own mark. It's my Saint of Killers, and certainly other people playing the role might have interpreted it slightly differently. I'm very happy to be able to do it.
Q: Your casting was kept secret until your first episode aired. Did you have to hide the news from your friends and family?
A: It was so hard! I just wanted to scream it from every corner, and I'm rubbish at keeping secrets. So I pretty much had to lock myself away for months and not speak to anyone to avoid leaking the truth. [Laughs] I think they've been very clever with the way they've unfolded the story because you have to be aware of the people who already know the story, but also know there are many people who've never come across it at all. What happens to my character in this episode will be a big shock to those who don't know the story. The change that occurs between the last time you see my character and [this episode] is a big step. He becomes someone else but he also reverts back to being a person he's already familiar with, to some degree.
Q: The Saint's story is pretty faithful to the books. Did you look to the source material in building your portrayal?
A: I tried to immerse myself in not only the character on the page but also the inspirations for the character. I certainly spent a lot of time re-watching Westerns – particularly Clint Eastwood Westerns, which I know were an influence on Garth [Ennis] when he was writing. I went back and looked at my favorites – Once Upon a Time in the West, The Searchers – to really steep myself in that culture. I think the Western is a uniquely American genre and the Saint is an archetype.
Q: Like many characters in Westerns, yours is a man of very few words. Do you find it harder to act with so little dialogue?
A: He's a man who has a lot to say, but he just keeps it to himself. As they said to me on set, "He's a man of few words and few actions. He's an economy of movement and speech." That's a really interesting note in unlocking the character. It is a challenge, definitely. In many ways, most actors would rather have a monologue than one word. Sometimes, it's the hardest task to get right because you have to load that limited amount of dialogue with a great deal of story, not so much exposition. When I do speak, it needs to really mean something.
Q: What was it like filming that huge massacre in the saloon?
A: The stunts people rehearsed for months. My involvement was relatively straightforward because I just had to walk off-camera for the POV and into the frame at the very end. I just think it's like a macabre dance and an incredible piece of choreographed violence, reminiscent of Sam Peckinpah and those sorts of guys. There's something operatic about it. They took out a whole wall of a building and used the technocrane to achieve that shot. To combine that with the aria going in the background was really interesting, and it counterpointed the violence. It was great fun.
Q: Why do you think the Saint wanted the song to be finished?
A: That's such an interesting question. Why doesn't he just kill him straightaway like he's doing to everyone else? He knows that these are disgusting and vile people, in his opinion, and to have that song playing is almost grotesque as far as he's concerned. Why are these people sitting quietly and listening to beautiful music when everything he loves is dead? He wants them to hear the rest of the song while he's killing them all. He wants it to be the last thing they hear, aside from his gun. It's sort of an aria of their death.
Q: In Episode 9, the Saint's story finally connects with the Annville plot when he meets Fiore and DeBlanc. What do you think he makes of those two guys? Were you happy to finally shoot some scenes with other members of the cast?
A: Yes, I was happy because I did feel like I was in my own little world. I love the fact that the worlds collide and there's suddenly a sense made of what's going on. They give him the opportunity to continue his vengeance with the job they're offering. He doesn't know who this preacher is. All he's told is there's a job for him and he needs to kill somebody. He doesn't ask any questions. He doesn't care! [Laughs] The fact that he's being sent out to kill a man of God is a bonus for him.
Q: Is the Saint intrigued by their offer as a way out of reliving this horrible pain over and over in Hell? Or does he in some way feel he deserves this punishment?
A: There is a sort of sadomasochistic aspect to his character. He enjoys the infliction of pain on others, but he needs to inhabit his own pain in order to be able to do that. In the books, when he goes to Hell, he's so full of hate that the Devil himself finds him difficult to put up with. That's the level of coldness. He's holding on to this gift of pain and vengeance.
Q: What's been your favorite moment of filming so far?
A: Certainly my favorite moment would be just riding into the Western town. I know it sounds glib, but they did a long shot of me coming into the town and I was riding in with the hat and horse. That's an image I've grown up with – the lone stranger arriving in a Western town. As somebody from Scotland, it's not something I grew up imagining I'd ever do. If I had to pick one moment, that's what stood out.
Read an interview with Derek Wilson, who plays Donnie Schenck.
Preacher airs Sundays at 9/8c on AMC. Sign up for the Insiders Club to be the first to receive Preacher exclusives and updates.
Read More