Press
THR Heralds Ruth Negga; Deadline Recommends Preacher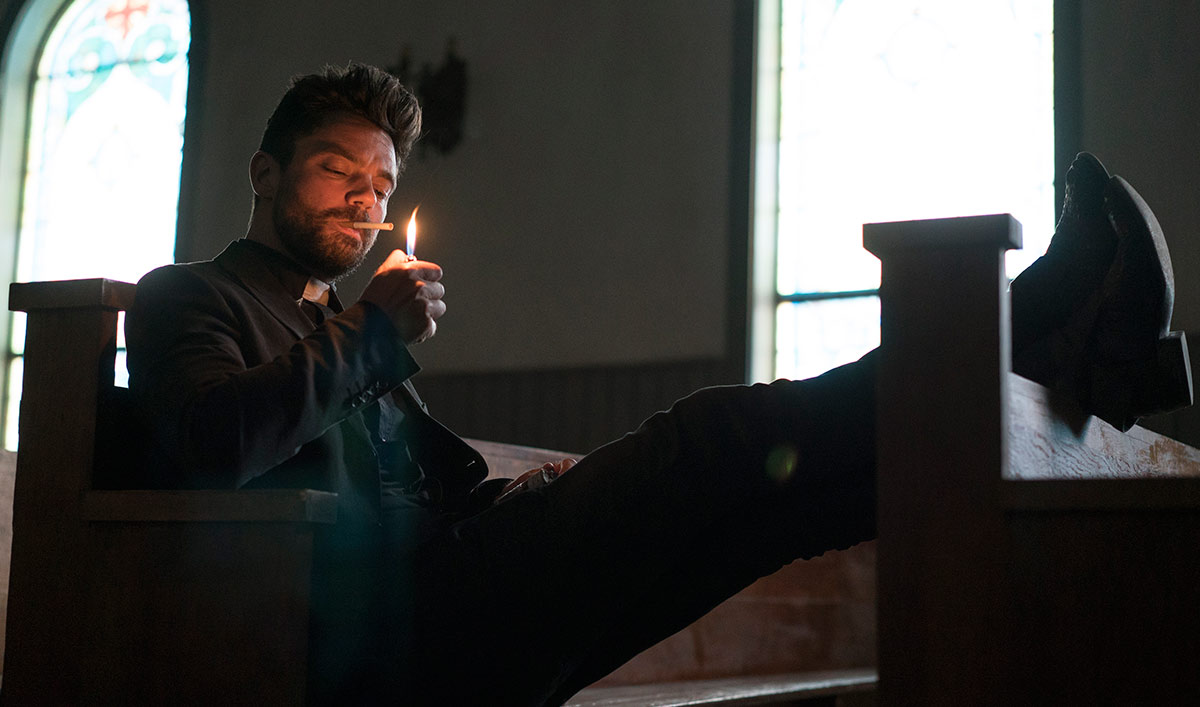 This week, The Hollywood Reporter heralds Ruth Negga, while Deadline recommends watching Preacher. Plus, Entertainment Tonight debuts a new promo. Read on for more:
• Ruth Negga, called "Hollywood's next big thing" by The Hollywood Reporter, says she didn't want Tulip "to be this cliched sexy badass or broken Nikita kind of character. There can be a lot of subtleties and nuance in comics that you can miss if you don't think about it."
• Deadline recommends Preacher, declaring that "if you are a believer in gallows TV then you should take a leap of faith with this more consistently solid and fun than expected supernaturally propelled offering."
• There's a new action-packed Preacher promo, and Entertainment Tonight warns that this "bone-breaking, face-melting, ball-busting trailer is not for the faint of heart."
• Collider.com interviews Dominic Cooper, who says Jesse is "surrounded by very elaborate, colorful other roles and characters in it and for me it's very hard to stay composed and dark and strong and silent and still. You want to suddenly be as big as them so that's what's been tough."
• Ahead of Preacher's premiere, The Hollywood Reporter shares "what viewers can expect from the cable network's newest comic book endeavor, based on information gleaned from the first four episodes."
• "Whether you've read the comics or not, Preacher is going to be your new favorite show. It's the ultimate splatterfest that would make a young Peter Jackson proud, while also channeling old school Quentin Tarantino and Robert Rodriguez collaborations," writes Bloody Disgusting.
• Reviewing Preacher, Collider notes that the show "opens with a cacophony of sound and fury, one that sets up the show's bold, unique visual presence and intensely visceral style."
• io9 weighs in too, saying, "The best thing about the first four episodes of AMC's new show Preacher is how badly you want more episodes of Preacher when they're over."
• SuperHeroHype asserts that the Preacher adaptation is "treated in a way that remixes what fans know and creates all-new stakes and drama to keep them gripped."
• Sam Catlin tells Channel Guide Magazine that Preacher "has so many different notes in it — violence and romance, perverse humor, action, and then also, like, people talking about God. It's a lot to wrestle into a whole."
• Dominic Cooper speaks with ScreenCrush about Preacher's attraction, that "at the heart of it they're really well-written, great, brilliant, developed characters and scenes that you care about. It's also so funny and at the same time there's real heart and reality."
• Flickering Myth spotlights three new Preacher posters featuring Dominic Cooper's Jesse Custer and Joseph Gilgun's Cassidy.
• "Now that we're less than a month from the series' debut, AMC is making at least one thing abundantly clear: this sure ain't for kiddies, folks," GamesRadar+ exults.
To stay up-to-date on all the latest news about Preacher, sign up for the Preacher Newsletter.
Read More