Press
Sam Catlin Speaks With THR; Vanity Fair Touts Tulip's TV Version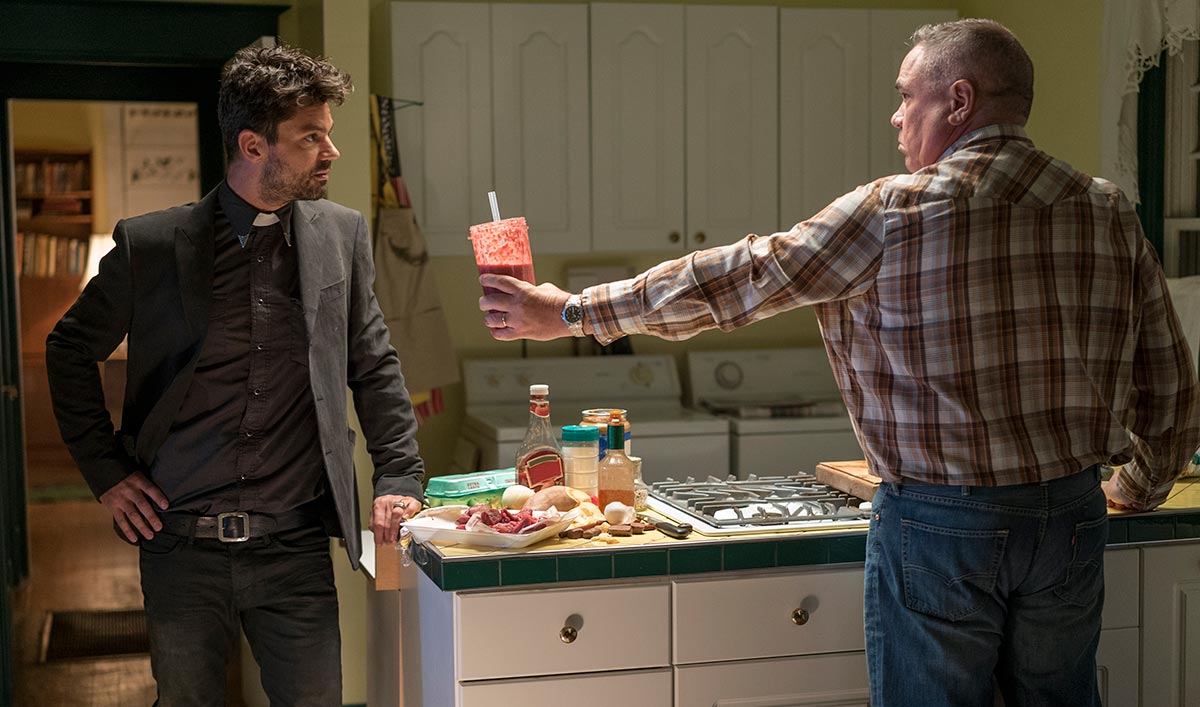 This week, Sam Catlin speaks with The Hollywood Reporter, while Vanity Fair is a fan of Tulip's TV version. Plus, The Wall Street Journal interviews Joseph Gilgun. Read on for more:
• Talking to The Hollywood Reporter, Sam Catlin explains, "We want to get to a place where the audience is like, 'Show us Heaven! Show us Hell! Show us what it's like!' They won't be disappointed, but we wanted to tease it out."
• Vanity Fair asserts that "every change made to the TV version of Tulip is for the better. The AMC series took a great character and made her even better."
• The Wall Street Journal interviews Joseph Gilgun, who portrays the role of Cassidy "with sly abandon."
• Dominic Cooper characterizes Preacher to Complex thusly: "One moment you are doing a dramatic, difficult, complex scene of a relationship with two different people, and the next minute you're doing full-blown comedy."
• The New York Post learns from Dominic Cooper that the Preacher script was "unlike anything I'd read before and was so amazed by the depth of it — and the landscapes and the characterizations — that I wanted to know more about it."
• Sam Catlin tells Vulture about reading the Preacher comic: "I couldn't believe how profane and perverse and psychotic the whole thing was. It was brought to me as a potential television show — I couldn't figure out how that was gonna happen."
• Vox declares that AMC, reimagining Preacher for TV, "dug a little deeper, and came up with something more satisfying and complex."
• The Guardian believes that Seth Rogen and Evan Goldberg are the perfect people to take on Preacher because of "the twisted sense of humour that runs through all their films – it's often near-the-knuckle, but never mean-spirited. And that is how the Preacher series will keep fans happy."
• The Atlantic lauds Preacher, which "has a lot of plot to get through, and though it's a relatively faithful adaptation of [Garth] Ennis's comic, it steers away from mindlessly following his story, instead drawing out the humor and humanity in his central characters."
• Comic Book Resources has a parody video from Seth Rogen, who "takes on the roles of every single character in Preacher, in a frame by frame reproduction of the trailer."
• Dominic Cooper tells IGN that Jesse's dark past "informs everything, every decision. His desire to make good when he was very bad, and everything he feels guilty about. That's all his darkness. It's absolutely at the core of who he is."
• Cleveland.com writes, "Anyone who watched Sunday night's premiere of Preacher knows AMC has successfully delivered a series unlike anything television has ever seen."
• Movie Pilot says, "Preacher's long, hard road to production feels, fittingly, almost like divine intervention, as though the property was simply waiting for the perfect shepherds to lead its hyperviolent, dark, funny characters to live action."
• Inverse talks to Ian Colletti, who discusses "the strangest, most disgusting-but-impossible-to-stop-staring-at prosthetic makeup device in a long time."
• Similarly, Complex interviews Greg Nicotero about creating Arseface's prosthetic makeup device, and he says, "We generated a lot [of] pre-production artwork, since the character is so important. I think we went through 14 to 16 different variations of this character."
• The Washington Post believes that if Preacher "wields any larger power, it could lie in its ability to convert other networks — to make them realize there is an untapped treasure-trove of mature, non-superhero comics worth converting to television."
• CNET shares its six favorite moments from the Preacher comic, noting that "if the show serves up some great moments half as cool as these, we'll be very happy pilgrims."
• Dominic Cooper talks to Moviepilot about Jesse, saying, "I'm pleased with the place in which he's begun. And I hope that there's a real journey, that there's a real arc of a change of a man."
• TheWrap reports that Topps Company is releasing Preacher-based baseball-style trading cards.
• Movie Pilot shares "the five most kickass moments in the pilot episode of your newest AMC obsession."
• For recaps and reviews of Preacher's pilot, check out A.V. Club, CarterMatt, Channel Guide Magazine, Collider.com, Digital Spy, HitFix, Indiewire, Rolling Stone, The Telegraph, TV.com, TVLine, Variety, Vulture and Yahoo TV.
To stay up-to-date on all the latest news about Preacher, sign up for the Preacher Newsletter.
Read More