Press
Deadline Applauds Preacher; SXSW Crowd Enjoys Premiere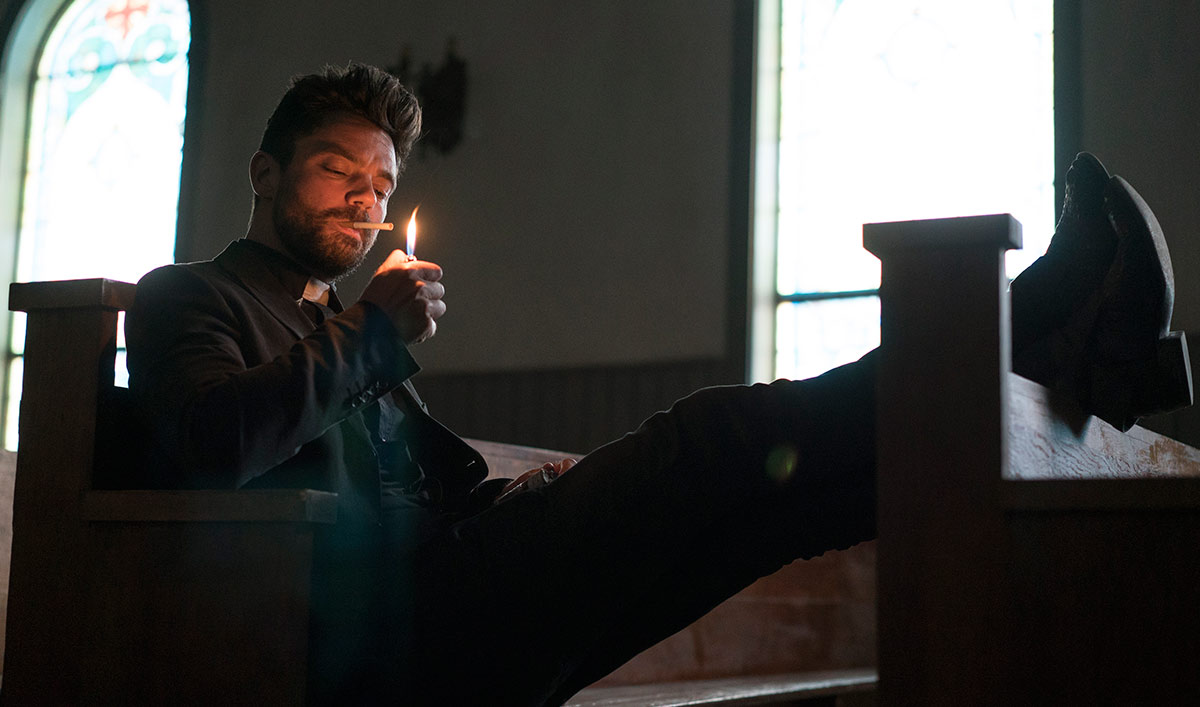 This week, Deadline applauds Preacher, while the SXSW crowd enjoys the premiere. Plus, several publications report on the show's May 22 debut. Read on for more:
• Reviewing Preacher's first episode, Deadline applauds how the series "embraces the archetype-heavy world in which it takes place fully without descending into either camp or self-seriousness."
• Entertainment Weekly reports that the South by Southwest film festival audience "seemed to love the fast-moving and bloody premiere episode."
• The New York Times reports the screening "drew a robust audience that reacted enthusiastically to the show's mix of mystery, drama and energetic, sometimes over-the-top, action. (The pilot includes at least one death-by-corn-cob.)"
• Variety agrees that the premiere "drew raucous laughter, applause and outright cheers from the packed house, even in scenes that [Seth] Rogen later admitted he wasn't sure would earn a laugh."
• TV.com reports on the May 22 premiere of Preacher, calling it a "comic-inspired series designed to catch the young demographic with a molotov cocktail of demons, violence, depravity, and alcohol."
• Sam Catlin tells The Verge that Preacher's tone is the hardest part of the show because "you don't want it to become too silly, but you don't want it to become too heavy. And you don't want to be disgustingly violent, but you want it to have that same sort of fun."
• Vulture comments, "If you're anxious to see the debut of AMC's much-anticipated TV adaptation of cult-favorite comics series Preacher, you have less than ten weeks left to wait."
• Collider.com adds, "It's hard to believe that after years of false starts, Preacher is almost here."
• According to Vulture, Seth Rogen says about bringing Preacher to TV, "We always just made it clear that we were interested in it and were very vocal about what fans of it we were, and we really were in just the right place at the right time."
• After watching Preacher's first episode, Screen Crush is excited that "the essential spirit and characters of the graphic novel remain delightfully the same."
• The "highly anticipated" Preacher is headed to the ATX Festival in Austin, Texas, in June, according to The Hollywood Reporter.
• Collider.com debuts new images from Preacher released by Seth Rogen that "reveal the core trio" of Jesse Custer, Tulip and Cassidy.
• IGN showcases AMC's black and white poster of Dominic Cooper in the role of the West Texas preacher Jesse Custer.
• Bloody Disgusting reports that AMC promoted Preacher's SXSW appearance with "an installation depicting the upside-down world the characters within the series inhabit."
• TV Cheat Sheet shares "everything we know about the upcoming comic-inspired show so far."
• Moviepilot advocates a crossover between Preacher and Constantine because "Constantine was awesome, and Preacher looks great!"
To stay up-to-date on all the latest news about Preacher, sign up for the Preacher Newsletter.
Read More