Unscripted
Owner's Manual Host Blog – Marcus Hunt on Tall Ships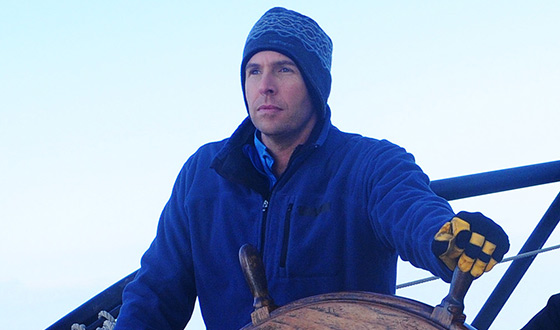 Owner's Manual co-host Marcus Hunt discusses his behind-the-scenes experience operating the Tall Ship Bill of Rights.
One word… EPIC. What an amazing adventure. These past few days gave me a taste of what it must have been like when explorers, traders and pirates spent months in the open ocean. Captain Taylor and the crew of the Bill of Rights were amazing, and they showed both Ed and me how important communication and speed were when it came to rough seas, and properly navigating and getting back to port safely. I grew up boating, fishing and sailing, but operating a Tall Ship was nothing like what I knew.
My first sailing experience came when I was around 12 years old, when my brother?s friend gave me his old 14 ft catamaran with a torn sail. A roll of duct tape and a few hours later, my friends and I were full blown captains. Ha. I learned about wind direction, tacking and technique, which helped on the Tall Ship, but having to learn a whole new vocabulary of commands and needing a full crew to raise sails, change direction, etc. was a new experience. It?s one thing to sail a lightweight, 14 ft boat in perfect conditions, but to sail a 120 ton, 136 ft Tall Ship in heavy winds, cold pouring rain, and with waves smashing over the bow… EPIC.
The first challenge of climbing the rope ladder up the mast was an experience of its own. At the base, it?s about 6 ft wide and feels secure, but when you get to the top (70-80 ft up), the width narrows to about 1 ft, and it's totally wobbly and pretty scary. I can?t imagine having something go wrong in bad weather and heavy seas and having to climb up there when the boat is listing (leaning) from side to side.
The crew had a buddy system: When it got rough, no one could be on top deck without another person watching them in case of injury or going overboard, which proved to be a legitimate fear. (Special shout out to our filming crew, who were in rain gear, harnessed and strapped to railings, ropes and whatever wouldn?t slide around in order to get great footage.) At one point, we reached over 8 knots. A knot is about 1.1 mph and it comes from a system back in the day where a sailor used a wooden stick tied to a rope that had knots in it approximately every 47 ft. They would throw the stick in the water and as the ship moved forward, the rope would get pulled through the sailor?s fingers. They would count the amount of knots that passed in 30 seconds, which they timed with a sand hourglass.
At 8 knots, there was a lot of creaking and cracking going on with the ropes and pulleys. One big thing with sailing is that you can?t just go straight to where you want to — well, unless the wind is blowing in the perfect direction. Instead, you have to tack (basically a zigzag maneuver where you come about, or turn, allowing the boat to change direction). It was dark, raining, windy and rough. Smuggler?s Cove was in our sights but ultimately, we made the wise decision to turn around and head back to the mainland where it would be safer. Between bunking under Ed — aka Snoreasaurus Rex — and being 6?4", and not fitting in the bunk, I didn?t get much sleep. In the end, we were tired, soaked, cold and happy to have had such an amazing adventure.
Read More