Unscripted
Owner's Manual Host Blog – Ed Sanders on the Carnival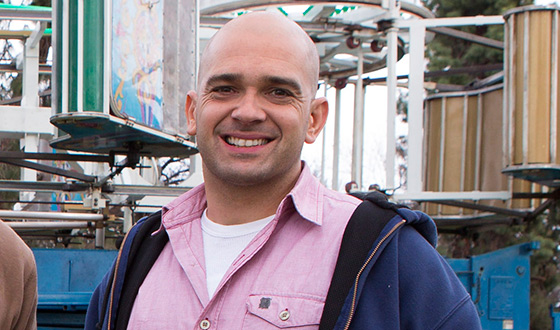 Owner's Manual host Ed Sanders discusses his behind-the-scenes experiences building and operating a carnival ride.
The bright lights, the smell of fried food and the crazy rides can only mean one thing: No, not Friday night at Marcus's house — I'm talking about the carnival!!! (Or, as we call it in London, the funfair!)
I've lost count of how many times I've been to the carnival. I love the carnival. (Except the rides that really just make you want to hurl, which is pretty much all of them!) Maybe it's been the fried food I've been enjoying all of these years. There's nothing better than something — could be anything — covered in batter and then deep-fried. Am I right, or am I right?
Unfortunately for me, this trip to the carnival wasn't going to be like any of the previous times, because me and old sweet-cheeks were going to be setting up a ride. Not just any ride, but a bloody big throw-your?guts?up, scare?the-living-daylights-outta-ya ride!
Marcus and me were meeting up with Buddy, who is one of the team at Christensen Amusements. This great company travels around America with all of its rides and sideshows. Buddy's got a lifetime of experience in the carnival business, and he laid our challenge down: We had to completely build one of Buddy's star attractions, the Zipper. Now, this ride is not for the faint of heart (or me for that matter). This ride means business. Once set up, it stands over 50 ft tall, and the whole thing spins around while all of the passenger cages spin as well! It's the kind of ride that, to look at, well, it looks amazing. But it's when you actually get on it and ride that you realize your deep-fried chocolate donut is going make an ugly re-appearance!
But Buddy wouldn't let us anywhere near his No. 1 ride until we proved to him that we could indeed handle the challenge. So he introduced us to one of his team members, Danny. Now, this Danny is the kind of guy who really shoots from the hip and doesn't take any s***! He barked an order at us to follow him to the other side of the park. There, we were to set up the kiddie swings — you know, the ones where kids sit in the swing and then the whole ride spins around nice and slow. Well that was our first challenge. Marcus and me each had our own ride to set up, and we had to do it in the allotted time or there would be no Zipper.
It wasn't technically a race to set up these swings — like I said, we just had to finish in the allotted time — however, you know me and Marcus always like to turn things into a race, and this was no exception. My old mate can't even set up a kiddie ride without the help of a manual! He spent the first ten minutes just reading. It's a bloody kids ride! You can visually see where everything goes! Anyway, just as I thought, I finished first, but Danny told me we weren't done until we had them plugged in and turned on. So that's what me and the boy wonder did, and yes, they both worked… Well, kinda!
You see, they both turned around like they were supposed to, except my ride was spinning backwards. No, it wasn't spinning backwards, it was spinning the right way — I'd just put all of my bloody seats on backwards! Now, if it had been my carnival, I would've left the seats on backwards and made a pretty ordinary kids' ride into something a little more fun. But before the vein in Danny's head burst, we did what he shouted at us to do: We turned them around. The big question is whether we did it in the allotted time to then move on to The Zipper… You'll have to watch to find out!
Read More