Unscripted
Owner's Manual Host Blog – Marcus Hunt on Brewing Beer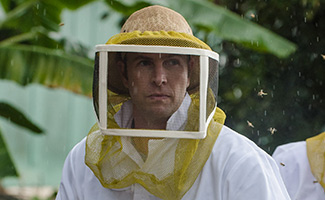 Owner's Manual co-host Marcus Hunt discusses his behind-the-scenes experience brewing beer in Hawaii.
Of all the places to film an episode, Kona, Hawaii was a pretty good one. You would think that with a nice hotel on the ocean, huge pool and gorgeous weather, we'd film a little, relax a little and so on. Not so much. The amount of work that goes into making a 30 minute show would amaze you. This crew is up by around 4:30AM, returning only for a shower, dinner and bed.
I love machines and processes, so I was excited to see how beer is made. What was cool about going to a smaller brewery was that our experts really were hands-on with not only the process, but also the flavors. They did extensive research and testing with a variety of hops and ingredients. When it came time for Ed and me to make beer, every measurement and all the process times had to be precise. I learned two major things about hops: 1. It only takes a small amount to drastically change the taste of 1,200 gallons of beer, and 2. Don't put them in your mouth. BLAHHHHH. Of course, Ed said, "I wonder what they taste like," and I said, "I'll try one." DUMB. Water, soda, candy, lunch, dinner… None of these things got rid of that awful taste. Anyway…
Making beer is hard work. I'm sure much larger breweries are completely automated, but the crew in these smaller breweries work their butts off. Carrying heavy bags of ingredients, cleaning thousands of pounds of used malted barley (which, by the way, gets used as cattle feed) out of the tanks by hand and hefting full kegs of beer into the freezers are just a few of the back-breaking tasks that Ed and I got to experience. One of the messier tasks was filling the kegs. It shouldn't have been, but in a mad dash to get the challenge done in time, I didn't lock the keg hose on properly and ended up soaking us both. I got the brunt of it, and having to wear beer-soaked jeans for the rest of the day almost made me gag. If you've never done it, the smell is horrible.
One of my favorite challenges, and also the most painful, was extracting honey from the beehives. Apparently bees don't like black gloves — which would have been useful information before we lifted the hive lids off. Ha, well within seconds, I had three stings on my fingers, then a few to my sides and a few on the arm, totaling nine… Nine stings. While I was trying to remain calm and composed, Ed danced around like he was being shot at, and I for sure thought he was being stung twice as many times and I was. He had a total of one sting. ONE!!! But his one turned out to be more painful than my nine, so we were about even. I learned that the many different local flowers that the bees pollinate can make a huge difference in how their honey tastes. That was some of the best tasting honey that I've had, and you could really taste it in the beer. Huge shout-out to our filming crew who suited up and braved thousands of bees, muggy conditions and Ed's and my bad jokes. We didn't get to experience nearly as much of Kona as I'd hoped, so it's on my list of places to return to.
Read More