Unscripted
Owner's Manual Host Blog – Ed Sanders on Locomotives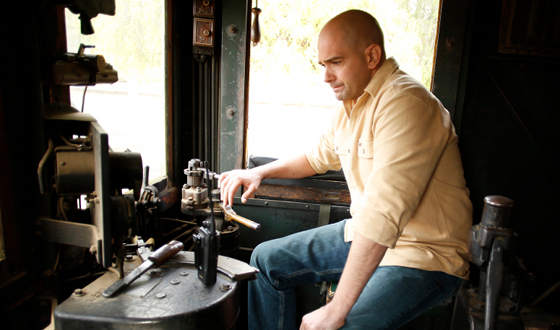 Ok, friends. When I found out we would be working on trains for this particular challenge, I wasn't jumping out of me skin with excitement! I mean trains, for crying out loud. Now please understand I don't have anything personal against trains, it's just that I'm from London and I spent years of my life stuck on trains — trains that go underground, trains that go over?ground, trains and trams that travel down the street, and even trains that travel 30 ft above the street! I KNOW TRAINS! Well, I thought I knew trains… That was until me old mucker Marcus and me stumbled upon the Orange Empire Railway Museum in Perris, California.
Now, I pride myself on always being on time. So when I knew we had to meet Tom and JR, I didn't want to be late. However when you're stuck in a car with Marcus and you're both too stubborn to ask for directions, you're gonna be late! And guess what? We were!
While running through the train museum to make up for lost time, I got a true sense of the challenge ahead, especially when you're head-to-head with these bloody massive pieces of machinery that weigh nearly 300,000 lb. And I knew at some point, we'd be in charge of driving them! Had the owners of the Orange Empire Railway Museum lost their minds? Me and old twinkle toes in charge of locomotives that pull a mile-long line of freight! I feel comfortable in any piece of equipment that you drive, but I'd never been in anything this big. Marcus, on the other hand, looked pretty chill as he bounded through the train yard with his rolled-up locomotive owner's manual! What he thinks he's going to find in there to give him an edge still confuses me!
The one thing I knew for sure was that these trains all must have a lever that moves them forwards and backwards. I thought that's all I'd need to know. Yes, I know that sounds ridiculous, but you can't exactly turn left and right in a train, can you?
Well, Tom and JR, our resident experts, quickly squashed my thought process by letting me know that they thought I was insane to think that all there was to driving a locomotive of that size was a lever that went forwards and backwards. In fact, Marcus thought I was an idiot for saying that and when I think back, Marcus was probably right!
If Tom wasn't nervous about us driving a whacking lump of steel before we met, he definitely was after my lever comment — so much so that he wanted to test us out on an old fashioned streetcar and see how well we could maneuver it down the track, then switch the track line to place our streetcar into a barn. JR said that if we could competently do that, then they would let us move on to the big locomotive. Put it this way, gang: If Marcus or me derailed the streetcar, well that's one thing. However, derailing a 300,000 lb locomotive is the stuff of nightmares!
Marcus and me can't resist a good ol' bet whenever we are on our first challenge, so when Marcus asked about our side bet I was pleased that it involved someone being the boss and the other being the lackey. The good news was that we passed the first challenge. The bad news was that our second challenge was a lot bloody harder!
A big thanks to our crew who, as always, knocked it outta the park by getting amazing shots, sound and keeping me and Marcus fed, which in itself is no easy job! Onto the next challenge!
Click here to view photos from Owner's Manual Episode 102, "Locomotive"
Read More