Press
GQ Challenges Owner's Manual's Marcus Hunt, Ed Sanders; EW Highlights The Pitch Season Premiere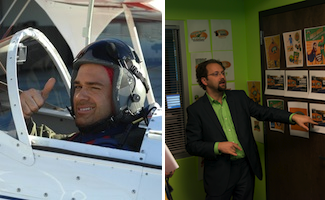 This week, Owner's Manual's Marcus Hunt and Ed Sanders face off in three GQ challenges, while Entertainment Weekly gives The Pitch's season premiere an A-. Plus, Newsday awards Owner's Manual an A. Read on for more:
• GQ issues its own challenges — like putting together Ikea furniture — to Marcus Hunt ("pro-read the manual") and Ed Sanders ("pro-do it your damn self") of Owner's Manual.
• Previewing The Pitch's Season 2 premiere, Entertainment Weekly awards the episode an A- and describes it as "a rare business-minded reality program about the spirit of competition." [No Link]
• Owner's Manual gets an A from Newsday — which is amused by Marcus and Ed, who are "natural bicker-buds throughout, adding life and laughs to each half-hour."
• The Los Angeles Times's preview of Owner's Manual thinks the show is "appealing" and "guided by charm."

• TheWrap spotlights the poster and first teaser for Owner's Manual, which will focus on challenges like operating a stunt plan, an off-road racing car and a locomotive.
• Los Angeles' KTLA interviews Marcus Hunt and Ed "flying by the seat of me undercrackers" Sanders about Owner's Manual, labeling it "a brilliant idea."
• The Fort Worth Star-Telegram, interviewing Marcus Hunt and Ed Sanders, calls Owner's Manual "clever and addictive."
• Channel Guide Magazine describes Owner's Manual as "educational and sidesplitting," crediting Marcus and Ed's camaraderie and the "stunning camera work that allows the audience to copilot their genuinely breathtaking adventures."
• Hollywood.com checks out some sneak peek photos from Owner's Manual that makes the reality show look "like some great industrial fun."
• Brewbound highlights Episode 4, "Brewery" — "recipe measurements are off, kettles boil over, and antics ensue" — where Marcus and Ed try to brew a batch of beer at Hawaii's Kona Brewing.
• The St. Louis Post-Dispatch thinks The Pitch is "frequently riveting."
• Politico highlights The Pitch's first-ever inclusion of a political firm, Nashville, Tennessee's Fletcher Rowley, in the competition.
• The Fayetteville (N.C.) Observer thinks The Pitch "makes for unexpectedly compelling TV."
• Chicago Business Journal reports that four Chicago ad agencies will compete in Season 2 of The Pitch: Commonground, Bee-line Communications, Central Coast and the Monogram Group.
• Mediabistro reports that COR, a Santa Monica, California-based ad agency, will appear in an episode of The Pitch's new season.
• Hollywood.com has the new promo for The Pitch's Season 2 premiere, "College Hunks Hauling Junk."
Read More