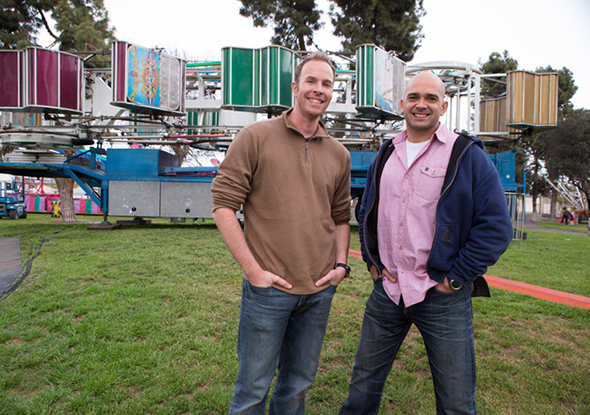 Season 1, Episode 7
Carnival
Ed and Marcus get silly at a carnival, but things get serious when they are tasked to build one of the most dangerous rides at the carnival.
Show Full Recap
Full Recap
In Santa Ana, California, Ed and Marcus meet with ride supervisor Buddy and game supervisor Danny from Christiansen Amusements. Their challenge: Assemble the Zipper -- an iconic carnival ride with 12 spinning carriages.
First, Marcus and Ed must set up two children's swing rides in under an hour. Ed accidentally attaches the swings backwards but with five minutes left, Marcus helps turn them around. Test complete.
Before the main challenge, Ed talks to the carnival crew about hydraulics, while Marcus studies ride manuals and asks Buddy questions.
The challenge begins. While Marcus reviews instructions, Ed puts down base plates. Using a tip from the crew, Ed grabs a small jack to help level the ride. Next, they lock the carriages into place and position outriggers (metal arms used for stability). Marcus concedes that the manual is wrong and Ed is right about beam placement. The guys power up primary hydraulics, lifting the ride from horizontal to vertical. At 45 degrees, the second set of hydraulics kicks in. The crew told Ed the ride would shake violently at this point but Marcus is startled (since this isn't detailed in the manual).
Once the Zipper is vertical, Ed sets up secondary braces. With 45 minutes left, Buddy checks the ride then tells the guys to set up the grounds. Marcus and Ed lay down a walkway and railing around the ride. Cleaning up, Ed discovers some safety cables that should've been attached before the Zipper was raised. The guys rush to install the cables.
Buddy turns on the Zipper's lights and sends the pair for a test spin. Marcus laughs as Ed screams. Buddy assures them, they have completed the challenge.