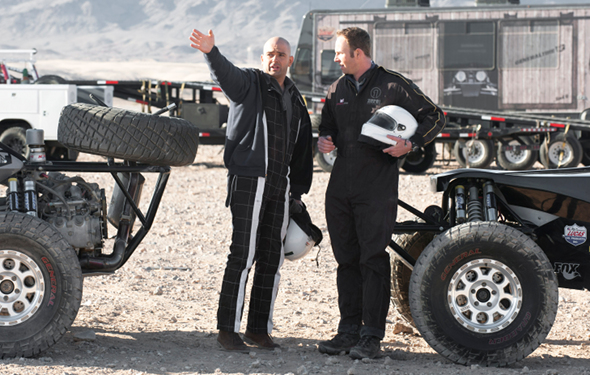 Season 1, Episode 3
Off Roading
Marcus and Ed head to the Nevada desert where they drive high-performance, off-road vehicles in a race against one of the top drivers in the country.
Show Full Recap
Full Recap
In the desert outside Las Vegas, Ed and Marcus meet Earl (owner of Zero One Odyssey Racing), crew chief Kevin and competitive racer Melissa. Earl describes the off-road race cars that Marcus and Ed will drive: They've got fully independent suspension, 33-inch tires, 200 horsepower motors, advanced GPS, and can "/fly over any terrain."
Earl explains the main challenge: Using GPS, Marcus and Ed must navigate a 25-mile extreme desert racecourse with 12 checkpoints and beat Melissa who will not go faster than 50 mph.
Before the race, Earl requires Marcus and Ed to complete a one-mile flat terrain course in under 90 seconds. Marcus suggests a side bet: The first one to remove the flag from the final cone gets to lead in the main challenge. "The loser gets to eat my dust," says Ed.
During the test run, Ed takes a wrong turn, putting him behind Marcus. But just as Marcus gets out of his car to grab the flag, Ed runs over the cone and sends the flag flying. Ed argues successfully that he thereby wins.
Later, Marcus studies manuals for the off-road vehicles. Melissa warns him that the GPS only shows checkpoints -- not terrain. Ed meanwhile gets advice from Kevin, who says that rocks can puncture the tires. Earl advises Ed to avoid sand dunes. When he can't, speed through without turning.
The next day, the challenge begins. Melissa quickly takes the lead. "As long as we pick the best route, we can stay ahead of her," says Marcus. Ed takes a "shortcut," leading to a four foot drop. Marcus chooses a safer route down the jagged slope but Ed gets impatient and guns it over the dangerous eight foot jump.
Marcus and Ed catch up to Melissa at checkpoint nine. Ed opts for a shortcut through a rocky canyon. "This is like driving on the moon," says Marcus. Ed blows a tire. As the pair stop to change it, Melissa pulls further ahead.
With the flat fixed, the guys get out of the canyon but lose Melissa's trail. Ed again talks Marcus into a shortcut, this time through sand dunes. Ed tells Marcus to maintain his speed and make no sharp turns.
Once Marcus and Ed make it through the dunes, they overtake Melissa in the final stretch thereby winning the challenge. Earl and Kevin congratulate Ed and Marcus. Now they must see if they can catch Earl himself. "Yeah! Back in the cars," yells Marcus, and the guys run back to their vehicles then speed off again into the desert.