Q&A
NOS4A2 Q&A — Ebon Moss-Bachrach (Chris McQueen)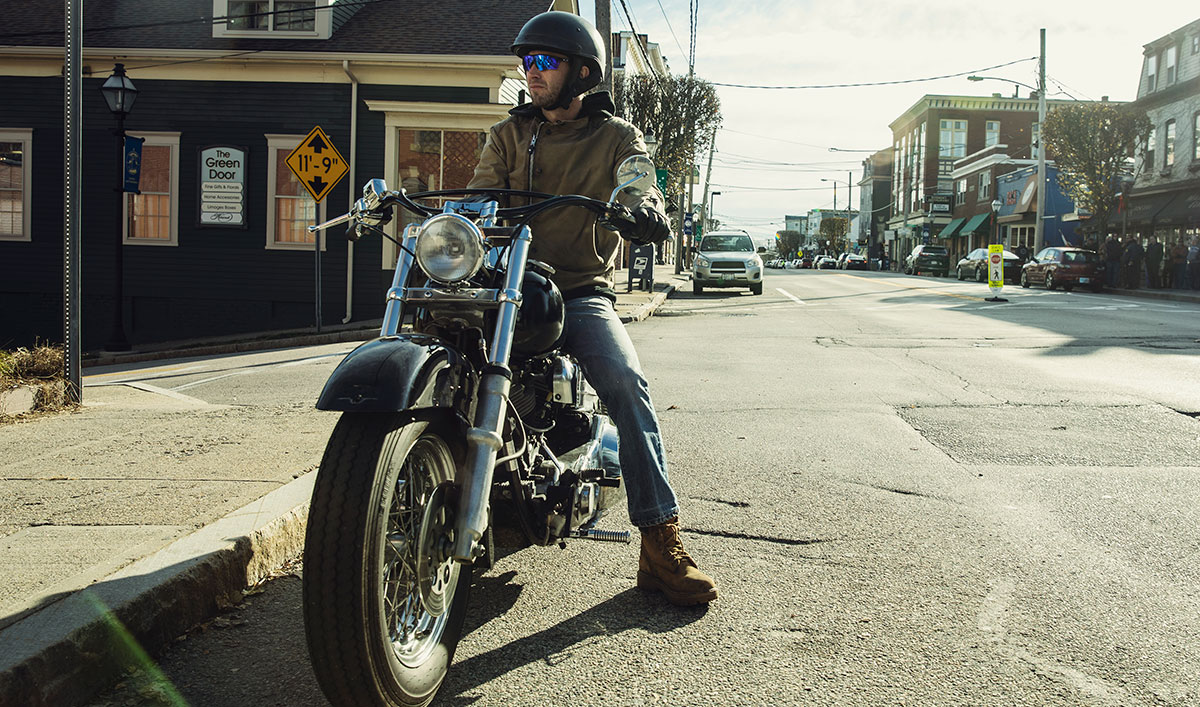 Ebon Moss-Bachrach, who plays Chris McQueen in AMC's NOS4A2, discusses playing Vic's complicated and dynamic father, plus filming in the familiar New England setting, and that explosive argument at the end of Episode 7.
Q: What originally drew you to the show?
A: The first thing I did was read a couple of scripts, and I was really intrigued by this man who just felt very real and not romanticized, but also not written in a general kind of, quote-unquote, "working class New England guy." It just felt more full and true to life than a lot of the things I read, and I'm interested in the complexities of people, and I'm not interested in playing "a good guy" or "a bad guy." I liked that this guy was really amazing at times, and really infuriating at other times. And then I read the book, which I thought was really fun, kinda wild, and it reminded me a bit of growing up in New England. The way Joe [Hill] writes is similar, in a way, to his dad. His writing feels like it's permanently encapsulated in New England in the 80s, [Laughs] which is not exactly "the sweet spot," but definitely a cherished spot, for me.
Q: Since you're from New England, did the characters and the New England setting feel familiar to you?
A: Yes, the characters felt very familiar to me and recognizable. I did a play a few years ago called "Lost Girls" … and it was about a girl that goes missing in the small town of New Hampshire, and I played her dad, who was also a state cop, and then there was her mom, his wife, and the grandmother, and it was similar to NOS4A2 in that it was one guy surrounded by all these very strong, vocal women, who are super smart, and fully expressed, and I feel like – and maybe this is everywhere – but from my experience growing up, it was this phenomenon of really smart women… in NOS4A2 it was the same thing. Here's this man with a really strong, amazing wife, his super smart, incredibly talented daughter, and also his girlfriend who I think is really fantastic and fun and hilarious. All these really vibrant people – and I think he's a vibrant person too, but he's also a guy who knows when it's time to retreat, maybe.
But at the same time, a key part of Chris is maybe he thought he was a guy who was going to get out. He wanted to write music and play music, and then life set in and those plans had to change, and he found himself in a similar position to what his dad was doing.
Q: You mentioned at WonderCon that you like to read and watch fantasy, but are happier to play regular, every day characters. In that same vein, what's it like for you to play in the "everyday drama" of NOS4A2 and act as a foil for the "supernatural drama" in the show?
A: Well I'm still waiting for the episode where Chris discovers his power. I'm not giving up on that yet. [Laughs] As long as his power doesn't involve four hours in hair and makeup. But it's nice to just do scenes with people at a table, or driving in a truck to work, and talking around things and about things. … The stunts and everything are incredible, and I've done that, and I have so much respect for the stunt guys and actresses, but I like the scenes that feel more like a play.
Q: How did you work with the creative team to frame such a complicated person like Chris?
A: I was working with a really good script. That was the part that was written, so that's what you start with. The writing sets everybody on the path, and this path was well marked. When a part is written well, it's easy for the actor. This part was written three-dimensionally, with a lot of inconsistencies and complexities.
Q: Chris wants to do right by Vic, but just keeps coming up short. What's it like for you to play a man who seemingly wants to do good, but never really gets all the way there?
A: It's interesting to play a guy who would take a bullet for his kid, but can't figure out how to stop drinking. I think that's a really interesting, frustrating, inspiring dynamic. His circumstances, it's a real struggle, and that kind of struggle can create drama and tension for a long time, and conflict within a character, and conflict within a story. He's also a guy who's been in war, and has seen some really, really scary, horrible stuff, and probably is just trying to live a life where he doesn't have to think about that stuff all that much, which might involve a certain amount of drinking or discarding of responsibility. But none of that gets in the way of the love he has for his kid — or rather, it gets in the way of his ability to be a good dad, but it never gets in the way of his intentions of love…. He just feels like a very real person who is struggling – well not struggling. I guess what I mean is, I'm disappointed that it's something we comment on, that we single the show out how it portrays a dad with a full three-dimensionality and complexity, and I wish that was more the baseline for TV shows and movies and things like that. Just being truthful about what people are like. I guess in that way, that's why I'm more attracted to the folks without the superpowers, because – I don't want to get too lofty or anything – but I'm interested in doing what I do as a way to commune with people and get closer to people, and sort of find a deeper understanding of myself and what drives people. I appreciate shows and movies that get after that.
Q: Vic and Chris's relationship comes to a head at bike week in Episode 7. How do you think he takes hearing Vic talk to him like this and speaking truth to their dynamic? How do you think might that scene change their relationship moving forward?
A: She makes a point very clearly. It's not subtle. I think the new information in that scene is the new level of anger and aggression that hadn't been there before. She's not a kid anymore, so he can't pull the wool over her eyes like he has been for some time. … She names him.
I think Chris becomes aware of the power and the strength and the will of Vic. She sort of graduated to a new level, or becomes stronger. He can't placate her in the same way he used to be able to. His charm's worn thin. She's too smart for that, too mature for that at this point.
Q: If you were a strong creative like in the show, what would you want your power to be?
A: Time travel. And my knife… someone asked me this before. I think I said a rowboat. [Laughs] A rowboat back in time. Into the tunnel of love.
Read an interview with Ólafur Darri Ólafsson, who plays Bing Partridge.
NOS4A2 airs Sundays 10/9c.
Watch the latest full episodes of NOS4A2 on amc.com and the AMC App for mobile and devices. The Full Season 1 is available to watch now for AMC Premiere subscribers.
To get the latest full episodes, exclusives and more, sign up for the NOS4A2 Insiders' Club.
Read More