Blog
Relive JFK's Assassination and More Historical Moments on Mad Men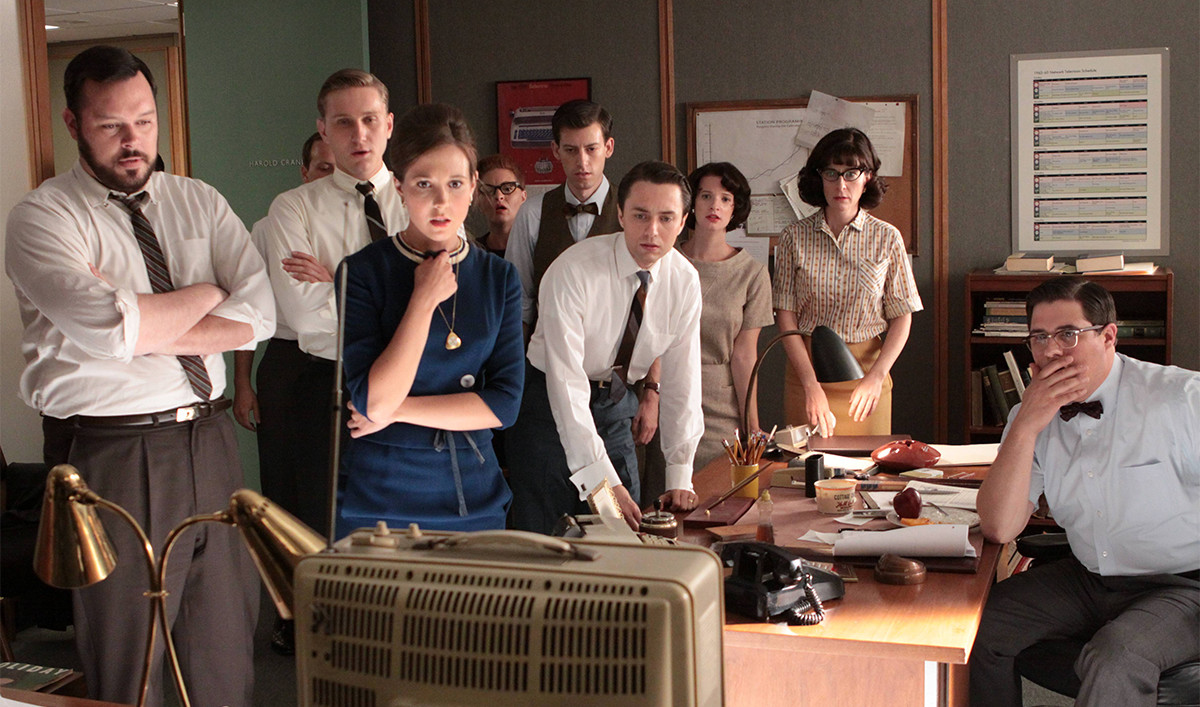 While Mad Men gave viewers a window into the soul of Don Draper and other characters, it also provided an opportunity to re-examine the turbulent decade of the 1960s. AMC has curated a special collection of Mad Men full episodes that feature such real-life historic moments as the Kennedy-Nixon election, the Cuban Missile Crisis, JFK's assassination and more. Check out these memorable episodes:
"Nixon Vs. Kennedy" (Season 1, Episode 12)
On election night, Nov. 8, 1960, the Sterling Cooper staff pulls an all-nighter at the office. Drinking and debauchery ensues as the returns roll in, revealing a much closer race between Vice President Richard Nixon and the young Democratic senator John F. Kennedy. Meanwhile, Don's decision to hire a new head of accounts pushes Pete to make a drastic move to reveal the truth about Don's past.
"Six Month Leave" (Season 2, Episode 9)
The workers of Sterling Cooper each react differently to the news of Marilyn Monroe's death. While Joan is distraught, Peggy celebrates the agency's good fortune that a Marilyn-themed campaign never got off the ground. Meanwhile, Freddy Rumsen jeopardizes his career when makes an embarrassing mistake, and a surprising new inter-office romance is revealed.
"Meditations in an Emergency" (Season 2, Episode 13)
It's October 1962, and the Cuban Missile Crisis looms large in the characters' minds as they deal with their own personal crises. Sterling Cooper is being sold, forcing many employees to worry about their jobs. Elsewhere, Peggy reveals a huge secret to Pete, and Don reconciles with Betty, who delivers some major news of her own.
"The Grown Ups" (Season 3, Episode 12)
Sterling Cooper is rocked by  the news that president John F. Kennedy has been shot in Dallas. Despite the tragedy, Roger's daughter's wedding goes on as planned, but not without some hitches. Meanwhile, Peggy begins to second-guess her taste in men, Pete wrestles with an important career decision, and Betty receives an intriguing proposal.
"Blowing Smoke" (Season 4, Episode 12)
Sterling Cooper Draper Pryce is reeling after loss of its biggest client, Lucky Strike. While the company tries to court another big tobacco account in order to stay afloat, Don takes bold action that could blacklist the agency if it backfires. In the meantime, Pete struggles to pay his share to keep the agency's doors open, and Don reunites with an old friend.
Check out the special collection of historic episodes, available on Xbox One, Apple TV, Roku, AMC mobile apps and amc.com, before they're gone on March 11. Then stay tuned for other curated batches of episodes in the coming weeks.
Read More