Press
Mad Deemed One of Year's Best; SAG, WGA, PGA Nods for Mad, Jon Hamm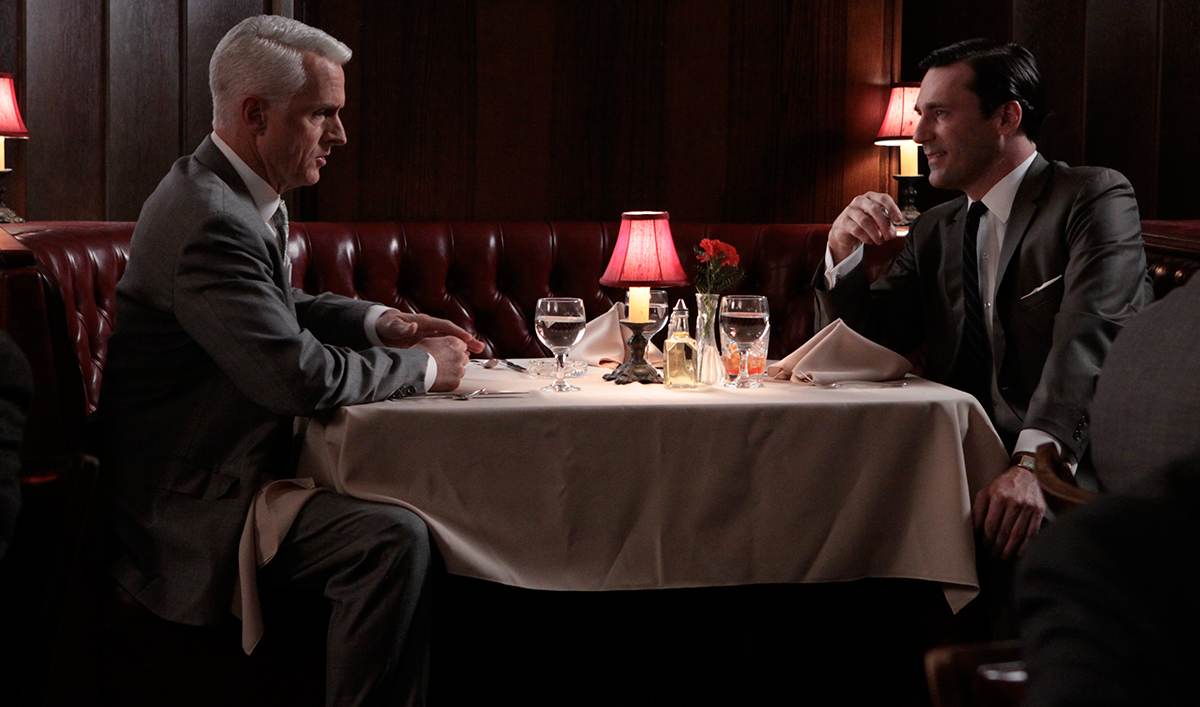 This week, Mad Men is deemed one of the year's best TV shows, while the show and Jon Hamm garner SAG, WGA and PGA Award nominations. Plus, Hamm's appearance on the U.K.'s Toast of London is well-reviewed. Read on for more:
• Rolling Stone considers Mad Men one of the year's best TV shows, noting that Matthew Weiner "saved some of the Sterling Cooper crew's most unforgettable moments for closing time."
• Vulture deems Mad Men one of 2015's 10 best TV shows, calling the final half-season "a summation of everything Matthew Weiner's period drama ever was or wanted to be and also an exponential raising of its literary and psychological stakes."
• Mad Men wins a spot on HitFix's top 10 list "with a quartet of rich, funny, and deeply poignant concluding episodes that gave all the major characters a satisfying ending, even if only some of them were happy enough to drink a Coke to."
• Mad Men has been honored with two Screen Actors Guild Award nominations, for Outstanding Performance by an Ensemble in a Drama Series and Outstanding Performance by a Male Actor in a Drama Series for Jon Hamm, People reports.
• The Los Angeles Times reports that Mad Men has been nominated for a Producers Guild of America award.
• TheWrap reports that Mad Men garnered two Writers Guild of America Award nominations, in the categories of drama series and episodic drama (for "Person to Person," which it calls "the now-iconic series ender").
• The Guardian spotlights Jon Hamm's guest-star turn on the U.K.'s Toast of London, "playing a part that blurs his personal identity with that of Don Draper, the supernaturally cool character he played in Mad Men."
• RadioTimes.com has a clip of Jon Hamm's appearance, commenting, "I can happily report that it is a triumph with 'Hamm' – as the man behind Don Draper is referred to throughout – being fabulously poker-faced."
• Reviewing the Toast of London episode, Digital Spy says, "Jon Hamm certainly has a sense of humour, and he took to poking fun of himself in the best way."
• "Time and Life" (the "sad mirror of season three's exuberant 'Shut the Door, Have a Seat'") and Kiernan Shipka (her work over seven seasons "constitutes one of the greatest sustained performances ever given by a juvenile in American television") also win kudos from Vulture.
• January Jones will be one of the narrators of the new "Modern Love" podcast from The New York Times and Boston's WBUR, according to The Hollywood Reporter.
• Christie's, noting Mad Men's "attention to detail in recreating the look and feel of the times the show covered," highlights four vintage wristwatches up for auction that were worn in Season 5 by Don, Roger, Pete and Megan.
• Teyonah Parris tells St. Louis Post-Dispatch she didn't know Dawn "would be a recurring role, and that she would have such an impact. But as the character grew, we all started to learn more about who she was. And that was really exciting for me."
• Bruce Greenwood speaks with Canada's The Province about Mad Men.
• Talking to the New York Post about his role in Spotlight, John Slattery says, "I grew up in Boston. I was an altar boy. I knew this story. Ben Bradlee Jr., whom I played, couldn't have been more helpful. In his office, he answered all my stupid questions."
• Playbill reports that Rich Sommmer has joined the cast of the off-Broadway revival of Sam Shepard's Buried Child, which will open February 2016.
To stay up-to-date on all the latest news about Mad Men, sign up for the AMC Weekly.
Read More