Press
Jon Hamm Chats With Seth Meyers, Jimmy Fallon; Don's Office Donated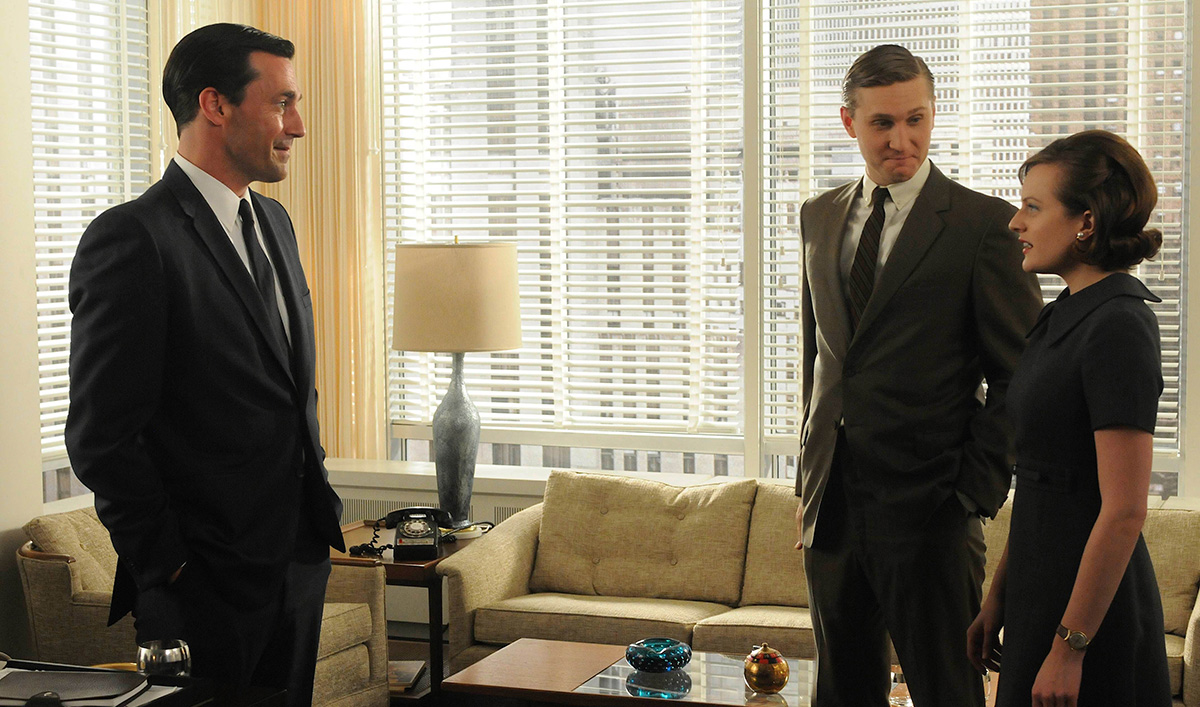 This week, Jon Hamm chats with both Seth Meyers and Jimmy Fallon, while Matthew Weiner donates Don's office. Plus, Christopher Stanley shares some facts about Mad Men. Read on for more:
• Jon Hamm appears on Late Night With Seth Meyers — and Time has a clip of him discussing Mad Men's final scene, while Entertainment Weekly has a clip of him discussing the Emmy Losers Party he hosted with Amy Poehler.
• TheWrap reports that Jon Hamm shows up on The Tonight Show With Jimmy Fallon to support Will Forte as he finds out whether there's "fecal matter" in his beard.
• As a side note, Details points out that "you might have missed Jon Hamm endorsing one of the most important eyewear trends of the last few years" during his appearance on Jimmy Fallon's show.
• According to The Hollywood Reporter, Matthew Weiner has donated Don's office to the future Museum of Television of Los Angeles, and the museum's director says that Weiner "made sure every piece of wardrobe and set decoration was historically perfect."
• Christopher Stanley talks about Henry's attraction to Betty, saying, "He's a progressive guy, for the time period, and I feel like he wanted to help her realize her full potential. Not just as a mother, but as a person," The Huffington Post reports.
• Elisabeth Moss, speaking with WOW247 about what she misses most about Mad Men, says, "I realized I wasn't going to play Peggy with Joan or Peggy with Pete or Peggy with Don. That was what I loved the most, was not just playing Peggy on my own, was playing it with these other characters I really liked."
• NPR recommends the new Mad Men ("one of TV's best series ever") collector's set, which comes with four hours of bonus features and a pair of lowball cocktail glasses.
• The Guardian, anticipating the show's collector's set release, advises not binge-watching the show: "You can't rush it. So mix yourself an old-fashioned, sit down and savour it."
• The New York Post cites Mad Men's Esalen storyline as an example of how "New Age-y seminars have been popping up a lot in TV plots recently for shows set in the 1970s and '80s."
• Jon Hamm tells People about the joy his rescue dog, Cora, has brought him: "It has changed my life in such a positive way. Pets can bring to us a sense of love and pride and all of those wonderful things."
• Sarah Silverman relates how she had a chance to audition for the part of Rachel Menken but didn't "because I'm an idiot," Uproxx reports.
• The Boston Globe takes a look at the actors in Spotlight and the real life people they portray, including John Slattery ("who made his name as Roger Sterling") who plays Ben Bradlee, Jr.
• Vincent Kartheiser tells Channel Guide Magazine that National Geographic Channel's Saints and Strangers has "so much detail amongst the human beings that make up these groups, the ego of some people and the piousness of others. That — hopefully — is what we shed light on."
• Dishmag talks to Vincent Kartheiser, who says of Saints and Strangers that the "very basic story that we all know about Thanksgiving doesn't quite honor all the complexity that comes with each character."
• Variety showcases two behind-the-scenes teasers for National Geographic Channel's Saints and Strangers, which stars Vincent Kartheiser as Plymouth's governor William Bradford and premieres Nov. 22.
To stay up-to-date on all the latest news about Mad Men, sign up for the AMC Weekly.
Read More