Press
Bustle on Jon Hamm's New Movie; Elisabeth Moss Hailed in Queen of Earth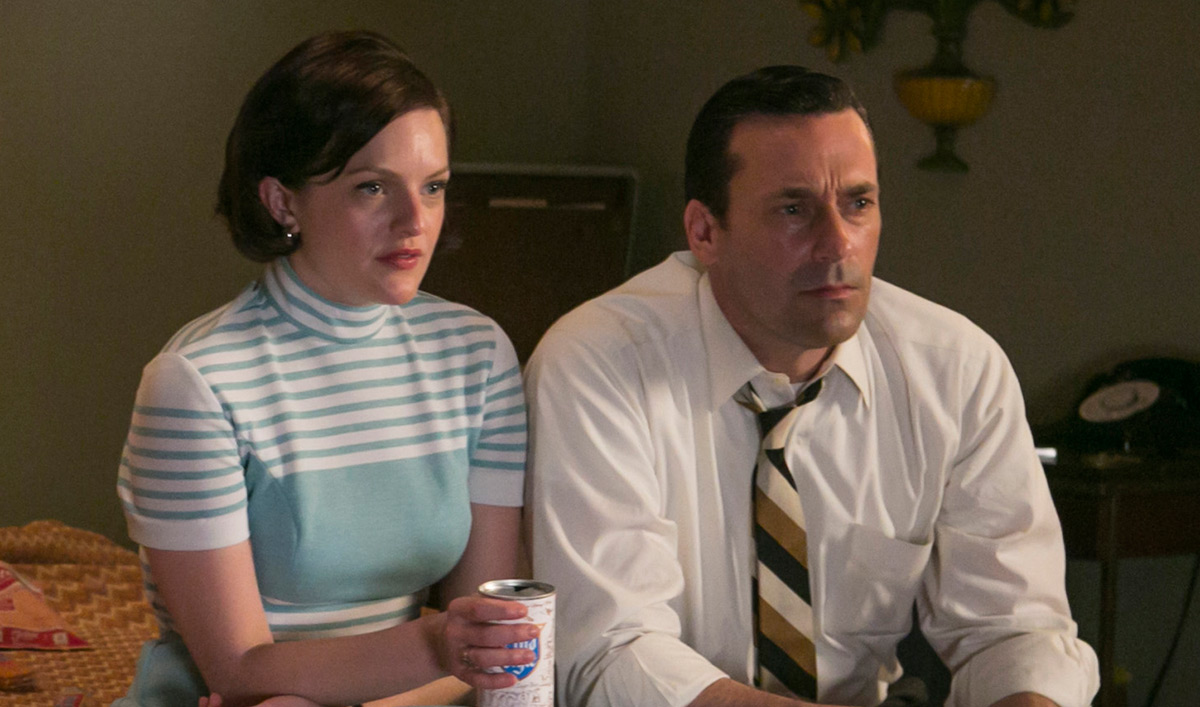 This week, Bustle is ecstatic about Jon Hamm's new movie, while Elisabeth Moss is hailed for her performance in Queen of Earth. Plus, a makeup artist talks to L.A. Magazine about Betty's weight gain. Read on for more:
• Ecstatic about Jon Hamm's new project, a movie called Marjorie Prime, Bustle thinks "there should be plenty of opportunity for Hamm to stretch his legs and dive deep into the complex script."
• Flickering Myth's Queen of Earth review applauds "the exquisitely talented Elisabeth Moss, who may just be the best actress working in Hollywood right now."
• Glenn Hetrick, an FX makeup artist, tells Los Angeles Magazine that his team "produced a beautiful, subtle weight-gain makeup for January Jones on Mad Men. People thought it was real, which is what you want; you don't want people to look at something and go, 'Oh, that's an effect.'"
• Elisabeth Moss talks to Bustle about choosing roles: "For me it doesn't matter if it's a big film or a small film, a half hour or an hour, whether it's West End or Broadway. It's about the script itself, if it's a great story that I want to be a part of."
• JoBlo, reporting on this week's release of Mad Men's final half-season on DVD/Blu-ray, calls the show a "brilliant ride from start to finish."
• Entertainment Tonight highlights bonus material on the final half-season DVD/Blu-ray where an author, Jennifer Keishin Armstrong, "points out how much Mad Men's Joan parallels the iconic Mary Tyler Moore."
• Advertising Age notes that "Don Draper's Zen moment in the Mad Men finale turned into a peak PR moment for Coke."
• Bustle provides tips for dressing up for Halloween as Betty, who "epitomized everything that was amazing about the fashion of the decade, while also making it interesting and kind of fantastic."
• Discussing Alex Ross Perry's Queen of Earth, Elisabeth Moss tells The Globe and Mail, "Alex and I have a joke now that we're just trying to make a film that is offensive enough and dark enough that nobody likes it. We keep trying and failing miserably at it."
• The East Hampton Star reports from the Hamptons International Film Festival, where John Slattery talked about meeting Ben Bradlee, Jr., the character he plays in Spotlight, and how Bradlee was "open and supportive. He answered any stupid question I had, personal or professional."
To stay up-to-date on all the latest news about Mad Men, sign up for the AMC Weekly.
Read More