Press
Jon Hamm's Emmy Win Celebrated; Matthew Weiner Chats With Vulture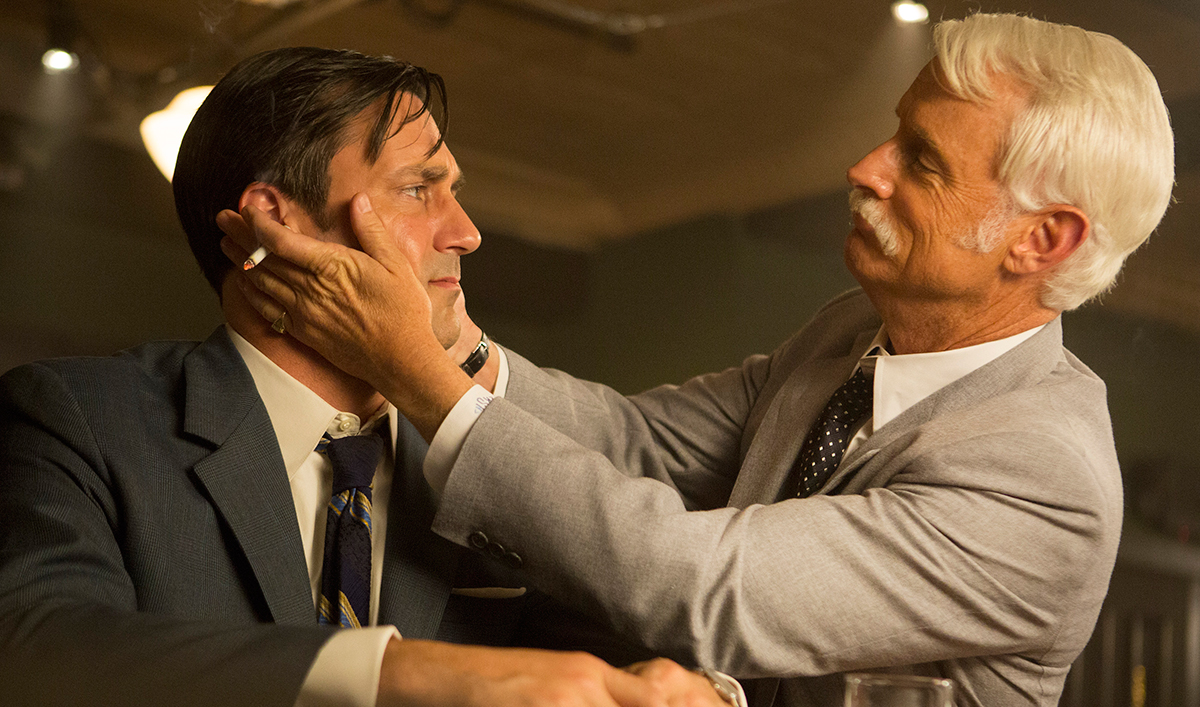 This week, Jon Hamm's Emmy win is celebrated, while Matthew Weiner has a post-Emmy chat with Vulture. Plus, USA Today gets Hamm's take on Mad Men's final scene. Read on for more:
• The New York Times reports that Jon Hamm "put an end to a long Emmy drought, winning best actor in a drama in perhaps the most eagerly anticipated award of the night."
• Vanity Fair asserts that Jon Hamm's Emmy win "can be seen as a representative win for the [Mad Men] ensemble, too," while Entertainment Weekly writes that Hamm "was widely regarded as the frontrunner in the category for his nuanced work" on the series.
• TODAY, writing about Jon Hamm's Emmy win, notes that the Mad Men actor "skipped the stairs and opted to crawl onto the stage to claim his previously elusive award," while E! Online has Hamm's reason for his stage entrance. And Vox comments that "the crowd gave him a standing ovation."
• Deadline, GQ, The Huffington Post, the Los Angeles Times, TV Guide, TVLine and Variety also had news of Hamm's win, and Vulture has a post titled, "Jon Hamm Finally Got to Give That Emmys Acceptance Speech."
• The Emmy Awards ceremony "paid tribute to all of the celebrated television shows that ended in the past year, from talk shows hosted by late-night legends like David Letterman and Jon Stewart to long-running, acclaimed series like Mad Men," according to Rolling Stone.
• The Week highlights the Emmy Awards ceremony bit where Andy Samberg "channeled his inner Don Draper, not by chain smoking and cheating on his wife, but by meditating and dreaming up a commercial that celebrates winners and losers alike."
• After Jon Hamm's win, Matthew Weiner told Vulture, "I felt like he should've won every year. For me it was a beautiful moment. I directed the last seven episodes, and I can tell you that his performance was just remarkable."
• Jon Hamm clues in USA Today to the challenges of shooting Mad Men's final scene, which he described as "cool, different, interesting and, hopefully, an iconic moment."
• Matthew Weiner, speaking with Vanity Fair about Betty's storyline, says, "We got to do something that is definitely a bit unknown on TV, which is actually admit the fact that this is a devastatingly beautiful woman [whose looks] affected her life."
• According to Deadline, Matthew Weiner and Semi Chellas confirmed at a panel that "Don Draper did find himself and did go on to help create the iconic 'I'd like to buy the world a Coke' commercial."
• Vanity Fair spotlights a Brooks Brothers campaign featuring Christina Hendricks and Geoffrey Arend reminiscing about their wedding day.
• Elisabeth Moss, interviewed by Collider, says she has more time to do other projects now that Mad Men is over: "It'll be difficult to find anything as good as that ever again, but to be able to do so much and play different characters and try different things all year is definitely a cool experience for me."
• Talking to Los Angeles Daily News about playing Dawn, Teyonah Parris says she talked to her grandmother "to help inform my storytelling, but of course that wasn't every woman's experience."
• TakePart notes that Mad Men has "produced more [Emmy] nominations for women writers than any other TV show of the last decade," according to an analysis from a nonprofit that examines women's representation in entertainment and journalism.
• Exclaim says a Mad Men retrospective soundtrack will be out digitally on Oct. 9 and will also be available on double vinyl, digital download, or in a special package with a Crosley turntable.
• The New York Post calls Spotlight, which features John Slattery as Ben Bradlee, Jr., "the Oscar front-runner at this moment."
• Vanity Fair reports on the induction of Bill Murray and his brothers, including Joel Murray, into the Caddie Hall of Fame.
• According to The Hollywood Reporter, February, a horror movie starring Kiernan Shipka, is being acquired by A24 and DirecTV.
To stay up-to-date on all the latest news about Mad Men, sign up for the AMC Weekly.
Read More