Press
Jon Hamm, Matt Weiner Speak With LA Times; Kiernan Shipka Talks Sally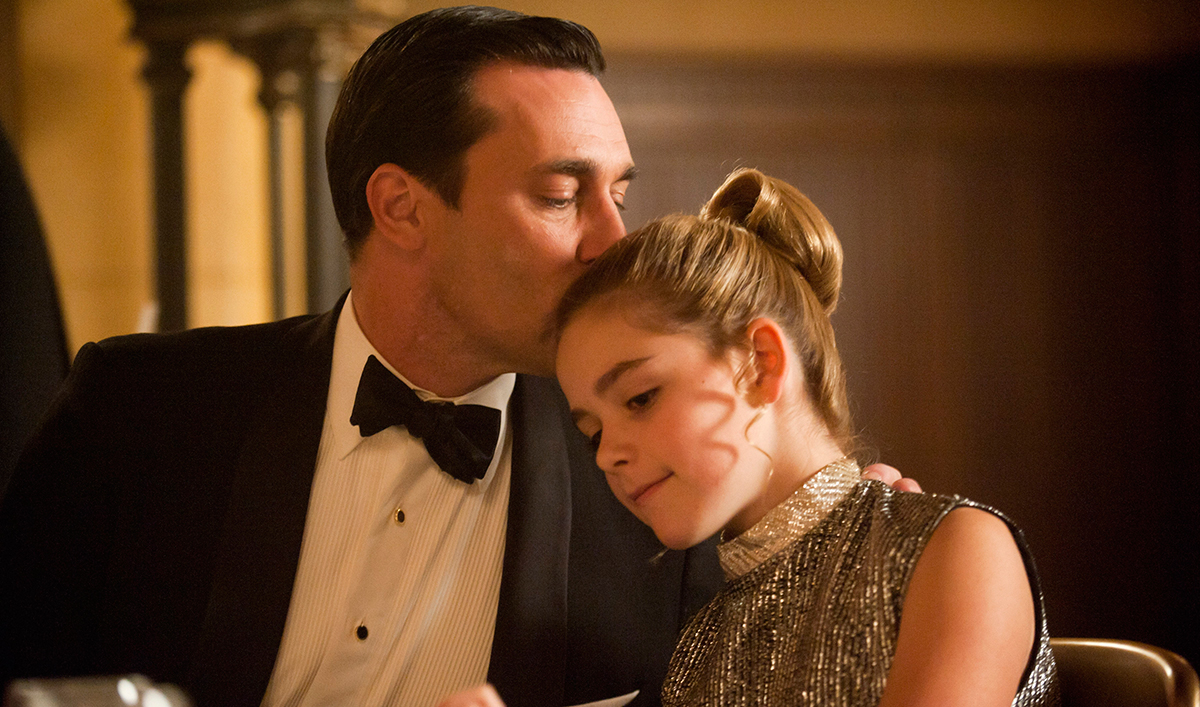 This week, Jon Hamm and Matthew Weiner speak with the Los Angeles Times, while Kiernan Shipka discusses Sally with The Daily Beast. Plus, NPR gets the scoop from Alison Brie on her Mad Men break. Read on for more:
• Matthew Weiner and Jon Hamm sit down with the Los Angeles Times, and Hamm talks about Don's final scene, saying that it was "his journey about becoming OK with himself. Don Draper? Dick Whitman? Who cares? The foundation is based on a lie, but the other stuff is real."
• Speculating about Sally's future, Kiernan Shipka tells The Daily Beast, "I still have this gut feeling that she's such a strong person and such a smart person that I think she would go on to do really, really good things."
• Alison Brie tells NPR how important the role of Trudy was: "I didn't start working on Mad Men and immediately start getting amazing job offers. But I definitely had more confidence because I was working and I could quit my job at the front desk at the yoga studio."
• Kiernan Shipka, talking to Cosmopolitan.com, reveals her last meal would be "amazing bread and amazing butter and sea salt. From there, a lot of good cheese. I'd probably go more toward the French vibe but then maybe I'd want, like, tacos midway through. And then five different types of desserts."
• Entertainment Weekly offers a clip and trailer for sci-fi drama One & Two, starring Kiernan Shipka. The Village Voice review says Shipka "proves just as capable in a more central role as she was stealing scenes" as Sally.
• The Week applauds Mad Men, saying the "final batch of episodes didn't miss a step, offering a moving and fitting end to the show's many stories."
• Decider looks back at August 16, 2007, the day Dick Whitman made an appearance in Season 1's "5G."
• TheWrap reports that High-Rise, a movie starring Elisabeth Moss will compete for the Toronto International Film Festival's first jury award next month.
• Deadline reports that Vincent Kartheiser is starring in (and executive producing) Debt, a drama series being developed by WGN America.
• Christina Hendricks appears on Watch What Happens Live! and shares how she thought various characters ended up, from Sal to Duck's dog Chauncey.
• Broadway World has a video of Abigail Spencer on The Talk discussing love scenes with Jon Hamm: "You'd think it would be super-steamy and amazing, but I had actually just had a baby so I was lactating, like a mother."
• Andpop explains why Netflix's Wet Hot American Summer: First Day Of Camp "unintentionally became the Mad Men reunion that we so badly needed."
• MovieWeb has an exclusive preview of Good Kill where January Jones praises the movie's director, Andrew Niccol: "I think that's the most important thing to have when you're working with a director is to be able to trust who it is that's giving you direction."
To stay up-to-date on all the latest news about Mad Men, sign up for the AMC Weekly.
Read More