Press
Jon Hamm Visits TODAY, Jimmy Kimmel; Mad Is Year's Best Show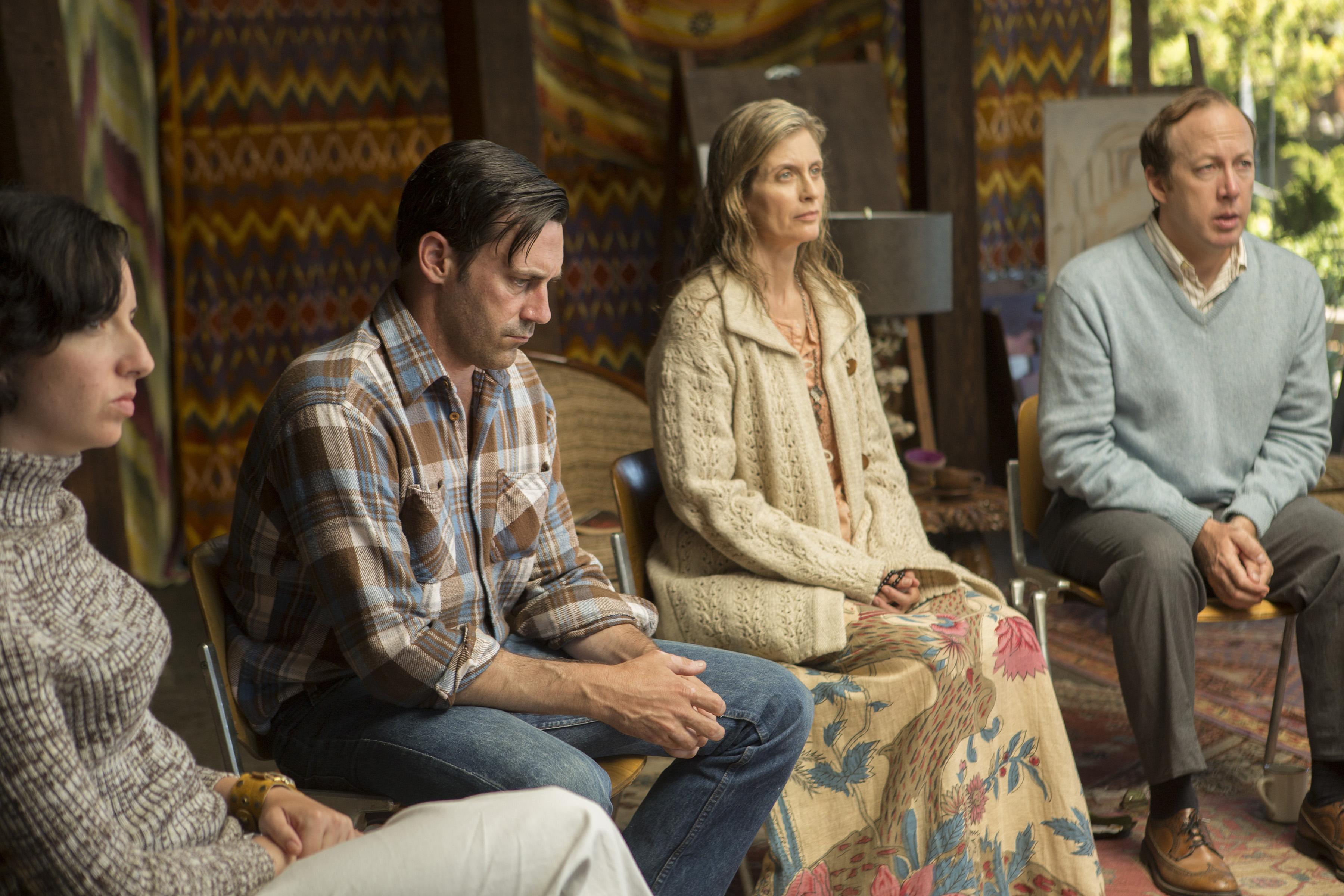 This week, Jon Hamm visits TODAY and throws gummy bears at Jimmy Kimmel, while Mad Men wins Vulture's honors for best TV show, series finale and writing. Plus, Matthew Weiner talks to TheWrap. Read on for more:
• TODAY interviews Jon Hamm, who talks about his new movie, Minions, and reunites with his former student, Ellie Kemper.
• Jon Hamm visits Jimmy Kimmel, demonstrating his gummy bear throwing technique and crashing Lizzy Caplan's interview, according to The Wall Street Journal. Entertainment Weekly reports that Hamm also talked to Kimmel about the Mad Men series finale, that there was "a couple of years process of clearing that with Coca-Cola."
• Mad Men was the year's best TV show, according to Vulture, because it's "the most richly textured, intricately structured drama I've seen in the nearly 20 years I've been a TV critic."
• Vulture selects "Person to Person" as the year's best series finale because it "came close to being all things to all people. That almost never happens."
• Vulture also honors Mad Men as the TV show with the year's best writing, noting that Leonard's series finale speech was "quintessential Mad Men: that deeply ordinary way to articulate a profound, even shameful fear that haunts so many of us."
• TheWrap speaks with Matthew Weiner, who commends his cast, saying, "You can't give enough credit to the actors–it's always about the actual tennis match between these people. That makes it sound competitive, but it's being in the moment together."
• Time considers Mad Men one of 2015's best, describing it as "arguably the dominant TV drama of its time."
• "For a show about a generation, it's fitting that it'll take one full generational cycle to accept that Mad Men isn't coming back next year," laments Indiewire, which names Mad Men one of the 25 best TV shows of the 2014/2015 season.
• Kiernan Shipka, talking to Elle, says she's confident Sally is "gonna be alright. She's a really great person and I think she's a really responsible person who's had to grow up really fast. I think later in life, she'll thrive and do well because she's smart and independent."
• Laura Schiff and Carrie Audino tell Vulture, "When we cast the incredible Kiernan Shipka on Mad Men, we knew she was smart, poised, precocious, and, yes, talented, but we could not have known what a phenomenal talent she was to become. It was a leap of faith."
• James Wolk shares with Time what he thinks happened to Bob Benson: "My hope is that Bob found a nice life in Detroit as an executive, put away all of his hidden agendas, and just was able to kind of exist and be who he is."
• A.V. Club asks Eric Ladin about playing Betty's brother, and he describes it as "such a fun role. I mean, to be able to be part of a show that I consider one of the most influential television shows in the history of television…"
• Joel Murray, speaking with ChicagoNow about joining Mad Men, says, "I had already seen a couple episodes of the show before I was cast on it, so I was already in love with the show, so to be a part of it just blew me away."
• Interviewed by International Business Times, Laura Regan talks about playing Harry's wife: "The only thing I could think about [watching the show] was divorce! What did I ever see in him — old, creepy Harry?"
• Vulture declares Jon Hamm's Reverend Richard Wayne Gary Wayne (from Unbreakable Kimmy Schmidt) the best villain of the year, calling his acting "fantastically surprising."
• Variety reports that the North American distribution rights to Meadowland, a movie directed by Olivia Wilde and starring Elisabeth Moss, has been acquired by Cinedigm.
• HitFix commends Christina Hendricks' turn in Comedy Central's Another Period, saying that "it's a treat to see her let loose in this role, responding with resigned contempt to [Riki] Lindhome, [Natasha] Leggero, [Michael Ian] Black, Brett Gelman, and everyone else."
Watch full episodes of Mad Men on amc.com.
Read More