Press
TCA Nods for Jon Hamm, Mad; EW, Slate on the Writers' Wish List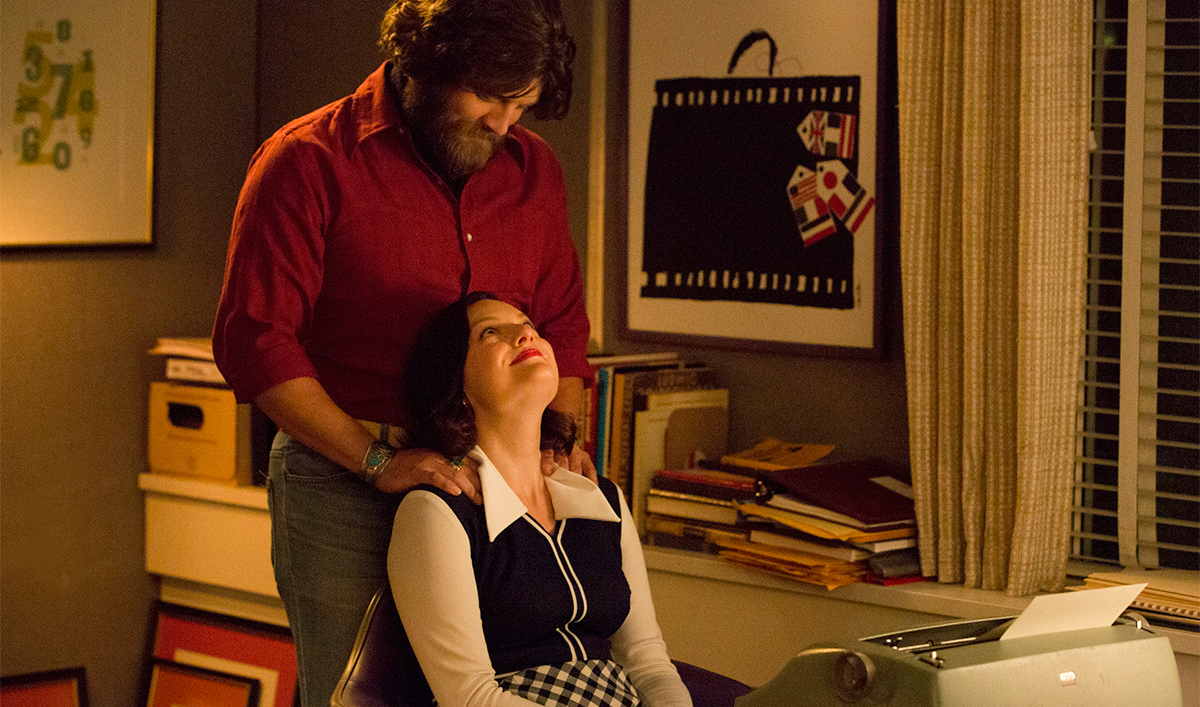 This week, Jon Hamm gets a TCA nod and Mad Men gets two, while Entertainment Weekly and Slate parse the Mad Men writers' wish list. Plus, Elisabeth Moss discusses Peggy's emotional phone call with Don on Late Night With Seth Meyers. Read on for more:
• Jon Hamm and Mad Men are honored with Television Critics Association Award nominations, according to Adweek, TVLine and USA Today.
• Entertainment Weekly unearths the Mad Men writing team's wish list of "Things We Want to Deal With Before the Series Ends." Slate concludes that "we should be glad that some loose ends weren't tied up. [Matthew] Weiner's series approached something like the real, and as with all stories that feel true, it borrowed some of its weight from the parts of itself that must go unspoken."
• On Late Night With Seth Meyers, Elisabeth Moss reveals the circumstances of Peggy's last phone call with Don, how she was "in my pajamas with coffee, and, like, my cats, on the phone, with Jon, playing Don, and he's like, crying, and I'm trying to get the cats to be quiet," according to The Wall Street Journal.
• Interviewed by Deadline, Christina Hendricks says that Joan "always spoke the truth. Sometimes you don't always want to hear the truth, but she oftentimes just said it as it was."
• The Independent profiles Elisabeth Moss about her bright post-Mad Men future, one she calls "very liberating to be able to have the freedom, where I can go, 'Oh, yeah, I want to work with this filmmaker. Let's collaborate on something.'"
• Elisabeth Moss chats with Variety, saying she wanted to play Peggy "as a person, and not in any particular era. So for me, the research I had done was that I'd lived my life up until I was 23, and I used my own experiences and who I was."
• Variety attends a Writers Guild Foundation panel where Matthew Weiner shares, "Everyone asks, 'What character do you identify [most] with in the show? Is it Peggy? Is it Pete? Don? Roger?' And I'm like, 'It's Leonard.'"
• Talking to USA Today, January Jones says of watching the series finale, "I wept like a baby for two hours and I was not expecting it at all."
• CarterMatt declares that Mad Men and Jon Hamm deserve Emmy nods, remarking, "If Hamm does not at least have a good shot at winning this award for the final season of his landmark hit, it will be one of the Emmys' great travesties…"
• At Variety's "A Night in the Writers' Room," Matthew Weiner credits social media for much of the buzz surrounding the show, saying, "We owe a lot to Twitter at Mad Men."
• The Guardian and The Australian attend Matthew Weiner's Vivid Sydney event, where he discussed casting guest stars: "Being in a scene with Jon Hamm requires a certain amount of chemistry, no matter male or female, or he will blow you off screen. You will not be seen."
• Matthew Weiner and Mad Men's stars reminisce with the Los Angeles Times about their most "dramatic, outrageous and stunning scenes" over the show's seven seasons.
• Talking to Variety, Janie Bryant says of Don that the "costume design is an important part of him coming to terms with his true self," while Dan Bishop characterizes production design as "a studied craft, to a certain extent. We develop artifice going along to make things a little quicker, a little easier."
• The Huffington Post calls Mad Men's ending "simply perfect."
• Carrie Brownstein tells Elle the last TV episode that made her cry was the Mad Men finale: "I cried multiple times. When Stan and Peggy got together–I didn't think I would cry, but I cried."
• Bustle is "still wondering will happen to our favorite Mad Men characters post-finale," such as "What will Don's return to New York look like? Are Peggy and Stan going to last? How will Joan fare as a CEO?" The Guardian does the same.
• Forbes, noting that Mad Men is "rich with complex, messy professional and life circumstances that illustrate to us how to handle and not handle them," compiles a list of the show's best advice.
• Veep's Matt Walsh tells Esquire he'd love to get a drink with Roger, while Transparent's Amy Landecker (who played Petra Colson) chooses Don.
• IGN compiles a top 10 episode list, remarking, "It's time now to look back at all seven seasons of Mad Men and cherry pick the best episodes."
• TV Overmind goes back to review the series pilot and calls the show "maybe the most vast and comprehensive character work ever done on television."
• A.V. Club gives the TV Club Award for "Most GIF-able moment" to "Lost Horizon": "Sporting sunglasses and a lit cigarette and armed with the late Bert Cooper's vintage tentacle erotica, Peggy Olson strides into McCann Erickson with all of the swagger she didn't have on her first day at Sterling Cooper."
• Decider notes that May 27, 2012 was important in TV history because it's the day that Season 5's "The Other Woman" aired, when Joan "ultimately parlays sex with the gross Jaguar guy into a partnership in the firm."
• InStyle looks back at what it will miss the most from Mad Men, namely "the fabulous eyeliner flicks and the best beehives in the business."
• FashionBeans examines Jon Hamm's style, saying, "As Hamm's star continues to rise for his versatility in acting, his status as one of the most stylish men on the A-list circuit also strengthens."
• According to Broadway World, Robert Morse will direct a production of Tru, which is adapted from the words and works of Truman Capote, for this month's 2015 Hollywood Fringe Festival.
Watch full episodes of Mad Men on amc.com.
Read More