Press
Christina Hendricks on Joan's Ending; Matthew Weiner Touts Mad Cast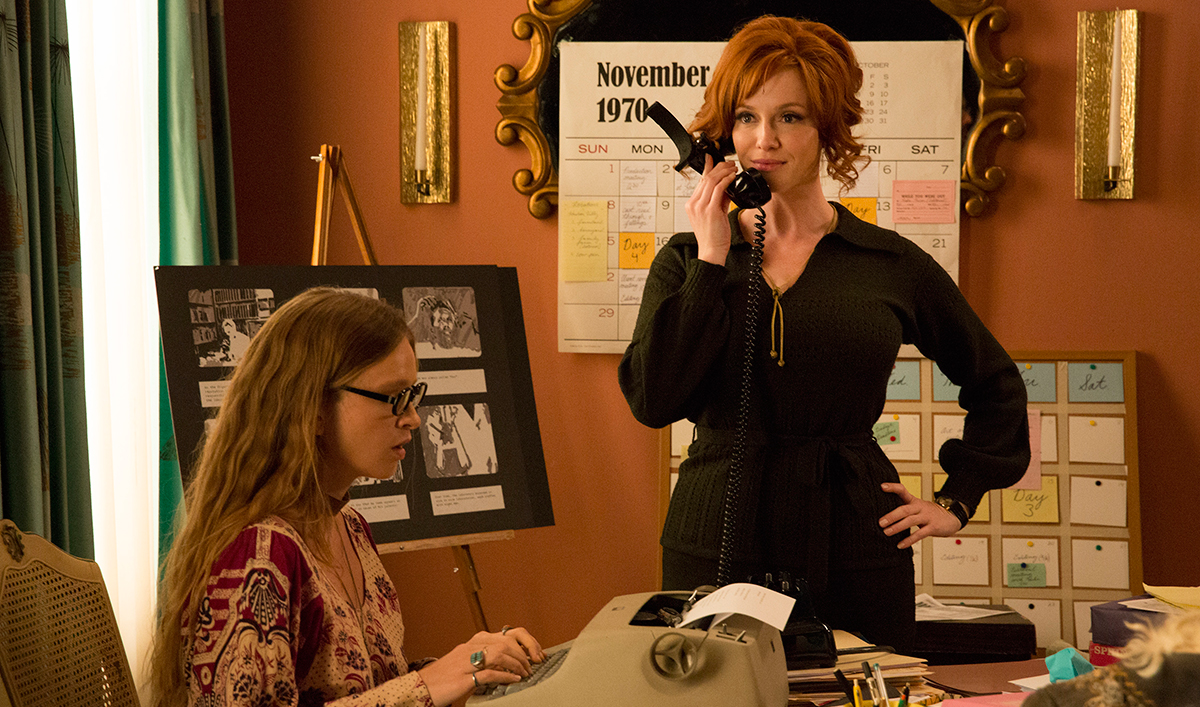 This week, Christina Hendricks discusses Joan's ending with GoldDerby and Yahoo TV, while Matthew Weiner touts the acting ability of Mad Men's cast. Plus, Jon Hamm chats with The Hollywood Reporter about Unbreakable Kimmy Schmidt. Read on for more:
• Christina Hendricks, speaking with Gold Derby, says, "It was very pleasing and cathartic to see Joan's storylines bring us full circle. It's a struggle she's been having since the very beginning of the series… To see her come out on top, I was very, very happy to see that ending."
• Yahoo TV asks Christina Hendricks about Joan's passion for work, and she notes that Joan is "proud of what she's doing. There's that scene where the women come in and introduce themselves [at McCann] and basically try to get on her accounts. And it makes her feel great, you know?"
• Matthew Weiner tells The Hollywood Reporter about Mad Men's cast and how the "kind of acting they're doing is unusual and not necessarily in style right now, but it is very difficult to do, and their consistency over 92 hours is a testament to their ability."
• Jon Hamm, interviewed by The Hollywood Reporter about the challenges of guest-starring on Unbreakable Kimmy Schmidt, says, "I figured the more ridiculous I was, the better, and they provided me an excellent opportunity to be ridiculous with a capital 'RIDIC.'"
• Variety, writing about the importance of deviating from long-range plans, speaks with Matthew Weiner, who says that "inevitably there would be an episode around No. 6 or 7 where we'd leave a hole and say, 'Let's give ourselves some leeway here.'"
• Kiernan Shipka speaks with Entertainment Tonight about her Mad Men experience, saying, "It was great to be on a show that depicted women in such an honest, real way."
• Jennifer Getzinger tells Variety about ensuring historical accuracy: "Researching everything and getting the detail right to transport you back to that era is an ongoing part of the job. There's a lot of work involved in doing that."
• Deadline credits Mad Men for the ubiquity of the period drama, which is "all over broadcast, cable and streaming services these days."
• The Week recommends binge-watching Mad Men, which documents "a time of momentous social, sexual and political change in America."
• During Mad Men Day, Matthew Weiner says, "Los Angeles is my muse, and I would have never have thought of the show if I didn't live here among all these buildings from this period," according to Los Angeles Daily News.
• Reviewing Fan Girl, The Hollywood Reporter says, "It will come as no surprise to fans of Mad Men that Kiernan Shipka, the 15-year-old actress who played Sally Draper for seven seasons, holds her own as a big-screen lead."
• According to The Hollywood Reporter, Teyonah Parris has joined the cast of Spike Lee's Chiraq.
Watch full episodes of Mad Men on amc.com.
Read More