Uncategorized
The Mad Men Fashion File, Episode 712 — Holloway/Olson 2016.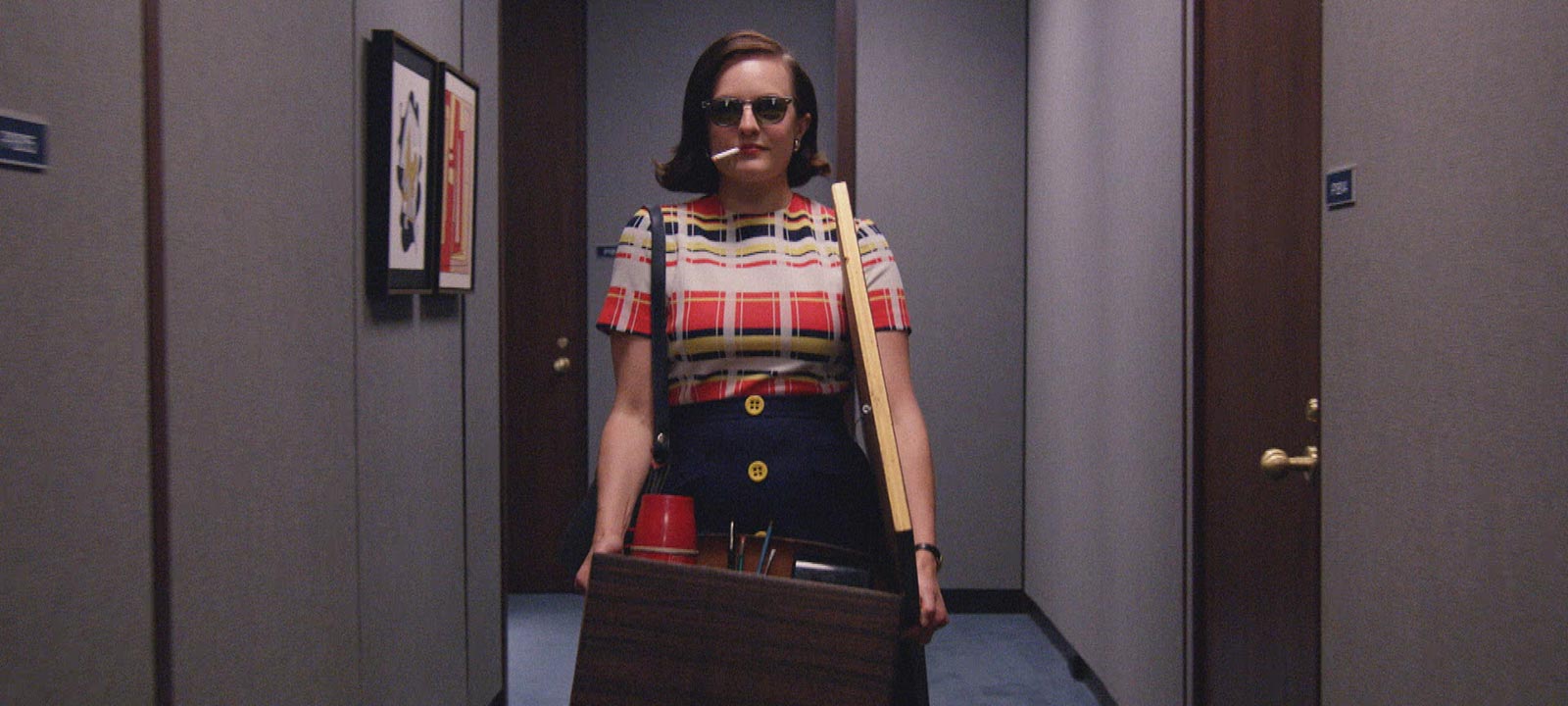 By now, you know the golden rule of Mad Men costumes: Janie Bryant does nothing by accident, and so when a character repeats an outfit, you'd better believe it's important.
So what to make of Peggy Olsen's plight, and the reappearance of her checked-and-dotted suit? The first time she wore it, she sat across from a leering group of McCann men during a pantyhose meeting. She still had it on when Joan growled, "I want to burn this place down," in the elevator… and when Peggy hinted, not-so-subtly, that Joan's sex appeal was to blame for the meeting's failure.
But it turns out, Joan's sex appeal isn't the problem—it's just her sex, period, and Peggy's too. When Little Miss Olson is sent secretarial flowers, shoved back to the steno pool, and denied a proper office, she's wearing that clashing suit again. This time, it's with the new knowledge that her gender—not her choice of bustier—is more important than her work. So you've got to admire her final look—the shades, the cigarette, the square pattern top that looks like Technicolor office windows, the miniskirt that harkens just a bit to Roger Sterling's nautical vibe… it's a "f*** you" in fashion form, and it's flawless. Let's hope she gets to keep her job and wear it some more.
As for Joan, you can trace her mood in this episode through her clothes. The red dress she wears at McCann is a cool callback to Mad Men's first episode, when she ruled the office in her sexy scarlet uniform. Now she's replaced the pen necklace with a bowtie, and softened the look by sporting bright rose instead of deep red. But the dynamo effect is still there, and now that she's a "junior" partner and not a secretary, her bombshell effect blows up in her face. Contrast that costume with the black print dress she sports with Roger—dark and loud, it's a clear reflection of her psyche. She knows, essentially, her life as an executive is over, but she'll be damned if she goes out quietly.
Did you notice how Diana's surviving daughter looks like an inverse version of Sally Draper? The eyebrows, the sideways smile, the baby-doll top… that, combined with Mrs. Bauer's eerie echo of Betty Draper—a sweeter, smily-er version in the same pastel tones Betty favors—should have been a red flag right at the start.
Also creepy: the row of shirtsleeves, watches, and right-handed scribbling in the McCann beer meeting. It was like the beginning of a Vonnegut novel, and though Don was dressed for the assembly line, he wasn't playing along. Let's see how far he gets on the road (or should I say On the Road?).
One last thing: Meredith. This whole time, we've been laughing at her infantile outfits and her cartoonlike hair and mannerisms. But Joan's been dismissed, Peggy's on thin ice (no skating pun intended…), and this "sweetheart" secretary still has a job, plus a possibly lucrative side business as a decorator. Maybe her non-threatening, non-sexy, non-powerful "little girl" vibe is the smartest way to hold onto a corporate job. And though that's awfully sad, the hot pink and neon aqua dress she sports alone at Don's office is the strongest, most modern look she's worn yet.
Read More