Interviews
Q&A — January Jones (Betty Francis)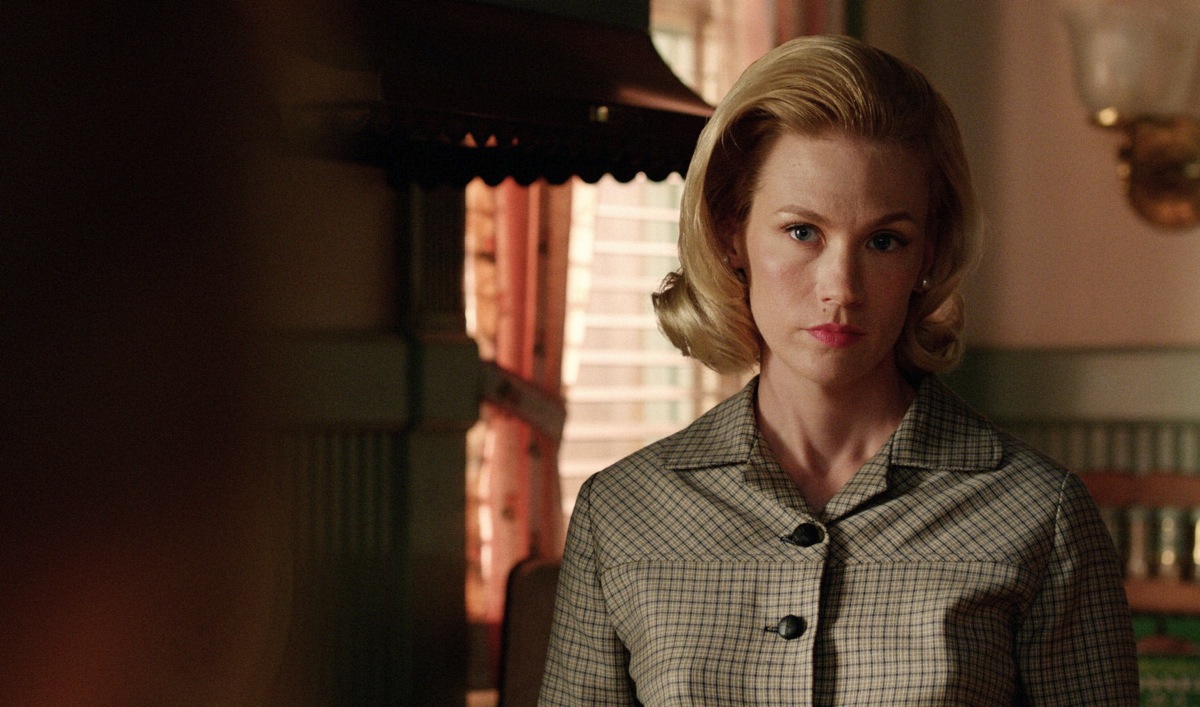 January Jones talks to AMC.com about the twists and turns in Betty's story and how it felt to say goodbye.
Q: What was it like filming the final episodes?
A: Everyone was just crying, from receiving the last two scripts to having the last table read. The last script was incomplete — missing the last ten pages, for secrecy reasons — and after the last table read, Matthew Weiner brought six of us into his office to tell us what the ending was, so we were crying for that too. It was so emotional.
Q: Was it difficult knowing you'd never get to play Betty again?
A: Yes, saying goodbye to the characters themselves, that was the hardest. I think I had one of the last scenes of the last day, and I just wanted more takes. Because I knew this was the last time I was ever going to speak for Betty. It was really hard to not cry all the time.
Q: Did you make it out of the scene without crying?
A: I wasn't supposed to be crying in the scene, but they changed it because I couldn't not.
Q: Which Betty phase have you enjoyed the most?
A: The moments when she was with Don and she was truly happy. Jon Hamm and I had a great friendship and chemistry, and those scenes — whether Don and Betty were happy or not — were just fun to do.
Q: You're very into fashion in your personal life. Has the show's style influenced your own style at all?
A: I'll do it every once in a while. I'll do a twist on a '60s hairdo or outfit because I know people really love seeing me that way. It's just too much pressure for me to, in my personal life, to be compared to, like, a Grace Kelly. It's so flattering, but I can't live up to that. [Laughs]
Q: It's probably more fun to just be yourself anyway.
A: My self is so ever-changing, and every day I want to do something different. I have dreams about fashion and jewelry. I love the artistic process of all that. Just being a shy person in general, to create a persona each day — especially if I have to go out into the world and speak to people — it's sort of like armor to have a persona, or decide who I'm going to be today. That's also why I love my job.
Q: Did you end up keeping any clothes from the show?
A: No… But I have a lot of [costume designer Jane Bryant's] sketches that I've framed and put in my house. Like her sketches from Season 2, the equestrian outfit sketches, and I have a sketch of the aqua dress that she designed from the episode in Season 2 when Betty puked [in Don's Cadillac]. There's three of those dresses and I know they're all being auctioned.
Q: Betty and Sally's relationship has been so fascinating to watch over the years…
A: Kiernan [Shipka] and I have such a great time working together. I've gotten to see her grow as a human being and as an actress, and we really respect each other. It's so bizarre that I've known her since she was six and now she's a young woman. It's gone from what started as a tender relationship, of me being like, "I'm going to have to hit you now. But it's just pretend…" and now she's a young lady and I'm able to speak to her on an intellectual level.
Q: Were you hoping for the two to finally reach an understanding by the end of the series?
A: I think that Betty and Sally have grown a lot, but I think that realistically as a mother and a teenage daughter it doesn't make sense for them to be "besties." But we like having that friction on screen, like when we smoked in the car together and Betty was like, "You want a cigarette, don't you?" I'm teaching her to smoke, and it's so wrong! [Laughs] Kiernan would never smoke because she's a smart young woman, and she's probably learned what not to do from being on this show and being around all of us. [Laughs]
Read More