Press
Jon Hamm Discusses Series Finale With NY Times; WSJ Interviews Elisabeth Moss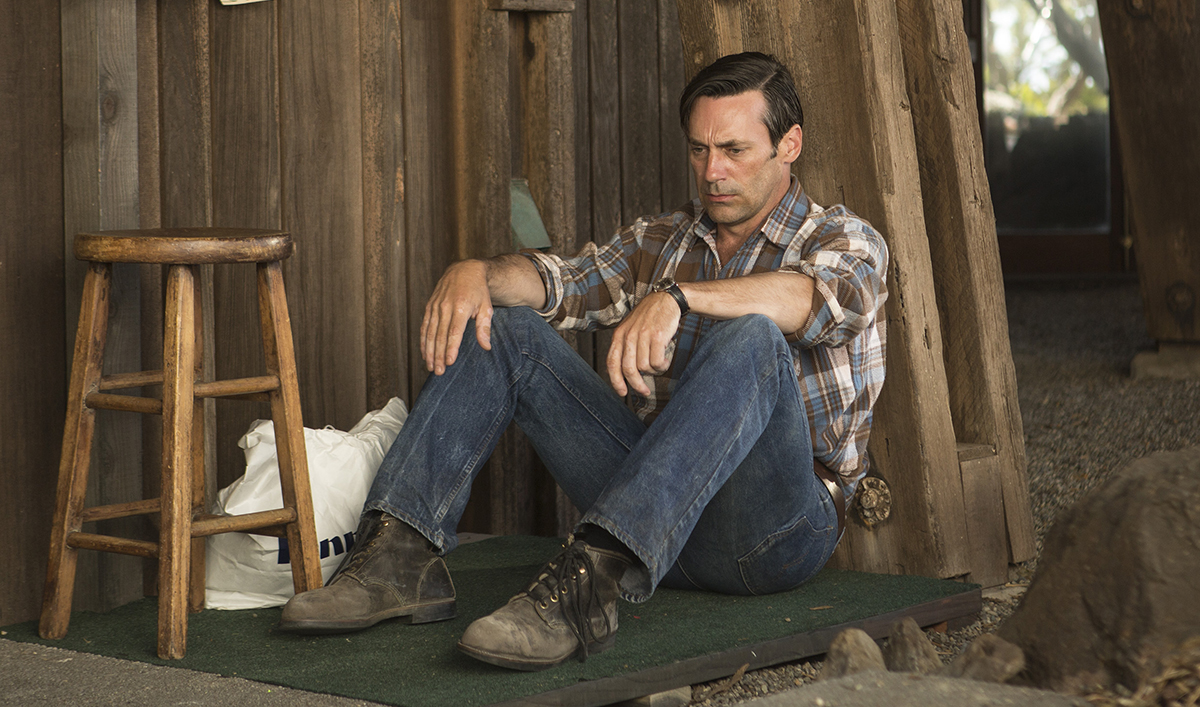 This week, Jon Hamm deconstructs the series finale for The New York Times, while Elisabeth Moss is interviewed by The Wall Street Journal. Plus, Jay R. Ferguson discusses Stan and Peggy with TVLine and Vulture. Read on for more:
• Jon Hamm interprets the final scene for The New York Times, that "the next day, he [Don] wakes up in this beautiful place, and has this serene moment of understanding, and realizes who he is. And who he is, is an advertising man. And so, this thing comes to him."
• Elisabeth Moss tells The Wall Street Journal, "My goal with Peggy was always to play her as a modern woman. I wanted women my age to be able to identify with her."
• TVLine interviews Jay R. Ferguson, who says he was a fan of Stan and Peggy getting together: "I'd be lying if I didn't tell you that I was 'shipping it, as well. Lizzie [Moss] and I both had kind of secretly been rooting for that for a long time, so we were all really happy."
• Jay R. Ferguson, speaking with Vulture, says Stan is "the one guy [who balances] doing good work but not letting it consume his life and still having a life outside of the job." Vulture helpfully posts a GIF of Stan and Peggy kissing.
• Talking to The Wall Street Journal, Jay R. Ferguson jokingly rues Stan's beard: "Poor Lizzie, it's such a great moment for her but you can barely see it because of all the hair that is on my head. You assume that there's two people kissing underneath all that hair, but you can't verify it."
• According to Entertainment Weekly, Jon Hamm proposes a spin-off starring Sally: "Move through the '70s and turn into a rock star and turn into Joan Jett or something. Ride a motorcycle and kill a guy. Make a bunch of money and then become Oliver Stone in the 80s. Date Kurt Cobain in the 90s. She's just a touchstone for every generation."
• The series finale drew 3.3 million viewers, the show's largest audience this season, according to The New York Times.
• Kiernan Shipka, talking to Deadline, shares that "Sally was such a dream role, so to be able to do that was just the most incredible thing. I can only hope that I work on other things I also really love."
• The Wall Street Journal notes that Peggy's and Joan's endings "demonstrated that the reason why they put their work first is because they valued the importance of a happy life. The lives they created for themselves provided the kind of power, control and independence that goes far beyond any Hollywood ending."
• Variety, Glamour and the Los Angeles Times offer their impressions from the Television Academy's "Farewell to Mad Men" event.
• The New York Times spotlights the man who actually created the "iconic" 1971 Coca-Cola ad that appeared at the end of the series finale.
• New York assembles a slideshow of "the most-enduring looks from the show's seven seasons." New York also looks back at Mad Men's sleepwear, noting that "the unsung heroes of the show's costume wardrobe are the sweet nothings worn by the show's female cast."
• Vulture spotlights the series-ending finale montage, where "Mad Men gave us one final look at where its major characters ended up."
• Vulture also features Don's last scenes with Peggy and Betty, as well as Peggy's final scene with Pete.
• TheWrap reports that a live read of Season 1's "The Wheel" was staged by Jason Reitman, starring Colin Hanks, Fred Savage, Ashley Greene and Kevin Pollak (appropriately playing Bert sans shoes).
• Many of the show's deaths have "taught protagonist Don Draper a very important lesson and provided a new opportunity to set his life straight. Or, in other cases, an opportunity to be reborn," Vulture points out.
• Post-finale, HitFix focuses on "Joan's glasses, Harry's cookie, and more series finale odds and ends."
• Helen Slater, speaking with People, discusses the secrecy surrounding her role and how "I had been devoted to the series and such a huge fan so just being part of something so big. I'm just beyond delighted."
• Slate interviews Evan Arnold, who explains, "A lot of my friends are like 'What was that like, Jon Hamm was all up in your action? What was it like?' It was fine, felt good. He's a good hugger! I hope I was, too."
• Evan Arnold also talks to Time about the importance of his character's speech, saying, "It is such an honor and an incredible opportunity and I'm reading a lot of nice things both about the speech and the perception of my performance… and that's blowing me away."
• Vulture does a Q&A with Brett Gelman, who says he didn't mind being nude in front of Jon Hamm: "I'm very free with my body. You've got to be down with anything. Not that I would do full frontal, unless it was completely necessary."
• Gothamist spotlights all of Mad Men's "season ending images, including the final scene that ended it all."
• An activist dedicated to ending tobacco-related illness and death writes on CNN about the impact of Betty's lung cancer and being "truly grateful to the creators of the fictional world of Mad Men that they have allowed the consequences of real world choices to touch one of their iconic characters."
• Time takes a look at how Mad Men "wove real-world story lines into the lives of its fictional characters."
• Vanity Fair highlights January Jones' Instagram post of a Betty image from Season 1's "Shoot" that's captioned, "Please remember her like this. Strong. Proud. And Afraid. She is everything I wish I could be."
• SFist has the background on the Esalen Institute, the retreat in Big Sur where Don sought enlightenment and sobriety.
• Ben Feldman's upfronts diary for Vulture reveals that he attended the Museum of the Moving Image's Mad Men exhibit incognito and then "I realize I'm not Jon Hamm and I take my sunglasses off because nobody's that impressed."
• For recaps and reviews of the series finale, "Person to Person," check out The Associated Press, A.V. Club, Basket of Kisses, The Boston Globe, CNN, Entertainment Weekly, HitFix, The Hollywood Reporter, Newsday, New York Daily News, Salon, The Telegraph, Tom + Lorenzo, TVLine, Us Weekly, Vox, Vulture and The Wall Street Journal.
To stay up-to-date with all the latest Mad Men news, sign up for the Mad Men Social Club.
Read More