Press
January Jones Chats With USA Today; Alison Brie Talks Pete & Trudy With Vulture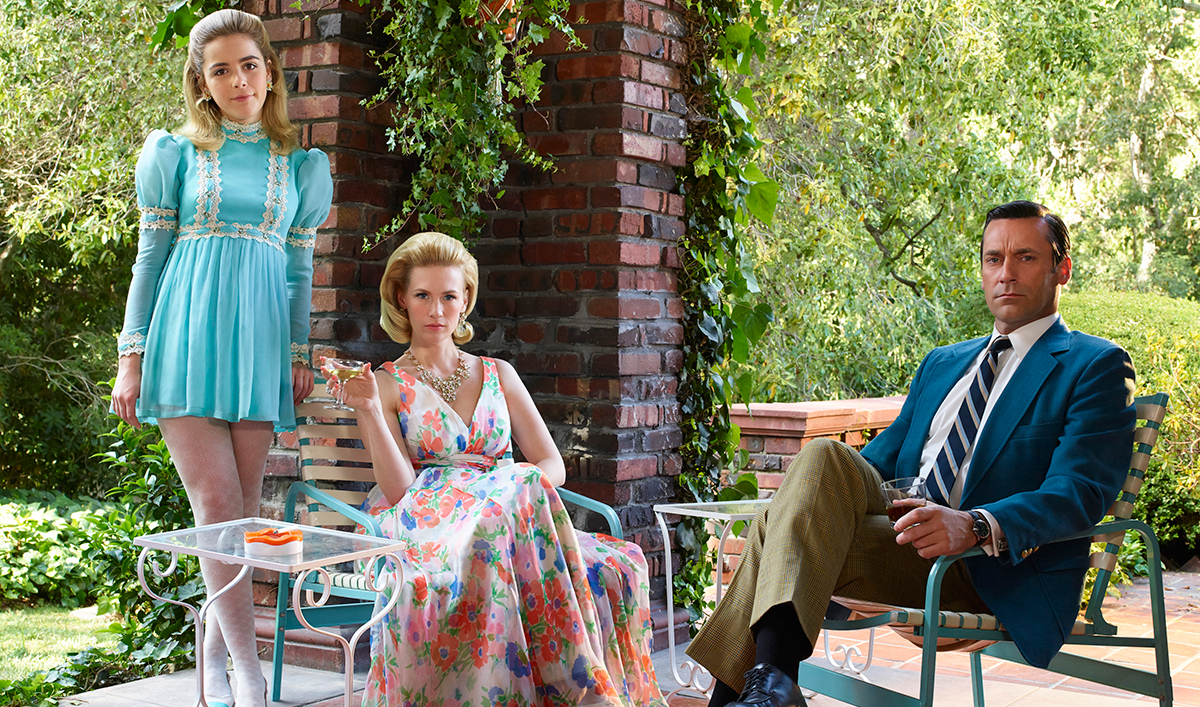 This week, January Jones chats with USA Today, while Alison Brie talks about Pete and Trudy with Vulture. Plus, Jon Hamm books a new movie. Read on for more:
• USA Today interviews January Jones, who says, "I miss speaking for Betty. I'll never have a character like that again. There's so much freedom in playing her. She messed up so much and she's so flawed. I loved it. Betty tries her best."
• Alison Brie tells Vulture, "I like to think that Trudy always gets what she wants, and when she wanted Pete out of the house, she got it. But ultimately she wants a happy ending, and she got it."
• According to The Hollywood Reporter, Jon Hamm is set to star in High Wire Act, a political action-thriller written by Tony Gilroy that will be directed by Brad Anderson.
• In a conversation with the Los Angeles Times, Matthew Weiner says, "I always thought that Betty would get lung cancer. Her mother died of cancer right before the show started, and I felt like since she was predisposed for it, and she smokes too much. You'll see it all over the show."
• Matthew Weiner, speaking with NPR, says Don's situation "is forcing him to make choices; it is forcing him to evaluate; it is forcing him to keep looking. And what is he looking for? He definitely is not finding it."
• In another NPR conversation, Matthew Weiner says Mad Men is the story of the American dream because "you can come from nowhere. Another country, a West Virginia mining town… [you can] make up your whole life. And you may never heal from the wounds of that existence, but you can make it."
• Matthew Weiner says to The New York Times, "I feel like I've already talked too much about the show, quite honestly. And half the time I'm defending it, and I'm trying to explain what I meant. And it's kind of like the show should do that."
• The Washington Post does a Q&A with Matthew Weiner, who says Rachel is his favorite Jewish character on the show because "I was very proud of having a character on TV who is Jewish, and who says they're Jewish, and not just has a Jewish last name and comes out in, like, Season 7 or something."
• Vincent Kartheiser tells Spinoff Online, "I was always rooting for Pete. Even when he was doing atrocious things, I understood that he didn't think they were atrocious and he had a method to his madness and there was a reason why he did those things."
• Elisabeth Moss talks to Vulture about Peggy's McCann entrance: "I was honestly so flattered by that. When we were filming it, I was just trying to hold the box, which was bumping really awkwardly, and then I had to hold the portrait and then put the cigarette in my mouth. That's actually difficult to do — James Dean makes it look really easy, but it's actually really hard."
• Bustle ruminates on Betty's pending death: "It's sad, yes, but Betty's handling it with poise and grace, just like the model she was all those years ago. So let's not be sad about Betty, let's be happy. She wakes up the next morning and heads back to school. She's not going to waste the remaining time she has."
• BuzzFeed pens a paean to Betty, describing her as "an antihero: tragic, valiant, and impossibly important."
• Indiewire discusses why Betty "will always be my favorite Mad Men character."
• The New York Daily News has a sampling of tweets about Betty's cancer diagnosis and calls it "just the latest hardship the show has dealt January Jones' Main Line-bred ex-model."
• The Huffington Post reports that Sunday night's episodes of both Mad Men and HBO's Game of Thrones included this similar thread: "if you don't have good grammar, you're going to get schooled."
• Gothamist and Blouin ArtInfo explains the cultural references in "The Milk and Honey Route," while LAist has the story behind the motel where Don stayed during the episode.
• Debuting the trailer for the series finale, Vox warns, "You won't remotely spoil yourself for the finale, but the promo might leave you feeling like you never want Mad Men to end."
• John Slattery annotates his Esquire profile, "in his own handwriting and [typed out]."
• Fortune interviews the show's five female writers, with Carly Wray remarking, "I pitched a few stories about my workplace and my boss when I was an office assistant. They sort of translate whether it was 1960 or 1980 or today."
• Maclean's interviews Matthew Weiner, who calls Don "very identifiable, and I think most of the characters are. Flaws or not, it's not based on a wish fulfillment about how people should be or how you'd like them to be. It's sort of designed to say: this is how they are." Maclean's also has a second part of its conversation with Weiner.
• Matthew Weiner also speaks with Rotten Tomatoes, saying, "The most that history has ever intersected with the show, and it was only because it provided such a great illumination of Don's inner state, was 1968. That's season six, where I felt like what was going in the world was an expression of him."
• HitFix shares its list of the show's 20 best episodes, an exercise that was "an absolute bear, because there are just so many spectacular episodes to choose from." Indiewire weighs in with its own list.
• Kevin Rahm tells The Hollywood Reporter that Ted's one of the few happy people on the show now because he "doesn't want to be a manager. He doesn't want to drive the ship. And now he has this lady friend in New York, he's absolutely happy."
• TVLine names Christina Hendricks the performer of the week because "it's fitting that Christina Hendricks' crowning episode was one in which she played Joan at both her hell-yeah highs and oh-no lows."
• Time asks Robert Morse about returning for "Lost Horizon," and he says, "It was a wonderful idea from Matt to do that. Jack Kerouac, On the Road, whither thou goest? That's what we're all wondering: Whither thou goest, Jon Hamm, in thy little tiny car in the night?"
• In an interview with Esquire, Bryan Batt says, "I'd like to think that Sal had a happy ending, that he does realize who he is and moves on. Unfortunately he'd have to break little Kitty's heart, but I think she had the clues by the end of the third season."
• HitFix explains why "I'll missing staying up to ridiculous hours to review Mad Men."
• The New York Daily News says "goodbye to some of the cherished people and things that have left us over seven seasons of Mad Men."
• Vulture's illustrations of the year's biggest TV moments includes Don's check to Megan (No. 1).
• WhoSay interviews Carter Jenkins, who talks about thinking his audition for Andy didn't go well, saying, "I was depressed. I didn't want to answer the call from my agent because I thought I was going to get terrible feedback."
• The Wichita Eagle details how the penultimate episode "featured all kinds of Wichita references, including my favorite one about one of my favorite things: Kansas beef." The Wichita Eagle also talks to Learjet's former director of public relations, Al Higdon, who says, "Those were heady days for Learjet. It was kind of incredible to think it all came to life last night on Mad Men."
• Patch remarks on the shout-out in "The Milk and Honey Route" for Lyman Orchards in Middlefield, Conn.
• Technology Tell reports that AMC's Mad Men marathon will start on May 13 at 7 P.M. ET and end just before the series finale airs on May 17.
• The Boston Globe asserts that Mad Men's "most powerful, least romanticized, and most tenacious theme was sexism."
• SundanceTV teases Jon Hamm's appearance in an episode of Behind the Scenes on May 15 — and also shares clips of Christina Hendricks, Elisabeth Moss and Hamm in the episode.
• Adweek explains the "significant" ways in which Mad Men has changed the advertising industry.
• Vulture polls Matthew Weiner, members of the Mad Men cast and various celebrities, including Norman Reedus, for their favorite memories of the show.
• Rolling Stone ranks Mad Men's 50 "most memorable characters," while The Boston Globe is coping with the show's imminent end "by arranging the characters of Sterling Cooper in ascending order of how much I'll miss them."
• Bustle lists eight reasons why Peggy "deserves a spin-off show."
• The Huffington Post credits Mad Men for changing the way we watch TV because "few shows have caught fire so entertainingly as both cultural phenomena and critical favorites and over the course of its stylish history, Mad Men set a standard that many shows have found difficult to beat."
• In Los Angeles Confidential, Christina Hendricks says she hasn't said goodbye to Joan: "It's a very weird sensation. I just always have taken it for granted. Like, I still get to go back in six months and play her again. But not this time."
• Christina Hendricks talks to The Telegraph about dying her hair blonde: "I was red before I was Joan, but it did start to be connected with her. I don't want to say goodbye to her, but I know I need to. A new hair colour is a nice way to have a fresh start."
• According to Forbes, Kiernan Shipka calls Mad Men "a truly incredible experience. To grow up on the show was so great and everyone was so nice. Everyone treats each other very well there."
• Under the Radar talks to Christopher Stanley, who describes Henry as "a sympathetic guy. I think, for that time period, he's a very progressive guy. He's someone who's very willing to see the value in women; in particular, in Betty."
• Under the Radar also talks to Jared Harris, who shares that Matthew Weiner's instructions for portraying Lane "were [to play it] like Alec Guinness in The Bridge Over the River Kwai."
• In another Under the Radar interview, Linda Cardellini says she enjoyed playing Sylvia, that "to play the sort of '50s-style housewife, but have so much else going on. So much secretive stuff. That was really juicy stuff to play." Cardellini also tells Time she liked the "hotel stuff, when he [Don] locks me in the hotel—that was really fun to shoot because it was so out of the norm for both of them."
• Maclean's interviews Jessica Paré, who talks about Megan's wardrobe, how "a lot of times there's more onscreen about her mood in what she's wearing than in her words."
• Uproxx interviews Paul Johansson about playing Ferg, whom he describes as "a man of the times. Ferg, and every other man of that era, believed that there was some type of entitlement to being a powerful man."
• Patrick Fischler tells TVLine he modeled his Mad Men character partly on his father: "My dad owned a restaurant here in L.A for like 30 years, and he kind of insulted everybody who came in! I didn't realize it at the time, but there's a lot of my father in Jimmy Barrett."
• Patrick Fischler reminisces with A.V. Club about shooting the Utz commercial, "which is all me for five minutes. It was pretty up and down doing the commercial, and then when the camera's off me, I insult the woman, all of this stuff. I remember getting through that rehearsal and Matt being pleased. It was a winning experience for me."
• RedEye looks back at the trajectory of "the true hero of Mad Men, our girl, Peggy Olson."
• Bustle schools readers in how to "achieve the Peggy Olson lifestyle that allows us to be our best Peggy Olson self."
• OnMilwaukee.com is "tearfully celebrating the end of eight glorious seasons of Mad Men with eight Wisconsin references we spotted throughout the course of the show."
• Nashville Scene has an essay from a woman about Mad Men resonating with her because of her mother's experience as a copywriter in early 1960's New York City.
• Bustle lists a dozen books "written in the last few decades that could have served as a rallying cry for the women of Mad Men when they needed it most, which was pretty much always."
• NPR reports on the Inside Amy Schumer parody of 12 Angry Men that featured Vincent Kartheiser "as the hyper-rational juror" played in the movie by E.G. Marshall.
• Variety reports that IFC Midnight has acquired the U.S. rights to One and Two, a movie starring Kiernan Shipka and Elizabeth Reaser (Diana).
• Entertainment Weekly reports that John Slattery will guest-star on IFC's Documentary Now!, a six-episode docu-parody/tribute from Bill Hader, Fred Armisen and Seth Meyers.
• For recaps and reviews of Season 7, Episode 13, "The Milk and Honey Route," check out A.V. Club, Basket of Kisses, Entertainment Weekly, Esquire, Forbes, HitFix, Slate, Tampa Bay Times, Time, Tom + Lorenzo, USA Today, Variety, Vulture, TheWrap and Wired.
To stay up-to-date with all the latest Mad Men news, sign up for the Mad Men Social Club.
Read More